Scores of Indian Game of Thrones (GoT) fans woke up at 6.30am today (April 15) to catch the first episode of the final season of the show. But instead of logging into the HBO's official streaming partner Hotstar, many frantically looked up free alternatives.
Between 5am and 9am, Google Trends clocked more interest in the related topic "Torrent file" than "Hotstar" in India.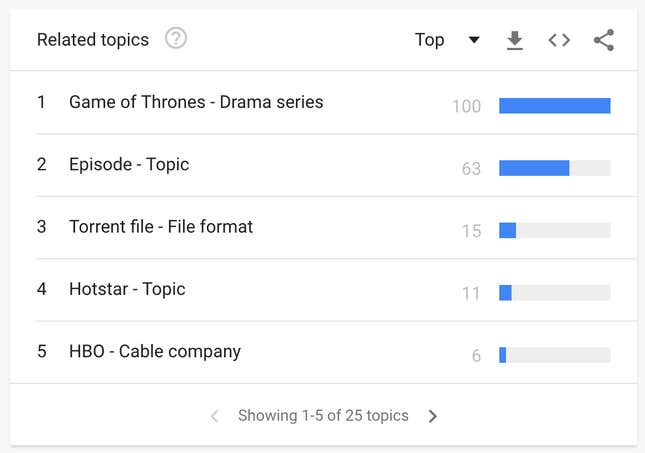 The top ten rising related queries—searches with the biggest increase in frequency—were for specific torrent sites like DIRECTV (and its misspelling "direct tv"), ETTV, and MkvCage, or more generic searches for torrent downloads.
The hunt for Game of Thrones latest season on torrent sites is unsurprising. After all, it is the world's most pirated show. In 2017, four Indians were even arrested for leaking episodes of the show before it aired.
The demand for the torrent sites was also all about GoT today.




Indians who're eager to get their hands on the first episode through illicit routes, as soon as it airs, should have bigger concerns than just fighting spoilers. GoT tops the list of pirated shows with malware, according to the cybersecurity firm Kaspersky Labs.
"Game of Thrones accounted for 17% of all the infected pirated content in 2018, with 20,934 users attacked, despite being the only TV show in the list that didn't have new episodes released (that year)," the Moscow-based firm's recent research revealed. The first and last episodes are especially plagued with malware.
"Winter Is Coming," the very first episode of the show, was the one most actively used by cybercriminals. Released nearly eight years ago, the question is, does the latest episode "Winterfell" face a bigger threat?