"They'll come back," Nick Fury had said at the end of Avengers: Infinity War. Today (April 26), the final chapter in the superhero universe finally unfurls in India—and moviegoers couldn't be more excited.
Even before Marvel Studios' highly anticipated Avengers: Endgame hit the screens, it had broken a record. With over 2.5 million tickets booked, it is the highest ever advance ticket sale for any Hollywood film so far on ticketing portal BookMyShow.
A peak of 18 tickets per second was sold on BookMyShow prior to the release, the portal said in a press release yesterday (April 25).
"With just a few hours left for Avengers: Endgame to hit the screens, the frenzy around the film is unprecedented," said Ashish Saksena, chief operating officer for cinemas at BookMyShow. "The cinemas are doing everything possible to match fans' demand for the film…round-the-clock screenings are also opening up advance bookings for the entire week ahead."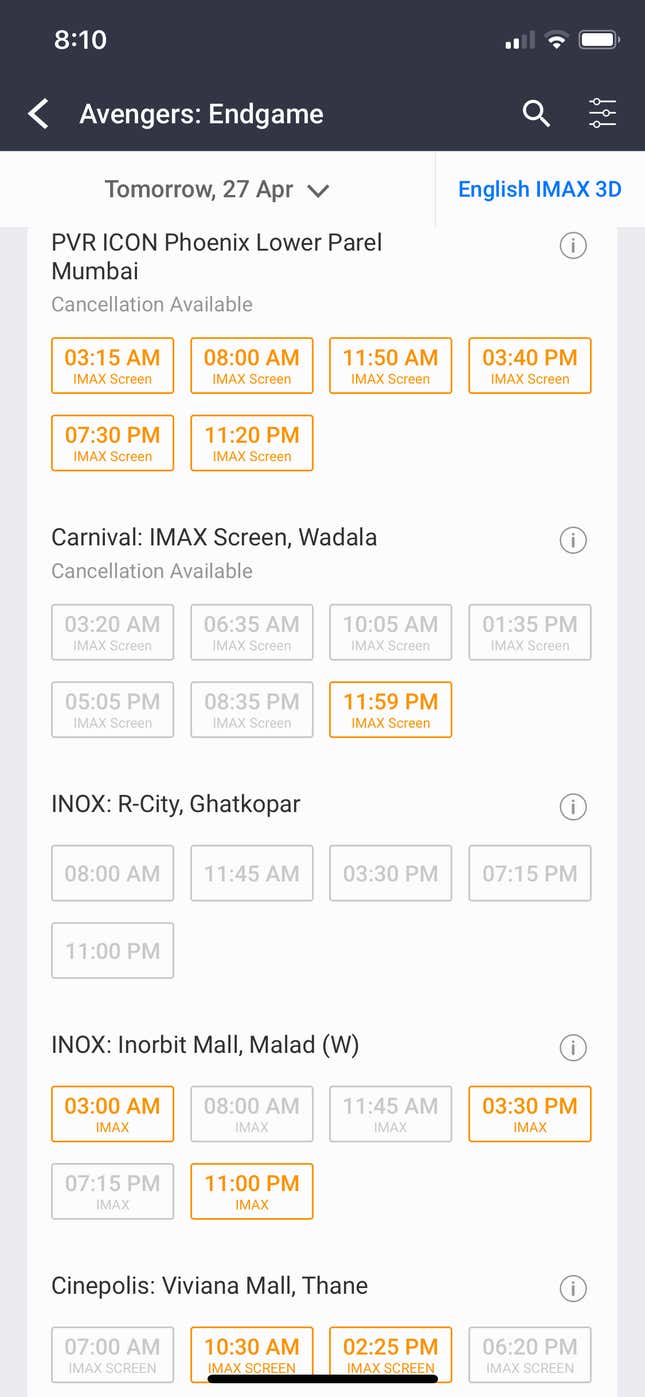 In India, the law typically doesn't allow for screenings post-midnight, but an exception has been made for this one. Major multiplexes have been granted permission to screen it 24×7. When Quartz checked for early morning shows at IMAX cinemas for Saturday in Mumbai, most of them were already sold out.
And it is not just restricted to BookMyShow either. Cinema chains such as PVR, Cinepolis, Inox, and Carnival, among others, are also directly selling tickets through their apps and websites. (Cinepolis hosted 20-hour movie marathons of other Avengers movies in the lead up to Endgame in multiple cities across India.)
Marvel India's tweet from earlier this morning links to Paytm, India's leading digital payments firm, for ticket bookings.
The craze to watch Avengers—and watch it at the earliest—is such that some buyers reportedly scooped up advance bookings and tried to resell tickets for a whopping $500 (Rs34,000) each.
Trade analysts expect the 22nd film in the Marvel cinematic universe to smash box office records—and not without precedent. Avengers: Infinity War was India's highest Hollywood grosser, minting almost Rs200 crore within two weeks of its release.