India's parliamentary election, history's largest ever, finished the last of its seven phases on Sunday (May 19). Exit polls announced later that night showed that the National Democratic Alliance (NDA), the right-wing coalition of parties that has governed India for the past five years, is likely to return to power. Polling agencies expect the alliance to win a significant mandate, estimated at anywhere between 287 and 365 parliamentary seats out of 543 total.
With these numbers on the table, current prime minister Narendra Modi, who has led the NDA since 2014, seems the most likely to return to the top governing role in Indian politics. However, other candidates and key political players are important to note as well—especially for the roles they could have in challenging Modi if the exit polls prove to be wrong. Some of them have also framed themselves as potential prime ministers of India.
Here are some of the most prominent figures in the race:
Narendra Modi
India's current prime minister, now 68 years old, rose to power in 2014 on the promise of economic development that would bring about acche din, or "good days." He has also been a supporter of strident Hindu nationalism, and under his rule the country has been deeply polarised, with increased incidents of majoritarian violence and state infringement of basic civil liberties.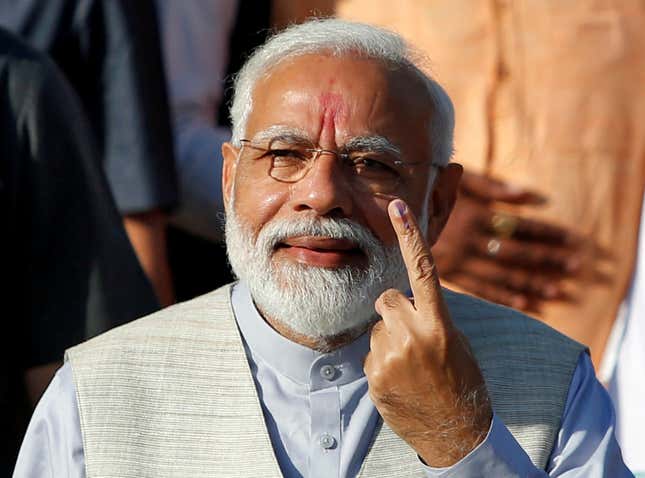 Modi's economic policies have come under scrutiny as well, with many saying that instead of reform and development, he has simply exacerbated unemployment and economic stagnation. One of his boldest and most criticised policy moves has been demonetisation, the invalidation of 86% of currency notes (by value), in an attempt to crack down on unaccounted cash. Issued in 2016, the move was last year shown by India's central bank to have been largely ineffective, with over 99% of the banned notes finding their way back into Indian bank accounts.
The prime minister's election campaign has been dominated by nationalism and national security, especially following India's border conflict with Pakistan in February, which followed a deadly militant attack in Pulwama, Kashmir, which killed 40 Indian security personnel.
Rahul Gandhi
In the event that Modi does not return as prime minister, the most likely person to do so is the president of the Indian National Congress, which has ruled India for 49 of its 72-year independent history. The Congress is the party of India's first prime minister, Jawaharlal Nehru, and has been dominated by his family. Rahul Gandhi, 48, is Nehru's great-grandson. Also key during campaigning this election has been Priyanka Gandhi Vadra, Rahul Gandhi's sister.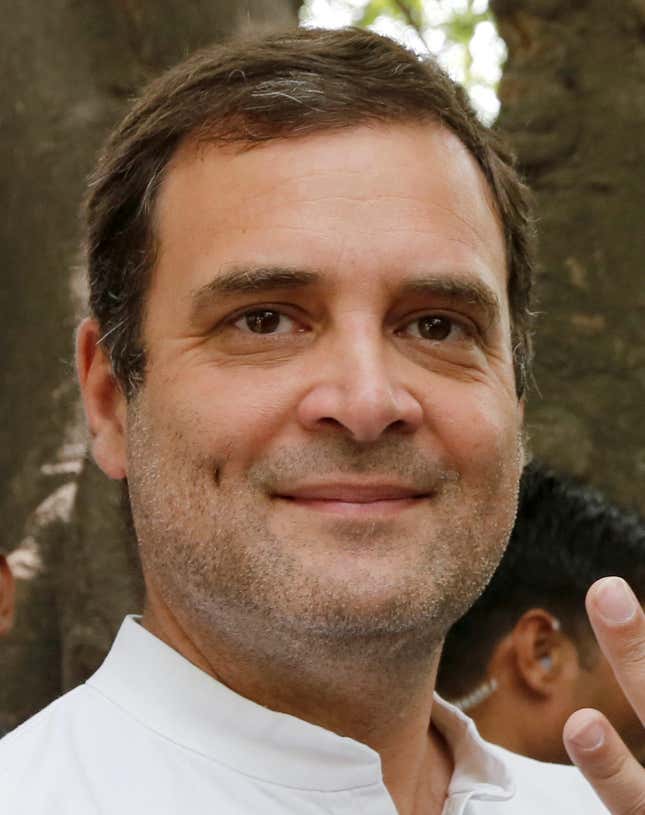 The Congress, leading the United Progressive Alliance (UPA) coalition, had ruled India for ten straight years before Modi defeated it in 2014. The BJP leader's campaign thrived on anti-incumbency, since the UPA's second term (2009-2014) had been rocked by multiple corruption scandals.
Gandhi's campaign during this election, early on, focussed on issues of the economy, and found itself in a tactical position after it won assembly elections in three key states last December. However, since the Pulwama attack and the resultant border conflict involving Indian airstrikes in Pakistan, Gandhi and his Congress have been on the backfoot as the BJP and Modi's actions have assumed the limelight.
Exit polls are predicting that the UPA will win between 77 and 132 seats.
Mamata Banerjee
It is highly unlikely that anyone other than Modi or Rahul Gandhi will become India's prime minister after the results are announced on Thursday (May 23). But one key politician who has consistently positioned herself in opposition to Modi is Mamata Banerjee, the chief minister of the state of West Bengal, home to almost 100 million people.
Banerjee, at 64, leads the All India Trinamool Congress party (TMC) and has been vocal about Modi's policy failures, especially demonetisation, which she has consistently described as a disaster.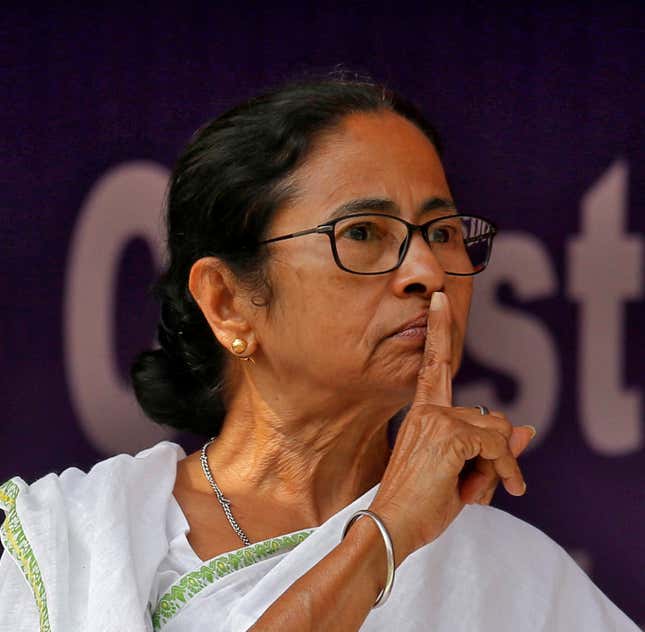 However, Banerjee faces many controversies of her own, including ones over poll-related violence in her state, reportedly involving clashes between the TMC and the BJP.
Exit polls, though, have painted a gloomy picture for the TMC, with expectations that the BJP's vote share will rise as high as 32%, from 17% in the 2014 elections. Banerjee has dismissed the exit polls as "gossip" and implored the opposition to stay united.
Mayawati
Another key force in this election has been the mahagathbandhan ("grand alliance"), a tie-up between the Samajwadi Party (SP) and the Bahujan Samaj Party (BSP)—two key parties in north Indian politics that have traditionally been political rivals. The most prominent face of this alliance is Mayawati, a 63-year-old who has served four times as chief minister of Uttar Pradesh, India's most populous state.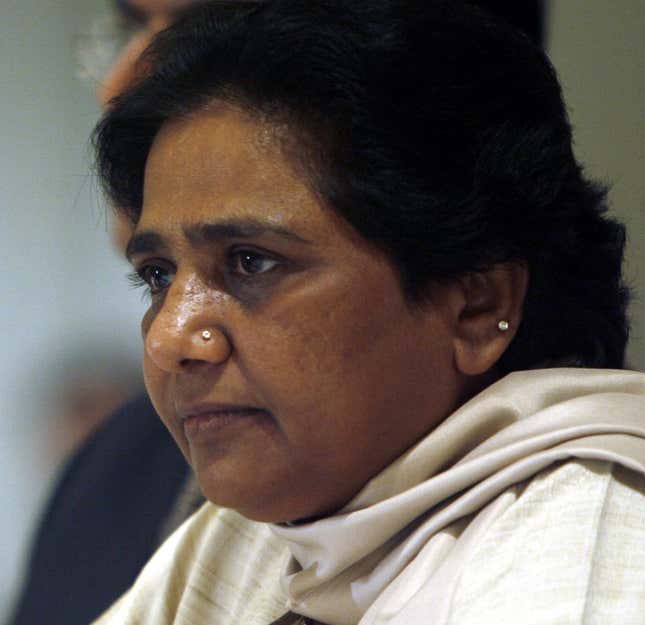 Mayawati's BSP was conceived as a platform for social change for Bahujans, or individuals marginalised by the Hindu caste system. As a Dalit—a group of oppressed castes deemed untouchable till the practice was banned post-Independence—she is an icon for millions across the country. She has also, however, faced scrutiny for corruption, including a reported "scam" involving the construction of public memorials and statues.
Throughout this election, the BSP supremo has kept a fairly low profile. For the first time last week, she said that, compared to her, Modi was "unfit" for the prime minister's job.
Exit polls are predicting that the NDA's hold over Uttar Pradesh will considerably weaken from the staggering majority of 71 out of 80 seats that the ruling party won in 2014. If this shift is in favour of the SP-BSP combine, then Maywati and her backers could have some serious negotiating firepower.
Read Quartz's coverage of the 2019 Indian general election here.