Ride-hailing apps have changed how people travel in several parts of the world. Indeed for many city dwellers, it's hard to imagine getting around without the freedom of hailing a cab with a few clicks on a smartphone. But this convenience has come at a cost.
The massive growth of ride-hailing apps is worsening traffic congestion in nine of America's biggest cities, according to a 2018 study (pdf) by New York-based Schaller Consulting. In a country like India—where the roads are often narrow and the number of commuters is growing at an explosive pace—things can be worse.
"Cabs aren't a long term solution for a country like India, not only because of affordability but also from an economics and environment point of view," Yugal Joshi, vice-president of Texas-based consulting firm Everest Group, told Quartz. Public transit options, like buses, are not much better because they add to congestion.
For the world's largest two-wheeler market, the solution to these problems may rest in its motorbikes.
Two of the largest cab-hailing companies in the world have diversified into two-wheeler taxis in India, and ventures focused on bikes have mushroomed in recent years. Currently, India's largest homegrown internet-based transport company, Ola, runs bike taxi services in more than 150 Indian cities, and its American archrival, Uber, offers them in 11. Then there is a slew of other local startups, such as Baxi, Vogo, Rapido, and Bounce (previous called Metro Bikes), which have joined the race. As of March 2019, Rapido was operating in 25 Indian cities and plans to double its presence to 50 in six months.
Despite all the new entrants, bike taxis still offer the potential to grow faster than India's overall ride-hailing market over the next five years, believes Noida-based TechSci Research. 
Riding in on two wheels 🏍️
Last year, over 20 million two-wheelers were sold in India versus less than five million cars.
Bikes have a number of advantages over cars. They're far cheaper than cars, lowering the entry barrier for cab drivers. "Many (drivers) are struggling to repay EMIs (equated monthly installments) of loans taken for their Uber/Ola cabs," says Prasanto K. Roy, an independent policy consultant and tech writer.
For riders, too, bike taxis can be better as they are typically around 40% cheaper than cabs and save up to 50% on commuting time, estimates TechSci.
They're ideal for covering shorter distances, and government regulations governing bikes are less onerous than for cabs. "Not all states require commercial licenses for rideshare bikes—mainly because they're not yet clearly regulated—unlike for cars, where all states require commercial licenses for taxis. In India, all commercial vehicles under the Motor Vehicles Act need a yellow number plate, but not two-wheelers," Roy said.
There have been some regulatory speed bumps. The southern Indian states of Karnataka and Telangana banned and seized bike-taxis after their transport departments deemed the service illegal and unauthorized. But these blips haven't slowed serious players.
Everybody wants in ✋
After saturating the top 10 or 12 Indian cities with their cabs, Ola and Uber began looking for the next frontier of growth.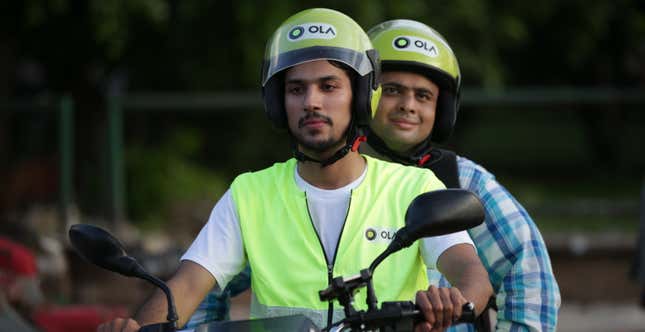 In March 2016, both companies launched their fleets of bike taxis. The offerings are a hit—especially in the hinterlands—because of the attractive pricing. Ola Bike is priced as low as Rs5/km. Uber charges Rs20 for the first 3km, Rs30 for 3-5km and Rs50 for 5-8km.
Despite initial concerns about the safety of female passengers, bike taxis are popular among women. Companies claim to be meticulous about background checks of their drivers. Some women even say they feel safer on an open bike than in the confines of a car.
"I've seen quite a few women taking bike taxis from Gurgaon's metro terminus at night—they feel safer because they believe there is less chance of them being taken away suddenly off-route, or have other people join in the vehicle; versus with cabs, which could potentially be child-locked for the rear-seat, be taken off-route, or pick up additional men," Roy said. But safety is still a challenge. "I have found women riding pillion unsafely, often sans helmets (holding the mandatory helmet in their hands) because they believe the helmet won't be clean enough," Roy added.
In the long-run, it's unlikely any single form of public transport will dominate in India. There will be a mix of cabs, bikes, autos, buses, and shuttles, with their own pros and cons, experts believe. But bike taxis do seem to be seeing stronger growth (albeit from a small base than cabs) than app-based shuttle and auto services in India. Compare Rapido, India's largest bike-sharing app, with four-year-old Gurugram-based bus startup Shuttl and India's largest auto-aggregator, Jugnoo, for instance:
And India's penchant for bikes is not unique. On-demand two-wheelers have become a staple transport in much of southeast Asia. GoJek, the Indonesia-based bike-taxi service founded in 2011, has since gone beyond booking rides, allowing users to order on-demand grocery deliveries and beauty treatments. In 2018, it entered Singapore, Vietnam, and Thailand, and Malaysia is on the cards. Singapore-headquartered Grab is another major player in the space.
Many roads to sharing 🛣️
In India, ride-hailing has already sparked a cultural change, as people begin dissociating car ownership from being a status symbol. "I believe the prestige associated with owning vehicles is slowly diminishing and the hassles of owning a vehicle in terms of cost (capital and operational), and parking issues are increasing. The future of ride-hailing is very bright," said Harish HV, an independent consultant who studies the startup sector.
India's exploration of alternatives to car ownership are sparking interest in some other options too, like car rental and scooters.
"We believe the self-drive car rental market in India, estimated at <$100 Million in 2019, is massively under-penetrated and there is a very strong growth potential," Bengaluru-based Mobility Foresights wrote.
Services such as Zoomcar and Drivezy (a peer-to-peer model matching renters and car owners) are examples of budding businesses in the sector.
Scooter-sharing service Bounce is also doing well. As of July this year, the Bengaluru-based company ranked among the world's fastest-growing bike-sharing startups. Between 2018 and 2019, the number of scooters on its platform has grown 300% from 2,442 to 7,000. Its user base was also up four-fold from 378,000 to over 1.1 million.
Of course, not to be left behind, Ola is showing interest in both those markets too. It invested $100-million in scooter-rental startup Vogo last December and is all set to splurge $500 million on deploying over 10,000 vehicles, including sedans and SUVs, for self-drive, too.