The first two weeks of India's Covid-19 lockdown in March came as a welcome break for Khushi Kaushal Shah. Until that point, the 17-year-old professional speed skater had been training non-stop.
Shah is India's top under-19 female speed skater. Before the pandemic, she would hit the rink for two to three hours in the morning to work on speed and technique. In between, she would go to the beach for off-skate training, or strength workouts.  Her plans for 2020 included competing in the World Games and Asian Roller Skating Championship.
Her happiness over the break was short-lived.  The coronavirus ultimately put a months-long end to sport in India, much to the dismay of its 1.3 billion sports-mad citizens—and the even greater dismay of its athletes. Forced to stay indoors, Shah spent hours watching videos of her old races. She tried to work out now and then, but felt demotivated.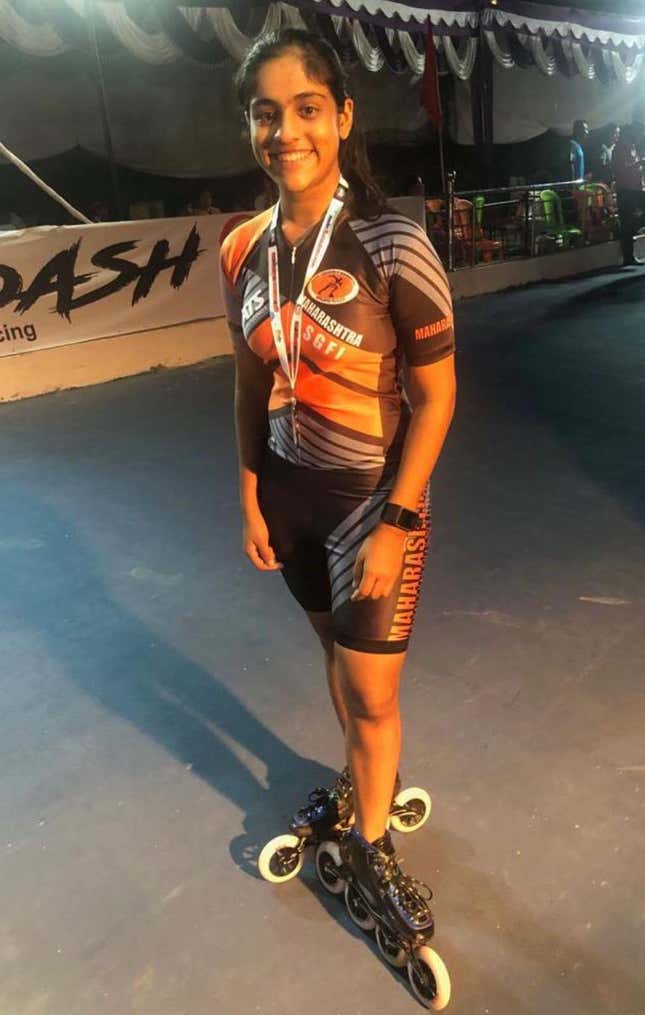 She finally returned to the rink in October, but barriers to a normal training routine persist, including sparse public transport and staggered training times. The star athlete knows it will take time to get back to normal. "Your speed goes down. There are techniques I've forgotten," she said. "It takes time to get back."
Having a professional sports career in India was difficult even prior to Covid-19. Now, Indian athletes are facing massive challenges in finding practice spaces, the means to earn money, and the motivation to keep going. Many have seen their performances suffer as a result.
At the same time, they are watching as sporting activity returns in other parts of the world, albeit under drastically different conditions. By comparison, calling India's recovery "slow" would be a vast understatement. The world's second most populous country is struggling to get back after hitting pause on sports for more than half a year, leaving athletes—and the industry at large—scrambling.
"In many countries, training has started…[but] training is only one part of the prep. Exposure to tournaments is also not happening," said Jay Kowli, secretary-general of the Boxing Federation of India (BFI). "It's very demoralizing for aspiring athletes."

Cricket's solo comeback
Cricket was one of the first sports to get back on its feet in the country—no surprise to anyone who knows anything about India. It is by far the most popular and lucrative sport in the country, attracting billions in endorsements, sponsorship, and TV money. Training restarted as early as May in some regions, despite the country being in lockdown. As Covid-19 continued ravaging Indian cities, the Indian Premier League—the world's richest cricket league—took the unprecedented step of moving its annual tournament to the United Arab Emirates.
Other sports have started clawing their way out of the dark, too. In mid-August, India's hockey teams and archers started training again. The Indian Judo team competed at the Budapest Grand Slam in October, part of a bid to groom athletes who could qualify for the 2024 and 2028 Olympics.
Several sporting facilities across the country, such as Delhi's Jawaharlal Nehru Stadium, and the National Sports Club of India in Mumbai, had been converted into Covid-care centers at the peak of the pandemic. Some of them started slowly opening up to athletes in October.
But this reopening has been largely restricted to elite athletes in more mainstream sports. Recreational sports—especially those played in teams—are dead, with schools and summer camps closed. That's left a big question mark looming over the fate of the next generation of India's sports talent. And it's left the current crop of athletes worried about years of hard work going down the drain.

Stuck on treadmills
Training isn't the only issue for athletes right now. Many are also mourning their inability to participate in tournaments and other competitive events, including Olympic qualifying trials.
While several countries still grappling with the pandemic have allowed swimmers to start training again, including Thailand, Australia, and the UK, India's swimming facilities remained shuttered. That's threatening the Olympic dream for India's fastest swimmer, Virdhawal Khade, prompting her to consider retiring. In November, Khade was finally able to get back into a gym—but the pool still remains off-limits.
Vikram Malhotra, 31, holds the record for the number of Professional Squash Association (PSA) world tour titles won by an Indian—he has 12. Currently a resident of New York, Malhotra was scheduled to fly home to India for a few days in March before heading to Cairo, Egypt, for his next tournament. Unfortunately, he got stuck in Mumbai. Despite appealing to government and local club officials, he was unable to get on a squash court for seven months.
"Every state had a different rule in terms of when facilities opened. I know that for a few people in other states, special permissions were given and that's how it should have been for all top athletes," Malhotra said. He called the fact that his home state, Maharashtra, didn't open up any facilities for him for seven months "shocking and somewhat aggravating as well."
Contact sports have had it especially tough. While participants in world title fights are forming bubbles to make a comeback in cities like Las Vegas and London, the Indian government has maintained its temporary ban on boxing. The sport's national championship usually sees nearly 360 athletes and 150 support staff come together—impossible under current restrictions. "Unless and until the national championship schedule is announced, states and districts cannot start work," BFI's Kowli said.
For now, the BFI has kept the top 450 boxers and 78 coaches engaged through online programs. However, Kowli estimates that at least 5,000 good boxers around India have been left without any support.
Athletes like squash player Sachika Balvani are pragmatic about India's ability to get back to hosting competitions. Many countries have had "very tightly knit, strict bubbles with regular tests throughout the tournament," Balvani says, but "Covid-19 has been rampant in India and replicating that bubble here might be an especially difficult task."
It may be near impossible. For context, India's population density is 464 people per square kilometer versus 36 in the US . Given the sprawling geography, and with some states worse off than others, getting players to fly in from all over and congregate for any tournament would be too risky.
As of Nov. 18, India has established air travel bubbles allowing flights to and from 21 countries. But going to the US or Europe is an expensive affair. In the past, several Indian athletes would compete in Asian tournaments in China and other neighboring countries to minimize travel costs. However, with China also canceling most international sporting events, that has not been possible.

It's all about the money
Many athletes–from table tennis players up to Olympic gymnasts—haven't found anyone to fund their training and equipment for years. The pandemic has only exacerbated the issue.
Elite badminton player shuttler Prannoy HS counts himself among the fortunate few. As part of the national team, the 28-year-old has been able to train for a couple of months now. Moreover, his training and tournament expenses are taken care of by the Sports Authority of India and the Badminton Association of India, along with sponsorships from sports equipment manufacturer Yonex, and the state-owned Oil and Natural Gas Corporation.
He recognizes that most Indian athletes aren't so lucky. "A lot of youngsters were eagerly waiting for a chance to play the sport. But in the last six to seven months, people have stopped playing because of no financial support," he says. "That has hit really badly for each and every sport, not just badminton."
The average middle-class family in India earns around $700 a month. Sports are an expensive investment, especially as children become more proficient. For instance, the best Yonex badminton racquet in India costs upwards of 18,000 rupees ($242). The most expensive Wilson tennis racket is priced at over Rs21,000 ($284).
Fifteen-year-old Riyansh Bhatia, a national-level inline speed skater, is funded by his family, in the absence of government or corporate backing. "Financial reasons are definitely holding back upcoming talent," said Bhatia. "Skating is generally an expensive sport and families might not want to invest in their children's sports at this moment."
During India's nearly four-month lockdown, already strapped-for-cash middle class families didn't see incomes rise at all. Making matters worse, almost 19 million salaried jobs have been lost amid the pandemic.
It doesn't help that many Indians traditionally consider school a more important priority. "At the peak time for people to perform, the pressure of studies is also so high that everyone wants to take a back seat," Skate Academy founder Ajay Shivlani said. Athletes between 15 and 18 have to navigate the competing pressures of school and sport, with the former usually prevailing. "The numbers at the right age group are thinning out like crazy."
During the pandemic, fitness challenges on Instagram exploded. Health clearly became more of a priority for many. But sports have been forced further into the background.
Traditionally, businesses have played it safe, and only bet on highly-ranked players. Even as the money being pumped into sports sponsorships rises—up 17% to $1.2 billion in 2019—cricket still dominates funding. But this year, even the Board of Control for Cricket has struggled to attract sponsors for kits and merchandising, a testament to how much others must be suffering.
Ajay Kumar Singhania, general secretary of the Badminton Association of India, admitted that Japanese manufacturer Yonex—its main sponsor for the India Open tournament—was badly affected by the pandemic. "There is no sale as far as sports products are concerned. Everyone will face a crisis in terms of finances," he said.
The #PlayForIndia campaign, an initiative to help athletes get through the financial struggles of the pandemic, has launched a host of online campaigns to raise funds for athletes. But it's not only athletes who are in need of help. Coaches, physiotherapists, trainers—all their income depends on sport, as do the daily wage earners at places like golf courses and shooting ranges.
With over 9 million known cases in India, this situation won't improve any time soon.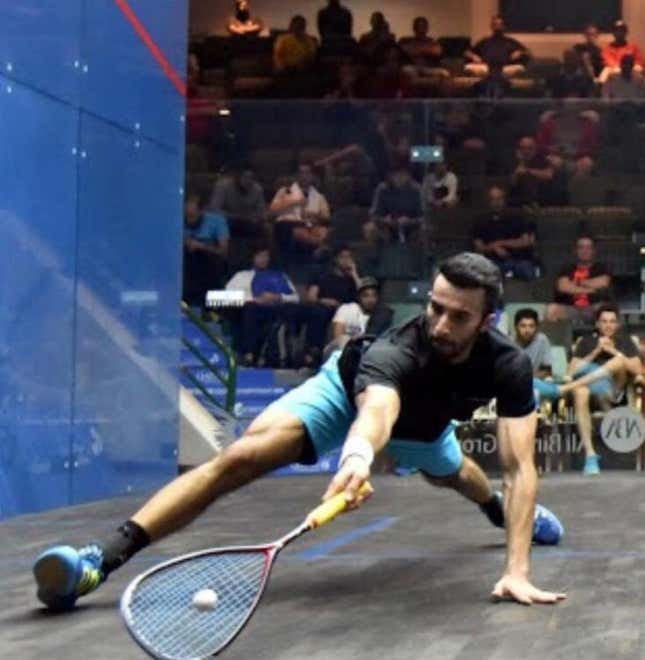 A lonely existence
Social distancing takes on a whole different dimension when you are an athlete. Training alone at home is poor preparation for an actual match environment—physically and mentally.
For squash player Malhotra, "there's nothing you can potentially do on a treadmill or outside that'll completely simulate a match." He returned to the court for the first time to play a tournament in Qatar in November, only to discover that other international players had been playing matches at home for four to five months.
"With someone on a squash court for months, and me running on a treadmill five times a week, it's not the same," he observes. "We're not running in the same race."
In the absence of support, athletes in India are toying with the idea of quitting. That's in part because when the sporting world returns to normal, excelling at a sport won't be enough. They'll have to catch up with the world first.