A third of Indian farmers are rapid adopters of technology, another third of them are slow-going, and the rest are not likely to use modern technology at all.
This insight is courtesy of Mark Kahn, who runs the agri-business fund Omnivore Partners. The company has invested in a number of startups that are innovating for the Indian farmer.
India's Department of Agriculture says the pace of farm mechanization has been poor, seeing only 2% annualized growth in the decade from 2001 to 2010. The need for greater mechanization and higher productivity is a sorely felt in the sector. Agriculture accounts for only 14% of India's GDP, even though it contributes nearly half of all jobs.
Many startups are jumping at the opportunity this sector presents. Kahn says that when Omnivore Partners was first set up in 2010, it evaluated one new startup a week. Now, the sector sees some 200 new startups every year. Here are five notable innovations such companies have produced.
1. The Venus flytrap
Kundal Mallareddy, a farmer in Karnataka's Bidar district, uses 50% less pesticide than he did until three months ago, when he switched to pest-control traps produced by Barrix Agro Sciences. Instead of pesticides, the Bangalore-based startup makes traps that use pheromones to attract crop-damaging pests and flies.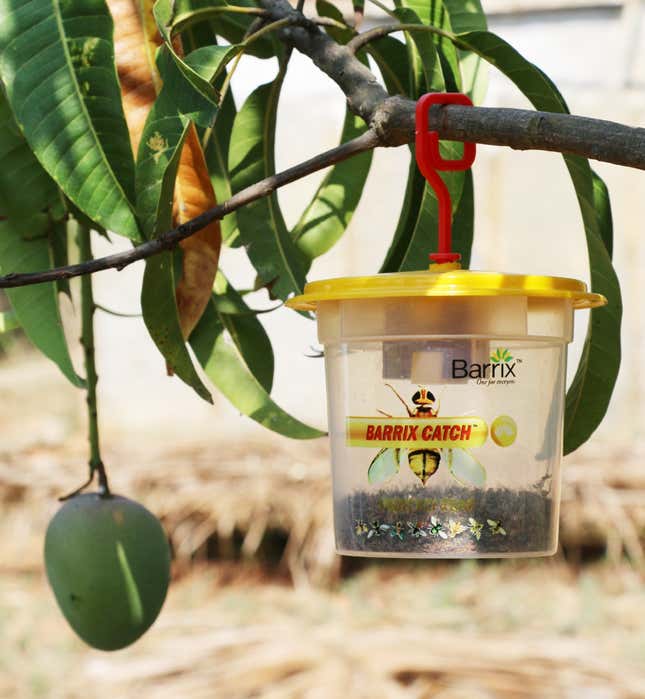 Vishak, another farmer based in Mulbagal district of Karnataka, says that using the fly traps has made it easier to ensure healthy crops during the monsoon. "During the rains the pesticides would get washed off and we would have to apply more and more pesticide. The fly traps work even then, which makes things easier," he says.
2. The Discovery
Sagar Bhansali, a Mumbai-based entrepreneur, set up Anulekh Agrotech, which sells a product called Biosat to farmers in Maharashtra and Gujarat in 50 kg bags. The product, is made using biochar, a soil additive, to improve fertility, thereby reducing reliance on chemical fertilizers. "The product itself is not an innovation. It's more of a discovery. The Amazonians used [this] technique that helped them get better crops," he says. Similar products were available elsewhere, "but we innovated on the side of supply chain and business model to make it more affordable for Indian farmers," he adds.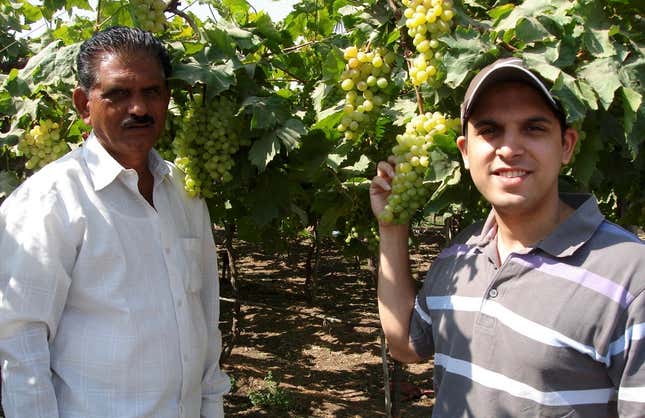 Laxman Rajve, a farmer from a village named Karanjgaon in Maharashtra has used the product for two years now. "I have two plots of five acres each on which I grow grapes. The grapes have been bigger and healthier since I started using the product," he says. This, he adds, has helped him get a better price on the grapes, pushing up his profits by  ₹700 ($11) per quintal.
3. Fruits of Innovation
In Maharastra, Nashik-based startup Mitra is improving mechanization at horticulture farms. The company has developed sprayers for vineyards and for pomegranate farms. "Sprayers are used for adding hormones that help the growth of crops amongst other things," says founder Devneet Bajaj, previously a principal at a private equity firm specializing in agribusiness. "Farmers would otherwise have to use a process of manual dipping that needs a lot of labor."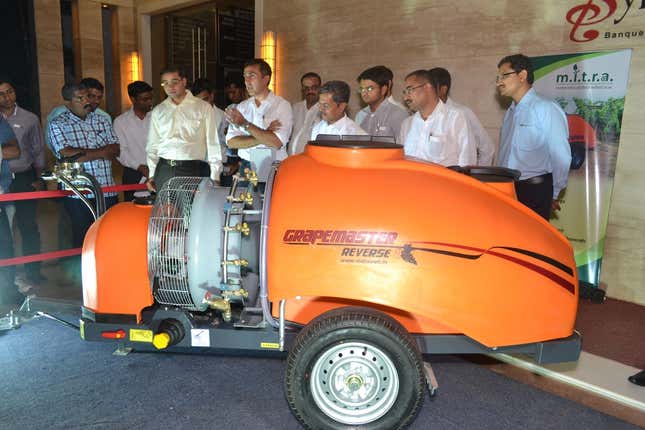 The machines his company has developed are up to 30% cheaper than sprayers available in other parts of the world and take half an hour for an activity that would otherwise require 10 to 12 laborers for a whole day.
4. Crop Control
In 2010, Bangalore software engineer Krishna Kumar set up a farming technology solutions startup called CropIn Technology Solutions. The technology is a cloud-based platform, integrated with a mobile app for Android, that allows large food companies to track the growth of crops on farms around the country. The software tags what is grown in the fields and the conditions in which the crops are grown at the farm level and enables companies to remotely monitor farms, ensure the farmers adopt better agricultural practices and make every crop traceable.
5. Fishing it out
Eruvaka Technologies, based in the coastal Indian city of Vijayawada in Andhra Pradesh, has also developed technology to track farm conditions remotely, but specifically for aquaculture farmers. "The solution allows farmers to measure the water quality, the levels of dissolved oxygen and the PH level remotely on a Smartphone" explains  Sreeram Raavi, founder of Eruvaka Technologies. The device Eruvaka has developed, Floating Sensor Buoy, is placed in the farm and has sensors measuring the parameters that allow the maintenance of a healthy environment for growing fish and shrimp. The device has a battery and solar panel, as well as wireless connectivity through a SIM Card mounted on the buoy, and can alert the farmer of a drop in any parameter through a text or phone call. Raavi's technology also ropes in cloud computing and data analytics to help study the changes in water quality in detail to be able to predict an oncoming problem.