Fewer Indians hold credit cards now than a year ago, but the ones that do are spending more—as banks get tougher on who they issue credit cards to.
India's credit card industry suffered in the global recession of 2008, like most of the world's. Recently released numbers from the Reserve Bank of India show that banks have learned some lessons from the higher-than-global average losses they took in the years afterward, and are in no rush to issue cards at the same pace as before the slowdown.
In 2008, Indians held 28 million credit cards, but that number had plummeted to 17.8 million by the year ending March 31, 2011. After an uptick, it fell again in the last 12 months, RBI data show: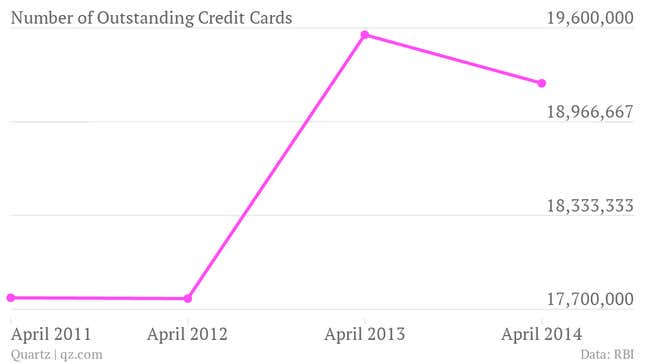 But spending on credit cards has been rising in recent years, even as the number of cardholders shrink: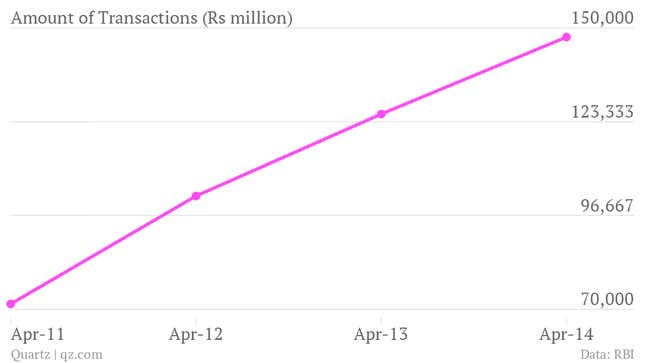 Rajiv Raj, director at CreditVidya, a credit advisory firm says: "Banks have become conscious of who they issue a credit card to after they faced problems with a large number of delinquencies." So rather than making them available to a semi-open market of bank account holders or car owners, they're just sticking with existing customers.
"They know the customer's average quarterly balance and how likely the customer is to default on payments," he says. Banks also increasingly use their own analytics while issuing credit cards, or rely on India's growing credit bureaus and only then issue cards.
The demand for plastic money is on the rise, as more people in India become comfortable with it, and with the idea of spending money online. Digital payments in India are expected to reach Rs1.2 lakh crore ($20.2 billion) by December 2014, according to the Internet and Mobile Association of India, 40% higher than they were in 2013. But only 21% of these payment are done using credit cards. Debit cards and internet banking make up the rest.