During his campaign to represent the Bangalore South seat in parliament, billionaire Infosys co-founder Nandan Nilekani was assisted by an impressive range of apps. His team used HawkEye to gain real-time insights into ward-level voting, and helped voters get details about their polling station through an electoral list checker called Voter LookUp.
Nilekani lost by approximately 230,000 votes.
His opponent, the incumbent Ananth Kumar of the Bharatiya Janata Party, had represented the constituency five times before. Besides, like so many of his partymen, Kumar rode high on the Modi wave that swept India. But Nilekani also faced another hurdle: a happy coalition of tech professionals, angel investors, hedge fund managers and business consultants who helped Kumar plan and execute the campaign. While Nilekani's tech efforts were widely covered in the media, little is known about the team that helped the rival candidate.
While workers of the BJP and its parent organization, the Rashtriya Swayamsewak Sangh, went door-to-door canvassing support, the techies took it to the internet by using e-mail and YouTube.
"We never saw the need for apps such as those Nilekani used in his campaign as electoral battle is fought on the ground and not in technology platform," said Samir Kagalkar, visiting professor at IIM-Indore and co-founder of education consultancy eMBArkers, who volunteered for the Kumar campaign.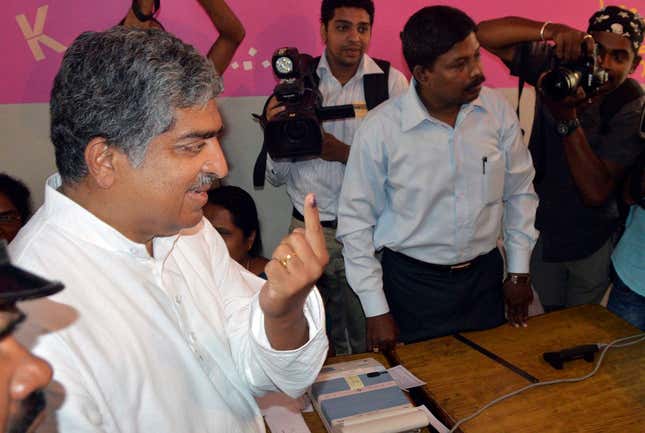 Nilekani, who ran on a Congress ticket, is a household name in Bangalore. In addition to his fame as a co-founder and long-time CEO at Infosys Ltd, he was also the chief of the Unique Identification Authority of India (UIDAI), the government initiative to provide every Indian with a unique identity number.
Many of Kumar's active volunteers worked at tech companies. They were led by a core team of 11 senior professionals, many of whom ran tech companies and canvassed the alumni networks of the elite engineering and management colleges they attended, for support. That is the demographic the Nilekani campaign counted on for support. Some of them wrote to their employees, expressing hope that they would support Kumar's candidature.
"The key aspect we tried to highlight was one should not take Nandan Nilekani's background for granted," said Sampath Iyengar, India CEO of Wall Street Hedge Fund, one of the members of Kumar's core team. "We encouraged people to think critically about the authenticity of his claims and told them not to be gullible and blindly believe what he says."
Kumar's supporters decided to highlight what they believed were flaws in the UIDAI programme.
Kiran Bettadapur, CEO of Cylive Ltd. and an angel investor, said that the team told voters that the UIDAI programme made it easy for illegal immigrants to obtain identity cards–in fact, they told voters that the hidden objective of introducing the plan was to provide identification numbers to illegal immigrants.
Discrediting the utility of UIDAI and questioning its legal status–the underlying law has not yet been passed by Parliament; the project works on the strength of a government order–was one part of the strategy. Countering Nilekani's claims about Kumar was another.
When Nilekani accused Kumar of doing little to improve Bangalore's civic infrastructure during his many terms in office, the BJP techies impressed upon voters that building amenities was the responsibility of municipal officials, not of a member of the national Parliament. But they emphasised that Kumar has a done a good job as MP by facilitating the construction of a new international airport and the first phase of the Namma metro project.
Now that Kumar has won the election and has been given charge of the ministry of Chemicals and Fertilizers, the team hopes to work as a conduit between Kumar and the constituency. Members of the team are also looking forward to help the Narendra Modi government in Delhi to frame a new policy to encourage the growth of the IT sector in India. They have ideas on how to improve agricultural efficiency and manufacturing productivity through IT.