With Infosys naming him CEO, 47-year-old Vishal Sikka is set to become the darling of India's business press (as long as the company does well). Here is what you will hear about him in the next few days.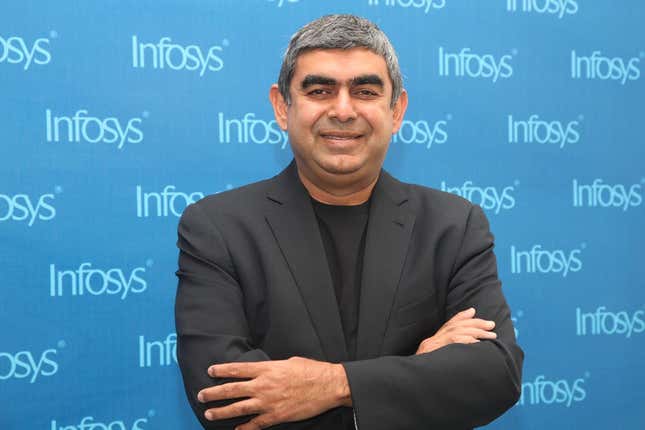 1) Yet another high-profile executive who didn't go to an IIT: Sikka was born in Gujarat and studied computer engineering at MS University, Vadodara. He holds a PhD in computer science from Stanford University. This is becoming a trend.
2) Built billion-dollar platform at SAP. At SAP, Sikka led the development of HANA, its flagship product that allows customers to organize and process massive amount of data quickly. He often refers to it as his "little girl." In a 2013 blogpost, he described the product that was delivering $1 billion in revenue for the company. It was the "fastest growing product we've ever seen in SAP, quite likely also in the industry," he wrote.
3) He's on Twitter intermittently: The new Infosys CEO tweets occasionally but his twitter profile makes no mentions of his professional chops. He describes himself as "Husband, Dad, Son, Brother, Friend. Student, Visitor, Thinker, Innovator. Occasional Surfer on life's waves…". Soon after Infosys announced him as the new CEO, Sikka tweeted: "Humbled to lead @Infosys an iconic pioneer in IT. Looking fwd to learn & work with infoscions & global clients on breakthrough innovation."
Sikka also tweets a lot about nature. Many of his tweets are scenic photographs accompanied by verses from Bollywood songs. Jo Bhi Main, a song from the Bollywood film Rockstar, appears not only on his twitter feed but was also played during his keynote address at a SAP conference in Bangalore last year.
4) Sikka has a blog, but gets little time to write: Sikka runs a blog called Timelessness, but has only written eight posts in six years. His most recent blog entry was on 1st May, 2014, where he talks about his favourite book, Hermann Hesse's Siddhartha.
"Siddhartha is an extraordinary combination of the cultures of Germany and my native India, and a deep inspiration to an entire generation of Americans, the very 3 cultures that have shaped who I am," he wrote. He proposed an idea called Timeless Software and dedicated his first blogpost to the subject. "Timeless software is a notion that I have of ensuring that we can deliver our softwares to our customers in a way that is stable but non-disruptive," he said during an interview.
5) Intellectual influence: American thinker Stewart Brand's. Apple's Steve Jobs has talked about how he was influenced by Brand's Whole Earth Catalog. The motto Jobs popularized in a commencement speech–"Stay Hungry, Stay Foolish"–first appeared on the back jacket of the 1974 edition of the Catalog.
6) Favourite flying experience: The Boeing 747 operated by Lufthansa. He calls it  "timeless, engineering, awesomeness."
7) Favorite movie: The Matrix trilogy.