Only two events merit both defacing and festooning the decrepit walls and narrow lanes in Kolkata.
One is an election. The other is the FIFA World Cup.
But unlike India's elections and the unending list of political parties, when Kolkata gets decked out for football, it is either blue and white, or yellow and green. Argentina or Brazil.
This year is no different. Half a world away from the action, the great Latin American football rivalry is playing out in the innumerable paras—Bengali for neighborhoods—of Kolkata, a heaving metropolis in eastern India of 14 million.
Late one evening last week, Anuj Barman, a 34-year-old jeweler, sat in the darkened room a south Kolkata club—as one-roomed community centers are called here—as the projector warmed to show Argentina's debut at the 2014 World Cup.
"From the day I've started watching football, understanding it, its always been Mohun Bagan on the fields of Kolkata," he says, referring to one of city's two great local football clubs. "And internationally, its always been Argentina."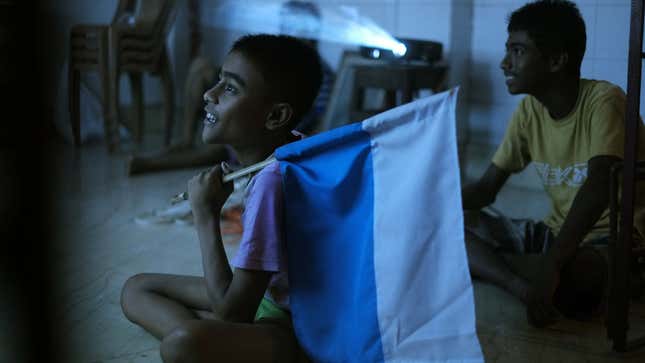 In Kolkata, football fanaticism begins early. Barman even claims to remember when Argentina won the World Cup in 1986, despite being a six-year-old. "When Maradona lifted that trophy, I just felt like putting my arms around him and giving him a kiss," he unabashedly declares.
Of course, that's enough emotional outpouring for the Brazil fans in the club to do some remembering of their own. "The hand of God," they cry out repeatedly, teasing the opposing posse about Argentinian star Diego Maradona's infamous goal against England in the 1986 World Cup quarterfinal.
Football in this city has always been about binary rivalries. On the Maidan, the vast stretch of green at the city's heart, it's either Mohun Bagan or East Bengal football club. In a country obsessed with cricket, the Kolkata derby remains one of Asia's great football rivalries, split along ethnic lines and consistently drawing in crowds in excess of 70,000.
But the Argentina-Brazil division here is more about personalities, says Sumit Mukherjee, a long-time sports journalist in the city. "It dates back to the Pele versus Maradona argument. The passion is very individual-centric, which has then diluted into Brazil versus Argentina," says Mukherjee, an avowed Brazil supporter. His rebellious 21-year-old son backs the blue and white of the La Albicelestes.
Not so for Ankan Sarkar, a 17-year-old college student. "I am a die-hard fan of Brazil because of my father," he says. "He is also a Brazil supporter."
That's perhaps why a shaven head in his childhood prompted nicknames after Ronaldo, Brazil's one-time celebrity forward. Now, it's all grown back, although a recent mullet has earned him comparisons with the current Seleção rage: Neymar.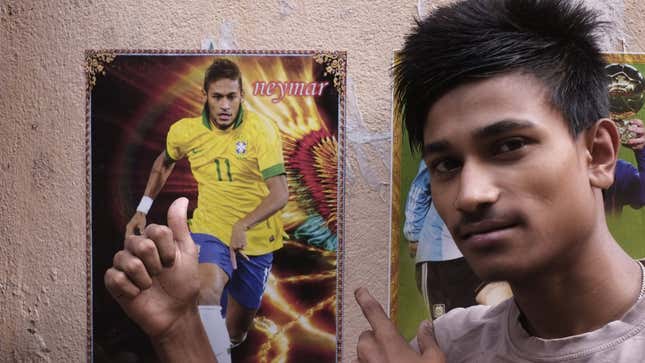 It's these sort of cosmetic embellishments that separate Brazil fans from the Argentinian supporters, contend the latter. "Yes, Brazil has a bigger fan following. But those who don't understand the game get influenced and start backing Brazil," says Chiranjeet Dutta, 29. "But those who love the game and understand it, they'll obviously support Argentina."
To understand football and its intricacies is important here. Supporters from both quarters roll off the names of their teams with ease, proper pronunciation notwithstanding. Strategy and formation are vociferously debated; defeats and victories deconstructed threadbare.
But above all, there is an acute appreciation of the beauty of football: The sublime passing, mesmerizing footwork and effortless movement. Jogo Bonito, as the Brazilians call it—the beautiful game—is what makes Kolkata's fans crazy about football.
Notably, Kolkata is perhaps the only city in south Asia to have hosted Pele, Maradona, and Messi. Pele came with his Cosmos team in 1977 to play an exhibition match against Mohun Bagan; it ended in a draw.
Maradona came in 2008, and Messi in arrived in 2011 with the Argentinian team to play a friendly against Venezuela. And for years, the man who ruled Kolkata's Maidan, playing for Mohun Bagan, was a Brazilian striker by the name of Jose Ramirez Barreto.
Such is this city's penchant for hero-worshipping footballers that it even cuts across the Brazil-Argentina divide.  "As a player, there's no one better than Messi. He's god-gifted," says the Neymar-cultist, Sarkar, "but I'm still a Brazil supporter."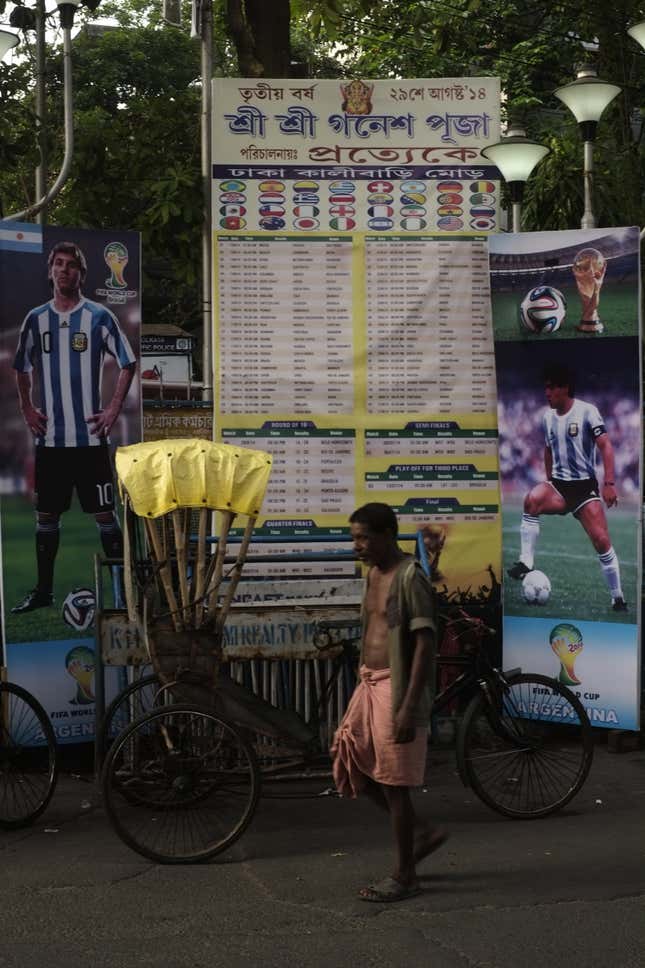 That is probably why this decaying port-city in India's east remains such a bastion for the beautiful game. Yes, there are divisions and rivalries, but what eventually matters is football itself.
"India doesn't play, so we need to find another team to support. We have to support someone or the other," in the World Cup, says Pritam Dey, a 22-year-old student. "Kolkata is mad. Kolkata's football lovers are mad."
Additional reporting by Rohan Chakravarty