Recently, the prices of cotton saw a drop in India. While farmers demanded about Rs1,000 for 20kg of the crop, in some markets in the country, it was sold at Rs780 for 20kg. To supplement the low returns that cotton growers get on the sale of the raw product, Kannan Lakshminarayan has developed a solution.
The Chennai-based entrepreneur has developed technology for cotton growers to carry out spinning and weaving activities at small units near cotton farms. By helping them move upward the value chain in the vast business of producing garments, farmers can secure better returns and generate more productive employment at the farm.
"I found that most of the value is added during the spinning process which is traditionally carried out at large industrial spinning units," he says. Lakshminarayan says that these large industrial spinning units, called cotton gins, are a remnant of the industrial revolution in England where cotton was brought in from different parts of the world. India continues to operate large scale spinning units that forces the industry to mimic the scale and structure that made sense back then.
"It wasn't just enough to mechanically scale it down. I had to find a different process to separate the fibre. The process I developed depends on aerodynamics and buoyancy to separate the fibre and remove extraneous material," he explains. He has filed for a patent on this technology. The end product that comes out of these machines is of better quality and is more absorbent to dyes, he claims.
India is the second largest producer of cotton in the world accounting for about 18% of the world's cotton production. Since 1995 though, more than 270,000 of the farmers growing cotton have committed suicide. Pressures of unmanageable debt and poor returns on their crop have contributed to their misery.
Microspin Machine Works, the company Lakshminarayan founded in 2011, has set up one unit so far in Vidarbha in Maharashtra for a credit cooperative society that has cotton farmers as its members. Jitesh Prakash Chavan, a Vidarbha farmer, says he has worked at the unit for a year and has earned enough to set up a business of his own now if he wishes to.
One spinning unit requires input from about 100 acres of cotton farms and is spread over 3,000 square feet of area. The project cost of setting up such a unit is Rs 1 crore. A large scale mill is 100 times larger and requires that much more cotton, Lakshminarayan says. The company has another prototype for a unit that includes facilities for weaving and dying the cotton. That costs Rs5 crore to set up. The company is currently setting up two such units in different parts of the country.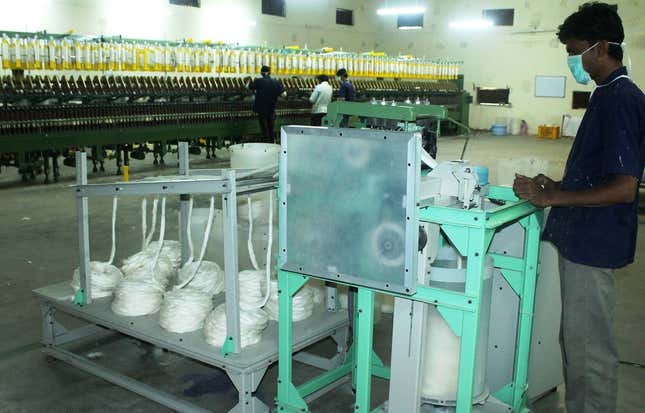 To assist the farmers, Microspin also provides marketing and sales support to the unit and helps create market linkages. Chavan, the farmer from Vidarbha, says he also got trained by engineers from Microspin to operate the units.
The fabric produced by the unit in Vidarbha sells for Rs150-250 per metre. Each unit can produce 1,000 metre of fabric or process 100-120 kg of cotton a day. Shambu Nampoothiri, director of fabric sourcing at Bangalore-based company Suvastra India, says he liked the fabric. "The fabric has a slightly irregular and netty look, which is different from the regular cotton fabrics and will work well for traditional Indian attire. If the company can market it well, there will be a huge demand for this fabric," he said.
India has the largest area under cotton cultivation in the world at about 12 million hectares and constitutes about 25% of the world area under cotton cultivation. The IIT Madras graduate has developed a number of technologies for low income markets including low cost ATMs that work using solar power.