India Post wants to become a bank. And it's not a bad idea.
That's because even as the world's largest postal network struggles in most of its traditional services, the Post Office Savings Account has seen extraordinary growth—almost a 500% increase in the number of deposits since 2002.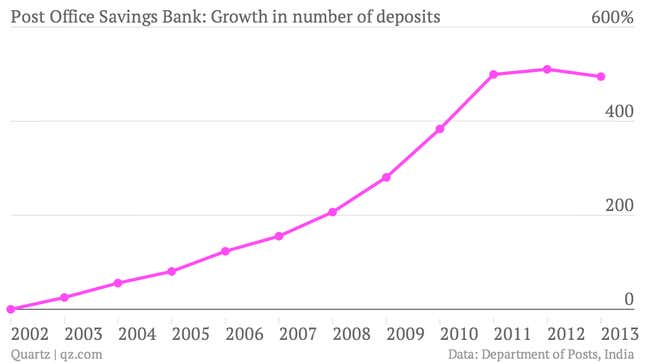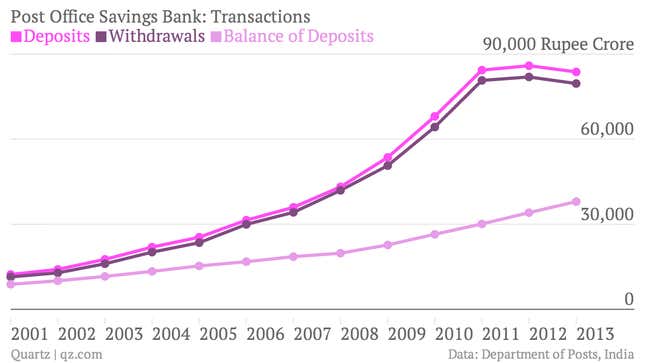 Over the last few months, it's started connecting hundreds of its post offices to eventually create a banking network that will span over 23,000 branches by 2015. That's more than the existing setup of the State Bank of India, currently the country's largest lender with the most branches.
Simultaneously, India Post is rolling out an ATM network, which should reach 2,800 locations by next year.
But the Reserve Bank of India wasn't particularly impressed. In April this year, it shot down India Post's application for a banking license. More recently, however, RBI governor Raghuram Rajan has indicated that the postal network could become a payment bank. That means it can offer deposit and payment services, but not loans.
The argument for giving India Post a license is fairly straightforward: It has more than 150,000 post offices, about 90% of which are in rural India. So, if the government's aim is financial inclusion—since about 40% of India's population is unbanked—then the humble post office may be the best way to reach out into the hinterland.
Those opposed to such a role for India Post have mostly pointed to the organization's dire financial situation. True, the postal network hasn't stopped bleeding money yet, but at least its performance free-fall has been stemmed.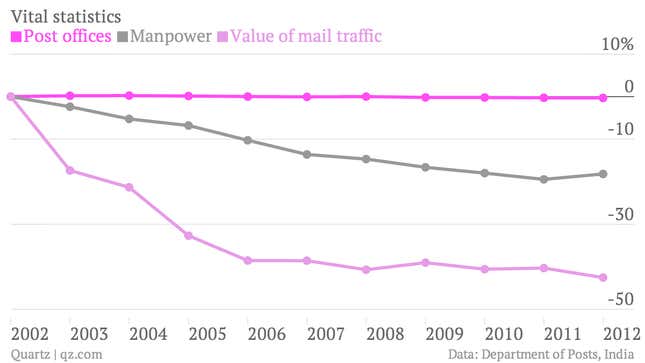 The decline has stalled across most of its mail operations, with segments like packets actually exhibiting growth. There have been large contracts with other government agencies, such as the UIDAI, which have added to the overall streamlining of operations.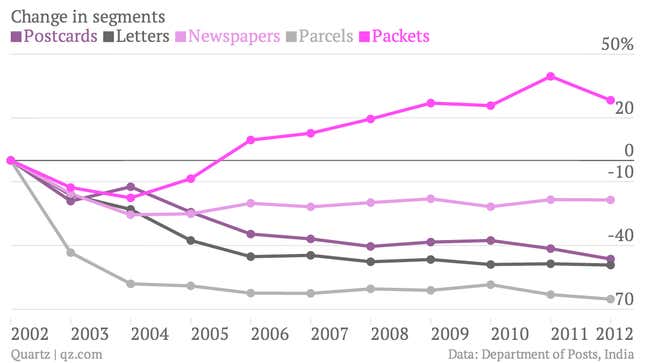 Some of it has to do with India Post's "Project Arrow," an operations and services improvement project launched in 2008. On the operations side, mail delivery, savings bank and remittances were overhauled, while service quality upgrades included branding, technology, human resources, and infrastructure.
Expenses, as a result, have gone up, but revenues are now steadily moving north also.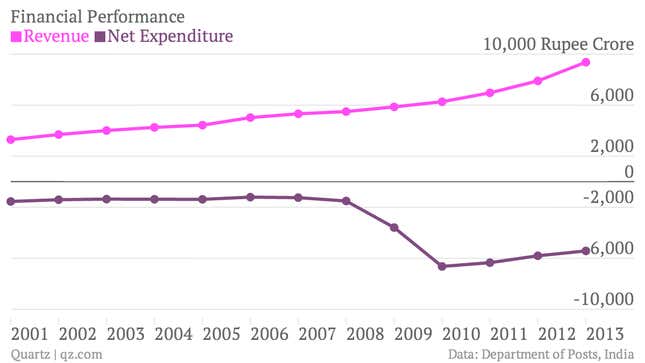 This is despite the fact that the services India Post offers is heavily subsidized, particularly in rural India. The subsidy is reportedly about 66% in most rural areas, and as high as 85% in more remote locations.
But as a bank, things would presumably be different—and India Post may actually be able to profit from a vast network that it has painstakingly expanded, since 1774.