Does it pay to be a politically connected business in India today?
The answer has varied over the last few years, depending on the political climate and the mood of the nation on graft. But in the last month or so, the answer by the investors in the stock markets is a resounding yes.
Ambit Capital, a Mumbai brokerage, maintains an index of 75 companies that it deems politically connected. It doesn't name names, and it doesn't say how it selects the companies. But how that index has performed against the broader S&P BSE500 index tells an interesting story.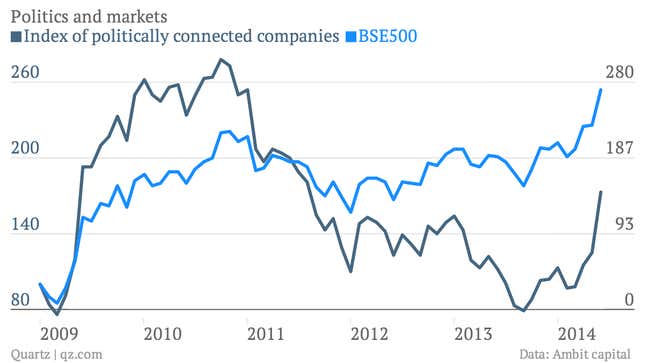 The Index of Politically connected companies (IPC) used to consistently outperform the broader market earlier. In September 2010, when an audit report by the Comptroller and Auditor General (CAG) on the 2G spectrum allocation named private companies that benefitted from an alleged conspiracy, the index started falling sharply. By mid-2011, it started underperforming the market.
The gap between the two continued to grow all the way up until October 2013. It started recovering gradually and in June, backed by buoyant sentiment about the new government and a rising Sensex, the index has shot to a level it has not been at since mid-2011.
Sourabh Mukherjea,  CEO of the institutional equities division at Ambit Capital, said that in 2010 and 2011, "publication of the CAG reports broke the connected company chord badly." He added that the index got a breath of life in late 2013, as national elections approached, with the expectation that the Bharatiya Janata Party, regarded business friendly, will form the next government. In September 2013, Narendra Modi, who had earned a reputation as India's most investor friendly chief minister, was named BJP's prime minister candidate.
While IPC has risen 118% since September last year till June, BSE-500 has only risen by 43% over the same period.
This rise in IPC is driven by the presumption that connected companies will gain from the decisions of the new government. Some analysts say this is a misplaced expectation.
"Presumption in the market that politically connected firms are likely to benefit from the new government is likely to fade in coming month as no sensible government will bend over backward to favour any particular company," Mukherjea said. India has changed a lot and now there is greater scrutiny from the media, CAG etc, making it difficult for companies to gain undue benefit, he said.
Daljeet Kohli, head of research at India Nivesh, echoed Mukherjea's sentiment. "It is absurd to expect that Modi government can be selective in passing on favours," he said. "At best, Modi government can bring in policies to boost a given sector, beneficiaries of which could be anybody, irrespective of whether they are politically connected or not."
Investors don't seem to share the sentiment.