A chart in this post has been corrected.
Sometime in the last decade, Indians started consuming whiskey with such gusto that the subcontinent became the world's biggest market for the spirit, in terms of volume.
Between 2007 and 2012, the country's whiskey appetite doubled to over 1.4 billion litres, as everything from imported smoky single malts to throat-searing local varieties was swiftly knocked back. It seemed a thirst that couldn't be quenched.
Until now.
Year-on-year growth of whiskey sales, by volume, has plummeted, according to recent data by International Wine and Spirits Research (IWSR).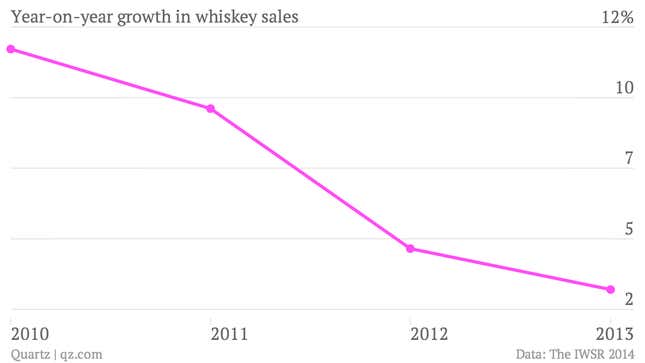 2013, in particular, was a cheerless year for the broader Indian alcohol industry. Growth in whiskey and brandy consumption, both of which form the greatest share in the market, have dropped—and overall spirits sales in the country reportedly declined by 2%.
Even in the southern state of Kerala, which has the heaviest per capita alcohol consumption in the country, sales have purportedly fallen for the first time in three decades.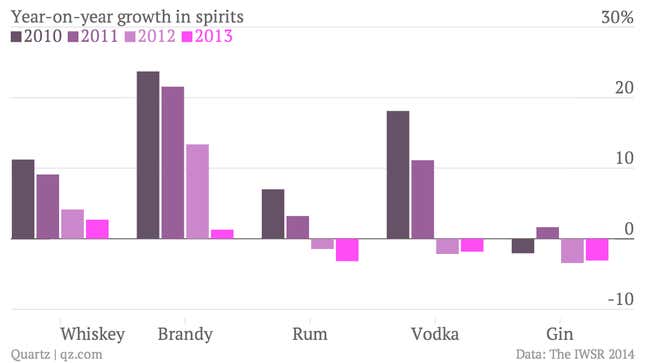 Some of it has to do with India's election cycle, as alcohol sales are closely monitored and controlled. Voting days are dry, and in the recently concluded polls, the Election Commission has been especially watchful.
Moreover, a sluggish economy and high taxes may have played their part in driving middle-class consumers toward cheaper Indian made foreign liquor (abbreviated as IMFL in industry lingo) and indigenous alcoholic beverages.
The last few years have also seen something of a demographic shift. Growing numbers of women and young, wealthier consumers are leading to some diversification in consumption. Sales of beer and especially wine, as a result, grew faster than spirits between 2011 and 2012, according to Euromonitor International.
But as a standalone spirit, nothing came close to whiskey and its sway over India. (Correction: An earlier version of this chart mistakenly displayed two data points in a single year.)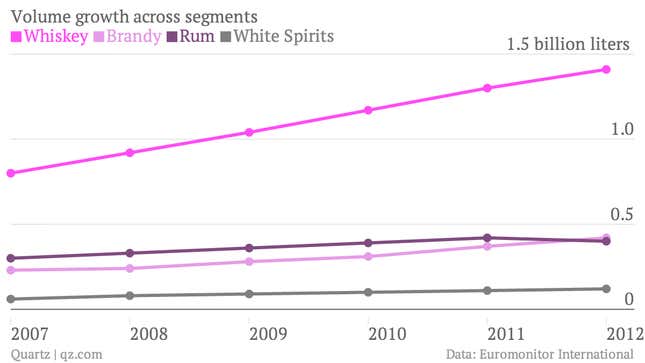 The lack of growth hardly means India will cease be a major whiskey market; just that it's slowing down.
In fact, more spending and organized retail still leave plenty of room for whiskey consumption in the subcontinent to expand, according to Euromonitor International. Finer whiskies will likely do exceptionally well.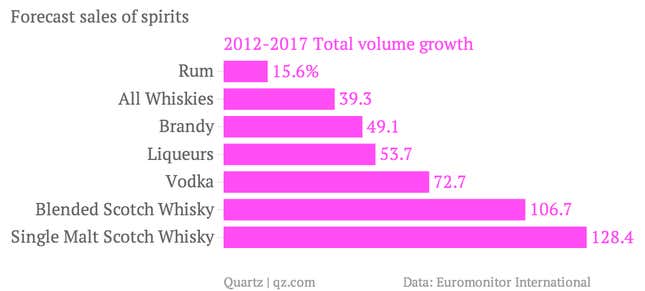 So while India's raging thirst for whiskey may finally be slaked, at least we know one thing: The hangover will last a while.