There are few international comparisons on infrastructure that allows India to come off looking good.
We have found one. But first, a bit of background.
Financial inclusion is a key policy priority for India. According to the 2011 Census, only 58.7% of Indians access any kind of banking services. In rural India, this figure is 54.4%. But that is a sharp upswing from the 2001 Census, when only 30.1% of people living in rural India had access to banking services.
Research says financial inclusion plays a critical role in boosting economic growth. And so central bank governor Raghuram Rajan plans to create more banks to address this problem. He is even trying to repurpose India's Postal Department—the world's largest postal network—as a bank.
But data from the Financial Inclusion Survey conducted by the International Monetary Fund indicates that the density of banks in India is higher than many other countries.
"If we compare bank penetration, it is somewhat comparable to other [developed] countries," says Hatim Broachwala, a research analyst at Karvy.  "The major issue is in rural parts. He notes that people living in the rural areas of developed countries have better access to banking compared with India.
Finding a bank will require much less effort in India than in China, Asia's largest economy. Meanwhile, Bangladesh comes on top helped by its smaller geographical size and also by the proliferation of micro finance institutions. "It can be a combination of both,"says Broachwala.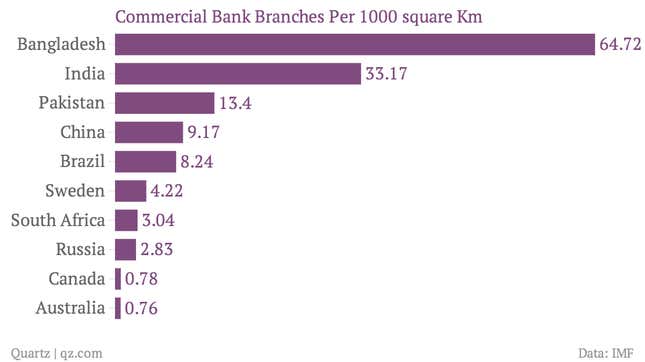 Another tool RBI is, well, banking on to to achieve financial inclusion: automatic teller machines. India currently has 170,084 of them and the network is expected to expand. And yes, they too are easy to find in India.
In fact, India trumps developed countries such as Canada, Sweden, and Australia.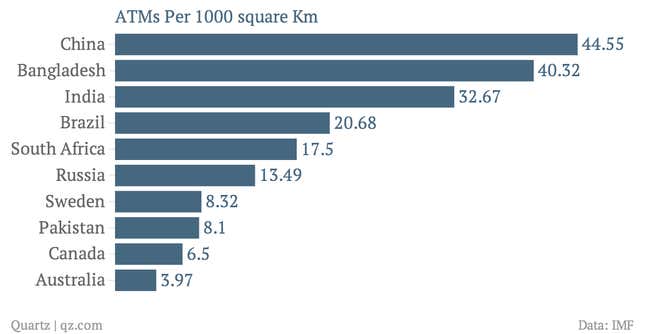 Having fewer banks and ATMs doesn't necessarily mean poor financial inclusion, however. In most of these countries, with the exception of Pakistan and Bangladesh, majority of the people reside in cities, unlike in India where almost 70% of the population lives in the hinterland. Moreover, the bulk of banking transactions today are carried out digitally either through the internet or mobiles.
A study by Comscore in 2010 found that people in Canada, Australia and Sweden are among the biggest users of online banking. In 2013, 82% of Swedes used online banking, according to Eurostat.
In India, banking on the Internet or mobile is catching on, but is not yet commonplace.