Saudi Arabia is the prime destination for Indian labourers working abroad, data from the Ministry of Overseas Indian Affairs shows. Between 2008 and 2012, over 35 lakh Indian labourers went to the Arab nation.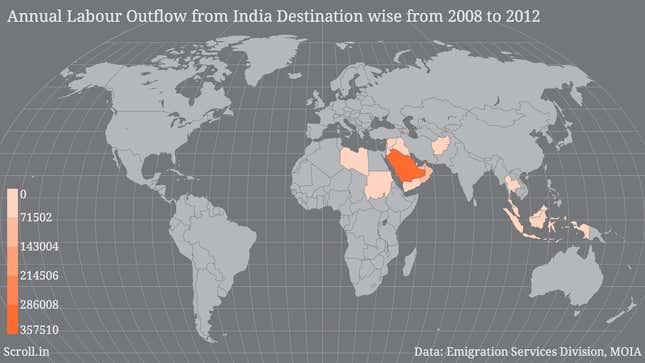 The world map of Indian labour (above) shows that most Indian expatriate workers find jobs in the Middle East. After Saudi Arabia, migrant workers choose United Arab Emirates, Oman, Qatar, Kuwait, Malaysia, Bahrain and Jordan.
Indian migrant workers began returning to Iraq relatively recently, only in 2010. A few hundred every year have made this move since. Other destinations of economic migration are Afghanistan, Indonesia, Lebanon, Libya, Sudan, Syria, Thailand and Yemen. It is interesting to note the drop in numbers in countries affected by the Arab Spring (see the data for 2011).
Nearly 7.5 lakh Indian workers migrated to the countries marked above in just one year, 2012. These numbers reflect only legal migration, covered by the Indian government's "Employment Check Required" mechanism, which tries to prevent slavery, human trafficking and ensure the security of workers abroad in emergency situations.
The workers are drawn from across India, but some states have particularly large contributions.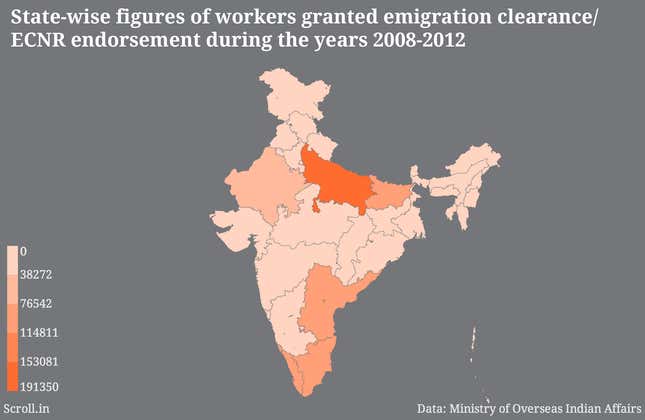 While it is well established that  large-scale migration takes place from Punjab and Kerala, it is India's most populous state, Uttar Pradesh, that sends the largest number of workers abroad. In 2012, 1.9 lakh workers migrated from Uttar Pradesh to the countries marked above. After Uttar Pradesh, it was the much smaller state of Kerala (98,000), then Andhra Pradesh (92,000), Tamil Nadu (78,000), Bihar (84,000), Rajasthan (50,000) and Punjab and West Bengal (both around 37,000).
The numbers for Punjab have fallen considerably, from 54,000 in 2008 to 37,000 in 2012. It is also interesting to note that Punjab sends so many workers abroad, while neighbouring Haryana sent only 1,200 in 2012.
Some large states with large numbers of poor people send very few migrant workers: 5,000 from Jharkhand, 1,800 from Madhya Pradesh, 7,000 from Odisha, 1,100 from Chhattisgarh. This could be because of lack of family networks already working abroad, and the paucity of skilled labour.
The remittances sent home by Indian workers abroad went up from $15.8 billion in 2001-2002 to $70 billion in 2011-2012.
This post originally appeared in Scroll.