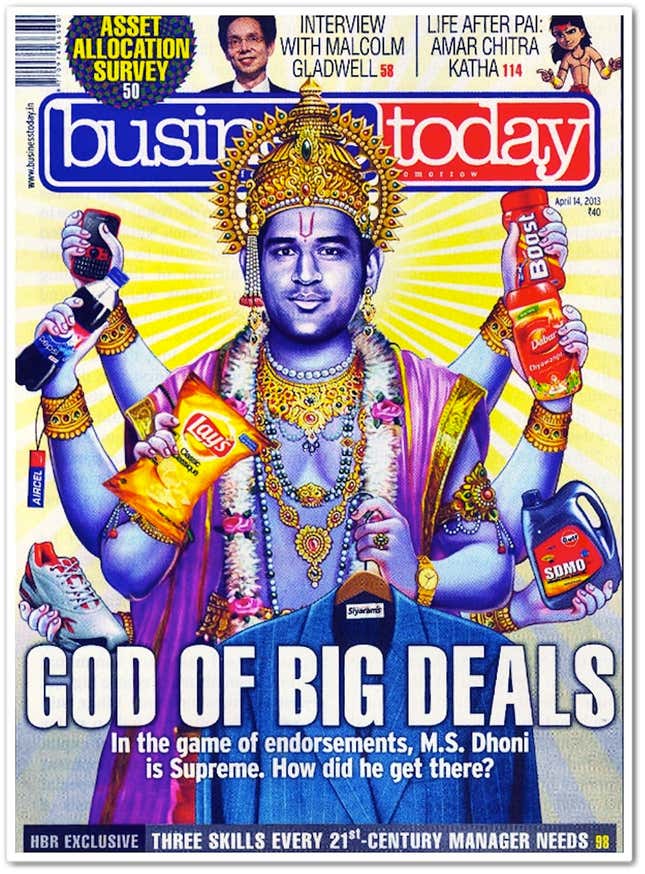 It is often said about India that cricket is religion and Sachin Tendulkar is god.
Mahendra Singh Dhoni, the skipper of the national cricket team, has never done anything to challenge that. But a business magazine put him on the cover last year for his rising brand prowess and endorsement deals, and a diligent artist photoshopped him into a well-recognized image of the Hindu god Vishnu.
He had little to do with it. But he now faces arrest by the police.
A court in the state of Andhra Pradesh has reportedly issued an arrest warrant in his name.
A local member of the Vishwa Hindu Parishad (World Hindu Council) had filed a petition in February saying that the magazine cover, which portrayed him as a Hindu god, had hurt the religious sentiments of Hindus.
The warrant was issued for his failure to appear in front of the court on three previous occasions. The court has asked the police to produce the cricketer before the court on July 16.
Chaitanya Kalbag, who was editor of Business Today when the magazine published the cover, didn't immediately comment.
As per Indian law, insulting a religion or religious beliefs can attract up to three years of imprisonment.
Legal notices under this section are commonplace. An arrest warrant was issued against singer Kailash Kher earlier this month after a social activist had filed a complaint against one of his songs.
Politicians aren't spared, either. A case was filed against Aam Aadmi Party leader Kumar Vishwas in January 2014 for similar reasons.