Parents in Tibetan villages in Nepal are sending their children away for school in droves, threatening the existence of villages that have been around for centuries and hastening the country's rapidly aging population.
For years, Nepal has suffered from a youth drain—as many as 300,000 young people, or about 1% of its population, are estimated to leave the country every year to find work across the border in India and elsewhere in Asia. The country's number of "educational migrants" are relatively high too—in 2010, there were over 24,000 Nepali students studying outside the country, according to UNESCO. As a result, the growth of Nepal's elderly population has been much faster than its overall population growth for much of the past two decades.
Now, a lack of education prospects is emptying out villages in the Himalayan highlands as well. According to a recent study (pdf) by the Mountain Research and Development Journal that looked at rural valley communities along the Nepalese border with Tibet, as many as 75% of youths between the ages of 10 and 19 were living away from home in 2012 and were unlikely to return.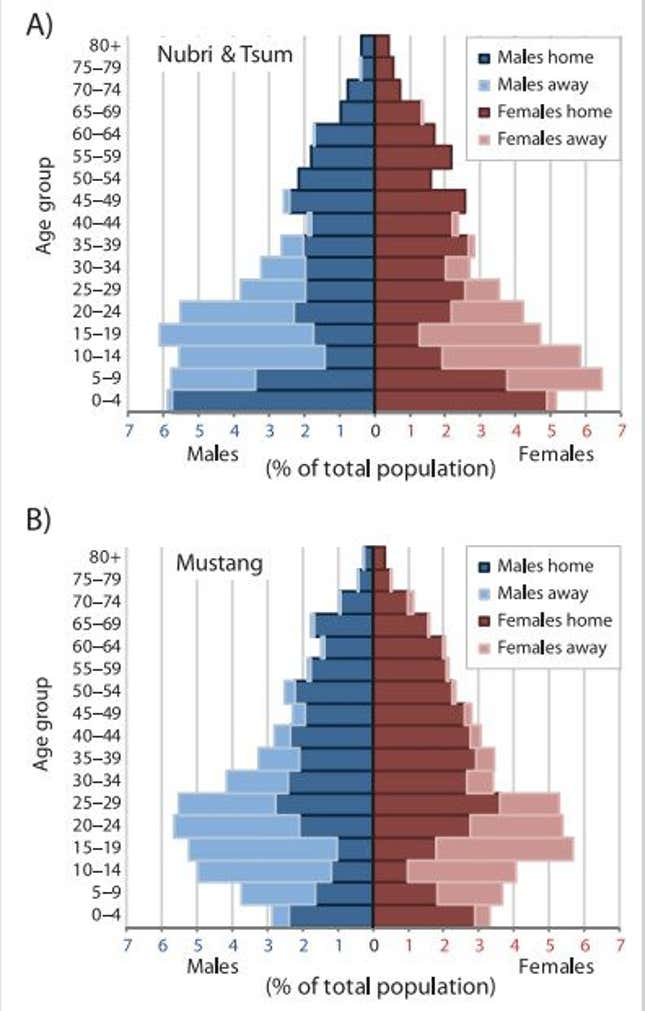 "Taken together, the outmigration of young people, a low birth rate and population aging raises the specter of a massive population decline," said co-author Sienna Craig, from Dartmouth University. According to the researchers, their report marks the first documented case of large-scale outmigration caused by parent's drive for education, not disease, famine or labor market demands.
Nubri, Tsum, and Mustang are ethnically Tibetan villages have that held a low status in Nepal's Hindu caste hierarchy since they were incorporated into the country in 1850s, and never developed strong education and healthcare. Now, a network of Tibetan monasteries and boarding schools in India and more populous areas of Nepal are recruiting from rural Himalayan villages with limited education prospects—and appealing to parents who believe their children deserve a culturally Tibetan education. The study predicts that these villages, which consist mostly of herders and farmers, could see a population decline of as much as 60% in the next five decades. One resident said:
"I have so much land, but no real amdani. [Nepali for "income."] This is one of the reasons I've sent my children to school and now they are abroad. It used to be enough to stay in the village. But the days of planting barley and drinking chang [barley beer], planting buckwheat and eating dhiro [a coarse, mush-like staple common in non-rice growing communities] are over now."
The effect of educational migrants is a worsening brain drain for these rural villages. In Nubri, only 8% of women and 20% of men between the ages of 20-29 had achieved 10th-grade education. Elder care in the highlands of Nepal, where the older generations have traditionally depended on their children and grandchildren to care for them, could also deteriorate further. Already, Nepal is one of the worst countries in the world to grow old—it ranked 77th out of 91 countries surveyed, the lowest in South Asia, according to the United Nation's Global Age Watch.