Indian cities are the hottest destinations for computer programmers. Out of the top 10 cities in the world that professionals with tech skills moved to, five, including the top four, were in India.
This is according to a new global study by LinkedIn. In the study published today on the company's official blog, the data of 300 million LinkedIn users across 52 cities were analyzed to determine the flow of tech talent around the world.
Four Indian cities: Bangalore, Pune, Hyderabad and Chennai registered the maximum inflow of people in 2013. Bangalore, known as India's Silicon Valley, came on top. "…the Indian technology sector is experiencing explosive growth," the study concluded.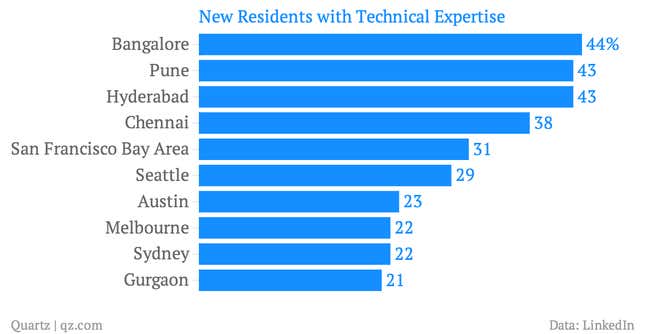 LinkedIn's survey defines technological skills as knowledge of programming languages such as C++, cloud computing, computer animation and web programming, among others. (For what it's worth, Java appears to be the favourite among technology workers in India.)
This shouldn't be surprising given that India graduates the most number of engineering students each year and computer engineering remains the preferred choice of many students. Software export powerhouses such as Infosys and TCS hire thousands of graduates every year. Additionally, almost every major international technology company including Google, Microsoft and, most recently, Amazon have started their operations in India hiring several graduates from Indian colleges.
A report by the British Council in February 2014 noted that enrollment in engineering programs is growing rapidly. Fewer jobs in the West are forcing many to come back home to hunt for jobs.
So does this mean India's IT sector will have an easy time hiring? Not quite.
Far too many Indian professional degree holders are unemployable. According to a recent survey by Manpower Group, 64% of Indian companies face difficulty in hiring, third highest globally. Some of the jobs that Indian employers find the hardest to fill are that of programmers and developers.