An Indian startup has created a parody of Yo, a messaging app that has become a viral sensation in USA, Israel, and many other countries.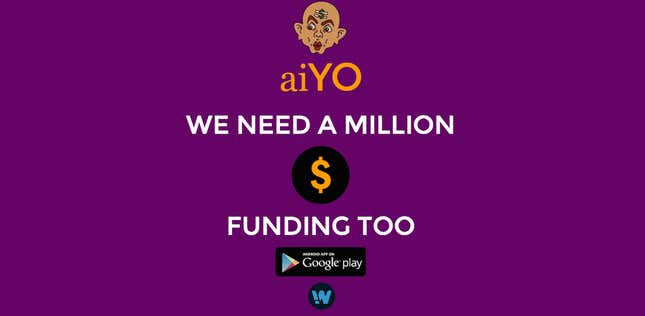 The original Yo app is mindlessly simple, and more than slightly flawed. It does not offer much, except to send the message "yo" to the receiver's phone. Or Arbel, a 32-year-old developer from Tel Aviv, created it within eight hours. It was launched on April Fool's Day and has reached the top spot on the iOS App Store in several countries.
Bewilderingly, it has also attracted $1 million in venture funding from some "well-known Silicon Valley types"—much to the chagrin of a few technology entrepreneurs  in Bangalore.
"We cannot understand why investors are throwing money at something as absurd as Yo," says Rohith Veerajappa, 28-year-old co-founder of Wow Labz, a web and mobile development firm.  "Our startups in India struggle so much to raise money."
And so the team of Wow Labz has gone on to create a parody app called "Aiyo"—a technological manifestation of their frustration.
Aiyo is exactly like Yo, except that now users send and receive messages that contain the word "aiyo." That loosely translates into "bummer" in India.
In China, it is an expression of pain.
"We are also in pain that an app like this received this kind of attention and money," says Veerajappa.
India is one of the worst places in the world to start a business in and startups here envy the ease with which companies in Silicon Valley are able to raise money. Wow Labz's app page says "We need a million $ funding too."
In the original app, the text message "yo" is accompanied by a robotic voice that shouts the greeting. Aiyo follows the same concept, except that if a user sends too many notifications, a woman's recorded voice upbraids the sender by saying, "arey kuch kam dhandha nahi hain kya?" (Translation: Don't you have any work to do?)
An Indian developer has also created a sincere imitation of Yo app. It is called Oye. The Wow Labz team plans to target it next with another parody app.