Enough with the tired jokes about India's flailing Italian connection, especially after the ouster of the Congress party headed by Sonia Gandhi (nee Maino).
But there's another connection between the two raucous democracies that has to be acknowledged: conjured in kitchens and on the dining tables of the modern Indian family.
Pasta sauce.
Last year, pasta sauce sales in India exploded, far outstripping mayonnaise, ketchup, and other kitchen staples, according to Euromonitor International.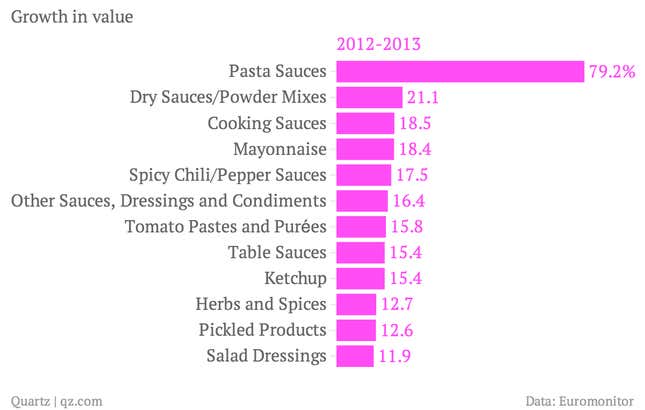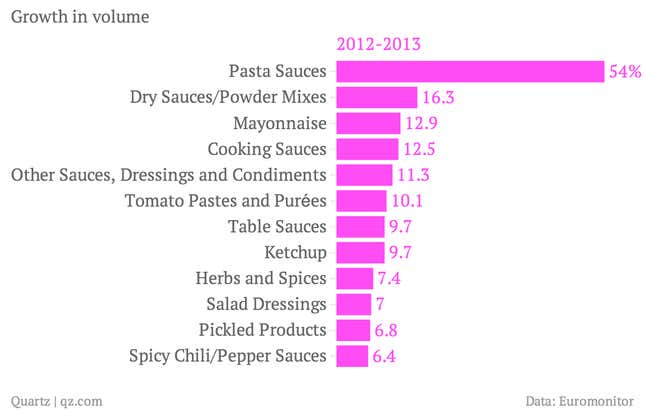 Although in absolute terms, the volume and value of pasta sauces sold in India remains small—totaling only about 1,000 tons worth Rs 39 crore (about $6.5 million) in 2013—its growth over the last three years has been steady.
Of course, Italian cuisine—or its mass-market variations—isn't anything new for India. The subcontinent has been gorging on pizzas so much that it's poised to become the second largest market for Domino's Pizza outside the United States.
With pasta, the early days may have been a little more tenuous.
"There was a stage when I thought that a masala-keema (spicy mince meat) version of Spaghetti Bolognaise might work but the truth is that if Indians want to eat keema they will eat it with naan, roti, rice or even white bread," journalist and food writer Vir Sanghvi wrote in 2010. "Spaghetti just does not go with Indian flavours."
Despite such denunciations, Italian food has seemingly made deep inroads into the Indian urban middle-class. This is how a Boston Consulting Group report (pdf) described the food consumption of India's 'Urban Aspirer Class' in 2012: "They always eat out on Sundays, but enjoy cooking at home on other days and plan to buy a microwave soon to make Italian food."
Perhaps, middle-class Indian consumers find Italian cuisine—particularly pastas—relatively affordable, easy to cook and open to unending gastronomic innovations, including enough and more vegetarian options.
"Before 2010 the market was limited only to a few modern retailing stores located in prime areas of major cities of India with a few imported brands on shelf. Volume and value sales started growing significantly from 2010 onwards," Euromonitor International research analyst Manjunath Reddy told Quartz via email.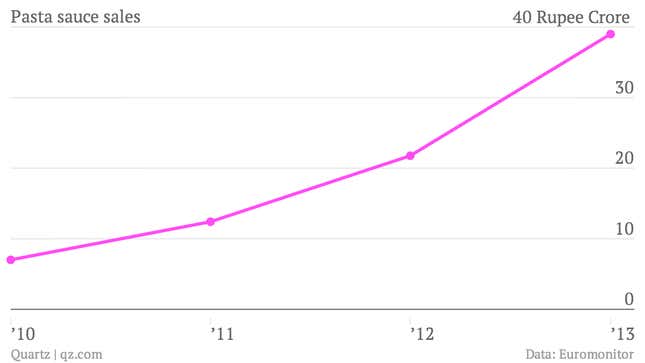 The German food company, Dr Oetkar India, leads the pasta sauce market in India through its Fun Foods brand, according to Reddy. The rest is dominated by other international brands including Ragu and Del Monte.
But with the market booming, that could change. "Indian players like Sams Food Products, Weikfield Products, and well established brands in ketchup, dried pasta and noodles may also extend their product portfolio into pasta sauces," Reddy said.
And "international players like Borges and Mutti, who have a limited presence, will also slowly start increasing their distribution," Reddy added.
That makes sense given that pasta sauce sales are expected to grow by over 300% between 2013 and 2018 to over Rs200 crore. Still, it'll only a small part of what is forecasted to grow into a Rs9,000 crore sauces, dressings and condiments market in India.
Then again, you never know, the Italian import might take the lion's share of the market. Stranger things have happened.