Tapas Paul is a different man inside and outside Parliament.
For all his violent rhetoric in public, the film star-turned-politician has been remarkably silent inside India's lower house. In five years, he hasn't asked a single question, or seemingly done much else.
The Trinamool Congress MP from West Bengal's Krishnanagar made headlines by saying it's acceptable to use sexual violence as a political weapon.
"I will send my boys and they will rape people," Paul reportedly said, threatening to assault workers from the opposition Communist Party of India (Marxist). An email from Quartz to Paul went unanswered.
In Parliament, it seems he's had surprisingly little to say. Despite a respectable 72% attendance between 2009 and 2014, Paul raised no questions—and partook in only six debates, much lower than the national and state averages on both counts, according to PRS Legislative Research data.

This is where it gets even more curious.
Of these six debates, Paul actually spoke at one focused on violence against women in August 2010. In stark contrast to his recent bravado, this is what he had to say then:
I would like to bring to the notice of the august House that kidnapping, abduction of women, kidnapping of children, young girls, housewives are happening in West Bengal. They are lured for going out to work as domestic helps, but in reality, they are sucked into the hurl of flesh trading. It is really a big social problem. (Full text here)
Aside from an apparent change in his views on how women must be treated, another transformation of sorts has been underway: In Paul's finances.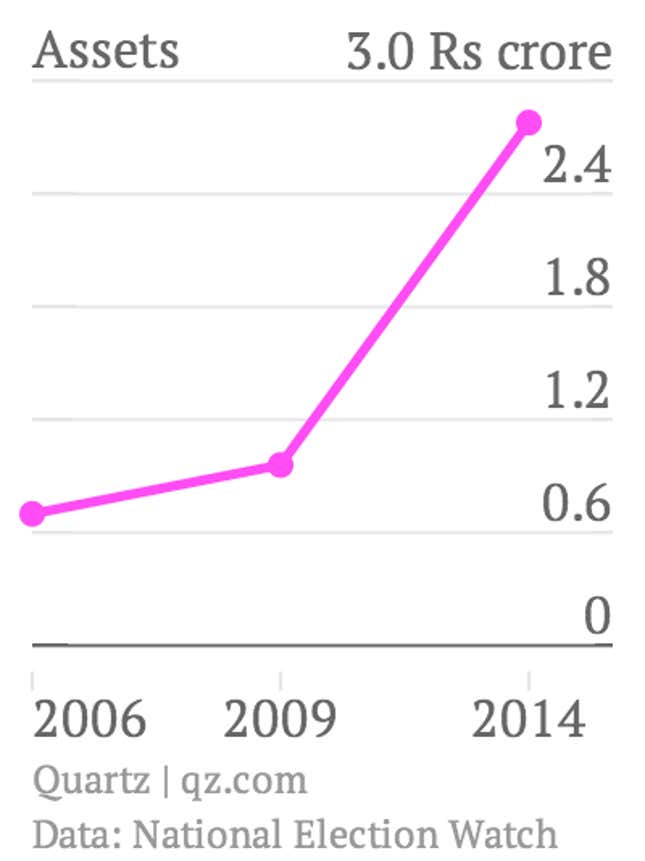 Since becoming a member of Parliament in 2009, the aging star from Tollywood—as the Bengali film industry is known for its Tollygunge base—has seen the value of his assets improve significantly.
Nonetheless, Paul, who currently contending with four criminal cases, is emphatic on why he does what he does.
"Politics is not just about manipulation and power," he told The Telegraph newspaper in 2007.  "It is also about connecting with people. I always wanted to do something for people."