It doesn't make for comforting reading. But it's key to understanding the incidence of crime in India.
The National Crime Records Bureau collates and reports statistics on all manner of crime, suicides and accidents annually. It can tell us the states with the most crime against women, how road accidents have risen in recent years and which vehicle on the road is most likely to kill you. And notably, how terrible is the law and order situation in the state of Uttar Pradesh, partly due to its large population.
Cyber crimes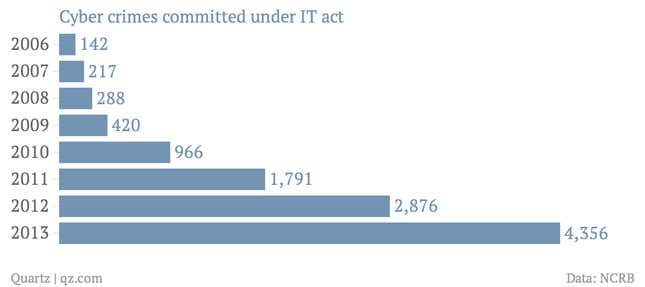 The number of cases registered under India's controversial IT Act has increased exponentially since 2006, although from a low base. Some sections of the IT Act have been criticised for having a chilling effect on free speech.
Road accidents
The number of deaths from road accidents registered a slight dip of 1.19% from the previous year. Increasing vehicle density combined with poor roads killed 137,423 people in road accidents in 2013.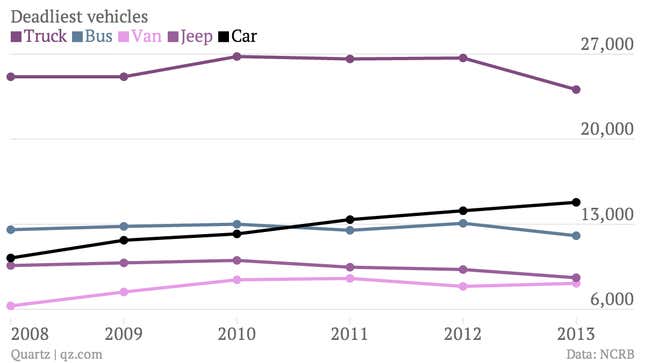 The chart above shows which kind of vehicle is most likely to run you over. Trucks remain the deadliest vehicle but cars are becoming more numerous and increasingly deadlier.
Drug abuse is rising
Number of suicides in the country fell marginally to 134,799 in 2013 from 135,445 in 2012. But drug-related suicides have been steadily rising since 2006. In 2013, 4,591 drug-related suicides were reported, a 110% rise from 2006.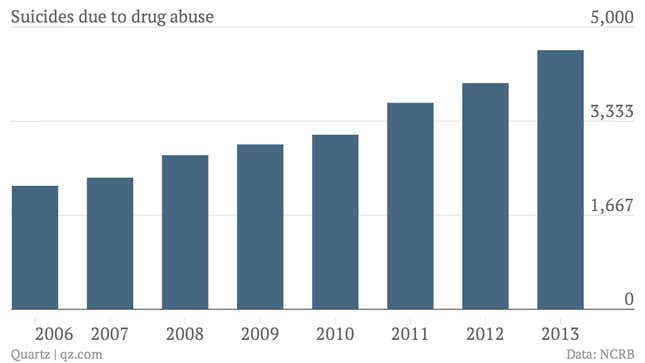 Crime against women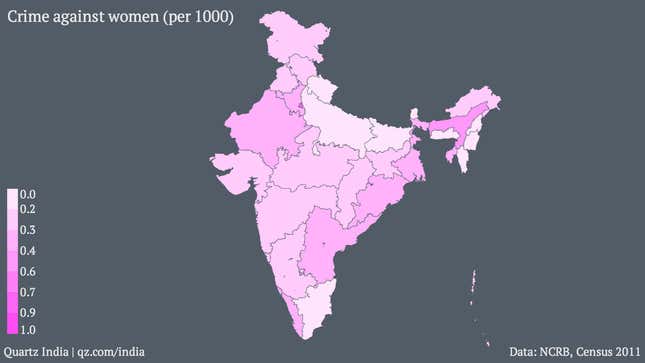 The horrific December 2012 Delhi gangrape shook the nation and led to harsher laws to prevent crime against women. Still, there hasn't been any drop in the crimes perpetrated against them. In 2013, 309,546 incidents of crimes against women were reported, up from 244,270 in 2012. Uttar Pradesh (32,546), Andhra Pradesh(32,809) and West Bengal(29,826) are the states where most number of such crimes were reported. The map above shows the instances of crime against women per 1,000 people.
We noted earlier that rates of reporting might also be going up as more women come out and register complaints.
Dowry-related deaths
Instances of dowry-related deaths rose by 17% in 2013 over the year before. Total number of such deaths stood at 2,267 in 2013. Even though dowry is illegal, the practice is clearly thriving, and push many to end their lives.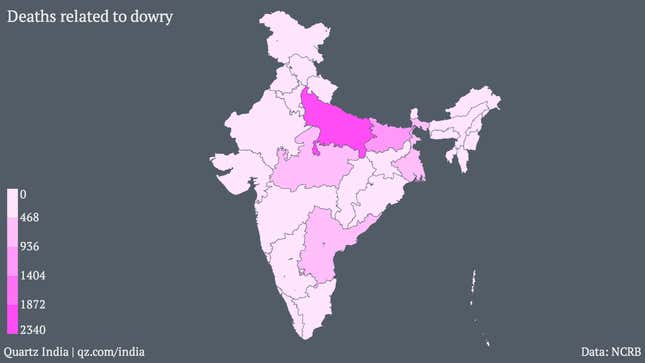 The map shows the states where most dowry related deaths occurred in 2013: Uttar Pradesh(2,335), Bihar(1,182), Madhya Pradesh(776), West Bengal(481) and Andhra Pradesh(492).
Crime against children
Instances of crimes against children have been steadily rising since 2006. For 2013, the total number of crimes committed against children stood at 58,224, a dramatic increase of 52.5% over the previous year.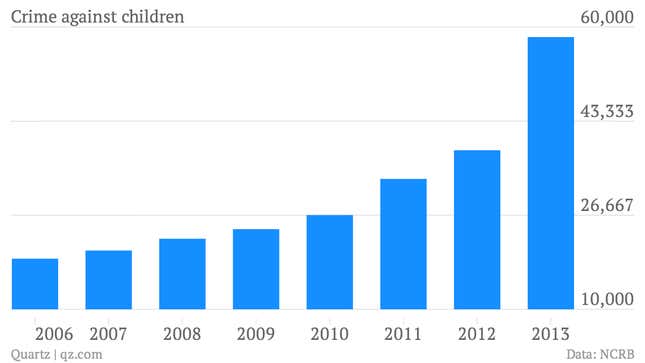 UP has the most murders
Total murders in 2013 stood at 33,201, a decline of 3.58% from 2012. Uttar Pradesh tops the list with 5,047 murders.