It's a homegrown social network that at once claims to be Facebook and Flipboard. Gushing newspaper stories have described its founder as India's Mark Zuckerberg. The founder, Pushkar Mahatta, has himself told newspapers that his site has been valued at $300 million by venture capitalists and he is looking to sell 10% equity. The site claims to have more than 50 million users, which is more than the number of active Twitter users in India.
It would be a remarkable story. Except that the only people who seem to think Worldfloat is a raging social sensation with eager users signing up in droves are the journalists who are writing these stories. Most others who would know, such as digital media reporters and professional investors, draw a blank.
Mahatta, a Delhi-based realtor and the owner of Worldfloat, declined to answer questions about his site over the phone. He did not respond to text messages.
Every year, around the same time, a wave of stories seem to appear about Worldfloat in India's mainstream press.
In May last year, the Times of India said WorldFloat was ready to take on Facebook and Twitter. "With one lakh sign-ups daily, it could seriously challenge Facebook and Twitter in the months to come," the story said, adding, "Will he eventually be India's Mark Zuckerberg?"
In March this year, a story by the news agency Press Trust of India was picked up by several newspapers. Based on a statement by Mahatta, the story said the company had received valuation of $300 million from investors, but was holding out for a $500 million valuation.
"I have not heard of this name," says Venkatesh Peddi, vice president at IDG Ventures India. "I would have come across a site that has 60 million users in the normal course of events."
Mahatta did confirm that the company is two years old and has more than 60 million signups. Enough to "challenge the dominance of global giants like Facebook," according to an IANS (another news agency) story carried in Business Standard.
IANS seems to really buy into Worldfloat's success story. Between February and July this year, it dispatched at least five stories about the relentless progress Worldfloat was making. In February, the site was "taking on Olx and Flipkart" by launching e-commerce. OLX is a classifieds website, while Flipkart is an e-tailer. The same month it had launched 100,000 free online movies. In March, it had launched something called 'video Twitter' for celebrities. Later that month, it was "challenging Facebook" with its 50 million users and $300 million valuation. And all this hectic activity culminated in July with the launch of the company's "billion dollar app."
There is really no app. All that the site did was to launch a website optimized for browsers on mobile devices. "We have the best news app for India. Today, the international competition for Worldfloat mobile is Flipboard mobile in the US and valuation for Flipboard is close to a billion dollars," Mahatta told journalists. With that comment, without ever making an app, Mahatta had launched a "billion dollar app."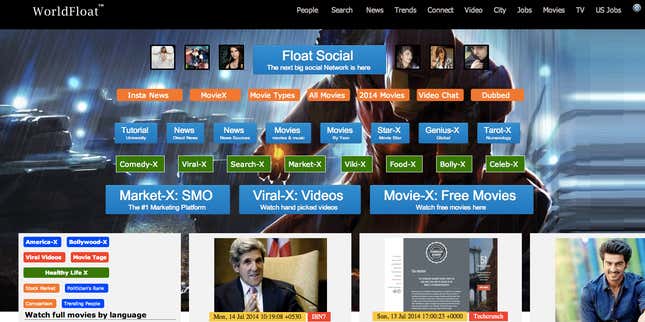 Worldfloat's Alexa rank was 65,841 globally and 6,900 in India.
Even Airtel, India's leading telecom company, tweeted approvingly about Worldfloat.
In an interview with Hindu Business Line, Mahatta claimed his Website would usher in the "third revolution" in the communication world. The first being emails, and the second Facebook.
After the first wave of media stories about Worldfloat last year, tech entrepreneur Puneet Kumar Sharma wrote on his blog that he had been able to hack into Worldfloat effortlessly.
It is an incredible PR coup, said Ashish Sinha, founder of Nextbigwhat, which chronicles startups. "I have met almost every investor in the country and nobody has ever talked about this website," says Sinha. "Hats off to the founder that they have managed to create this media buzz without creating a product."