Indian Railways is in an urgent need of an overhaul. It is saddled with losses, doesn't have enough cash to upgrade its technology or improve safety for passengers. But there is a company within the Indian railways that is trying to reinvent itself: Indian Railway Catering and Tourism Corporation (IRCTC).
Finally.
It started out as the company that operated the online ticket booking system for Indian railways. It enjoys a near monopoly in the train ticketing business. Today, it is also one of the largest e-commerce companies in India.
But for much of IRCTC's life, people have mocked it and expressed frustration over its slow website where transactions failed abruptly. Many customers often opted for rival websites such as Yatra.com and Makmytrip.com.
There are, however, signs that the situation will improve in the coming days.
New online ticket booking system
IRCTC  launched a pilot of its new e-ticket booking system earlier this year that promises to be significantly better than its earlier system. It is built by the Centre for Railway Information Systems (CRIS), the organization the manages the online ticket bookings for IRCTC. The service became fully operational last week.
The new system is designed to handle 7,200 ticket transactions in a minute. The earlier system could handle only 2,000 transactions.
According to CRIS, the new ticket booking system allows users to start from where their transaction was aborted and sends a text message in case of a failed transaction. The system also aims to reduce the instances of fraudulent transactions by fictitious users with the help of "stringent user registration process."
Quartz tried the new system and indeed found it to be faster than the previous version. The old system was infamous for crashing during the so-called Tatkal hours, 10am till 12pm.
Demand for railway bookings online is surging. Internet ticketing contributes 27% to IRCTC's income, the largest share. The number of tickets booked online has gone up from 116 million in 2011-12 to more than 141 million in 2012-13. On March 19, IRCTC booked 580,000 e-tickets breaking its previous record of 572,000 e-tickets in September 2013. On an average, the site books around 400,000 tickets a day.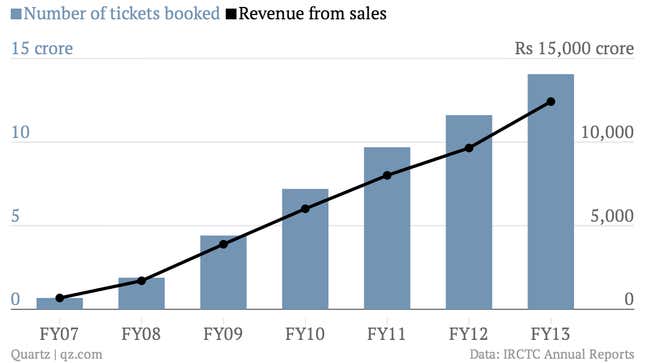 Digital push
The company entered the online retail business in 2013 after tying up with Yebhi.com, an online retailer. At the moment, it sells book, mobile phones, clothes, furnitures and other products . The company also launched its Windows phone app in the same year and has an online wallet service that allows users to deposit money and book tickets through the online wallet.
Room for improvement
But there is one area where the company has to catch up: customer engagement. A study by Unmetric, a company tracking social media habits of companies, found MakeMyTrip to be the top online travel company to use social media effectively followed by GoIbibo and Yatra.
IRCTC, on the other hand, is not active neither on Facebook nor on Twitter. Its last tweet was in 2012.