This article is part of an ongoing BULLETIN series exploring GE's innovation, technology, and manufacturing initiatives in India.
Wind energy is poised to play a pivotal role in strengthening India's power sector infrastructure and providing the nation with universal energy access–but only with a technological revolution.
In the last few years, GE has introduced state-of-the-art wind energy technology solutions designed for local conditions in India, ranging from wind turbine design technology and wind farm layout to power generation optimization and manufacturing innovations. GE's latest offering for the Indian market is the 1.7-103 turbine model designed specifically for the low-wind environment in India.
The 1.7-103 turbine, which is engineered at GE's John F. Welch Technology Centre in Bangalore, uses GE's evolutionary technology platform and is based on the success of the 22,000 GE wind turbines installed globally. It uses an enhanced control system, which operates on a physics-based turbine model, to improve energy capture at low-wind speeds. And, due to GE's proprietary 50.2-meter blades, the 1.7-103 is highly efficient, offering a 56% increase in wind swept area compared to the 1.6-82.5, a previous model.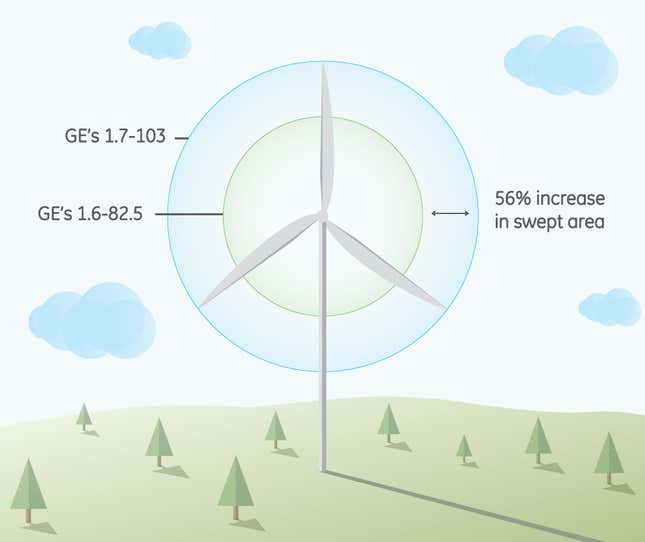 A 100-megawatt wind farm powered by 1.7-103 turbines can generate the electricity required to fulfill the needs of 413,000 Indian homes per year and offset carbon emissions of 291,000 tonnes of carbon dioxide per year.
GE's advanced technology turbines are part of their network of Brilliant Machines, which combine advanced hardware and analytical software. The tools integrated into the 1.7-103 stabilize the wind power, making it more predictable and reliable.
GE's internet-based WindSCADA 10.0 system even goes deeper, providing real-time information about prevailing wind conditions and expected short-term power generation. With this web-based tool, turbine operators can have visibility into wind farm's performance, manage and optimize turbine operations, as well as analyze and enhance wind farm performance. It also comes with diverse and robust external interfaces, including mobile devices configured to specifically meet each turbine operator's needs.
With India's—and the world's—power needs changing, smarter technology is required to meet them. With the research and the development of next-generation materials, GE is looking to the future and providing energy through innovation.
to answer a few questions about energy innovation in India.
This article was produced on behalf of GE by the Quartz Marketing team and not by the Quartz editorial staff.