Do you reach for your juice after a workout in the gym? Given the high sugar content in juice brands sold in India, you might as well choose a cola.
In fact, many of the packaged juices—a booming market in India—contain more sugar than carbonated drinks. That's a departure from developed economies like the US where labels on beverages frequently boast "100% juice" or "no sugar added."
According to Euromonitor, regular juice brands, or nectars (having 25-99% juice content) is the fastest growing segment in juices as they are cheaper compared to juices with 100% fruit content. Also, they offer a range of flavours some which are not available in 100% juice.
In recent years, scientists have come to view sugar as the main villain in the obesity epidemic. There are calls in many parts of the world to add health warnings to sugary drinks such as juices and colas, and some legislation is already being passed. Packaged juices, in addition to high sugar content, lack fibre and, at times, contain chemical preservatives.
"I won't recommend drinking juice to my patients who are looking to lose weight," says Richa Anand, chief dietician at the Dr L H Hiranandani Hospital in Mumbai. India is the third most obese country in the world after U.S. and China, according to a recent study by Lancet.
In fact, some juices have more sugar content per 100 ml than carbonated drinks as illustrated by the chart below.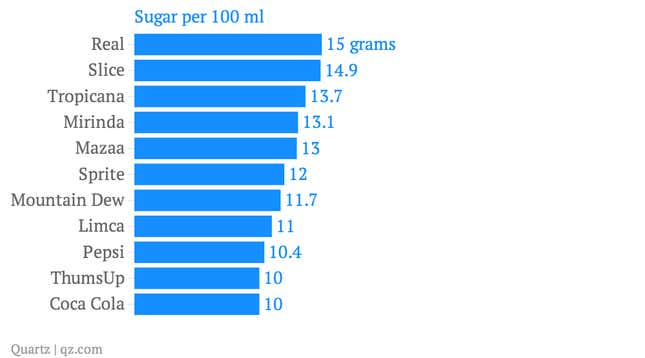 To be sure, the amount of sugar varies by flavour. For example, Real's litchi flavour has 15 grams of sugar per 100 ml. But its coconut water flavour has just 4.5 grams of sugar. A randomly selected flavour is represented in the chart above.
A recent report by Euromonitor said the beverage industry in India "continued to record further growth in 2013 in India mainly due to growth in juices, and bottled water." Retail sales of juice grew by around 23% in 2013 over last year, albeit from already low market penetration. Carbonates, on the other hand, registered only 11% growth in 2013.
While juices have vitamins and minerals that are healthy, they aren't as healthy as they are perceived by many Indians. They are just "lesser of the two devils," says Anand, comparing juices and carbonated drinks. 
In absolute numbers, carbonated beverages are still the next most preferred drink after bottled water. In fact, India became Coca Cola's sixth largest market in the world earlier this month.