There were eight inconspicuous words in finance minister Arun Jaitley's maiden budget speech earlier this month: "A new urea policy would also be formulated."
On the face of it, this could seem like another call for tweaking fertilizer subsidies. But in India's endless fight against rising food prices, it could be a much-needed policy change, with potential to bring relief to consumers, farmers and the government's coffers.
The basic problem is with the skewed nature of the existing fertilizer subsidy regime. The current nutrient-based subsidy (NBS) system was introduced in 2010 to handle nitrogen, potassium and phosphate (NPK) nutrient imbalances, among other issues. Except that urea, the main source of nitrogen, was kept out of its purview, even though it constitutes about half of India's total fertilizer consumption.
And it is so heavily subsidized—urea costs about Rs5,360 a tonne, compared to upwards of Rs20,000 for diammonium phosphates (DAP)— that farmers are using much more of it than they actually should.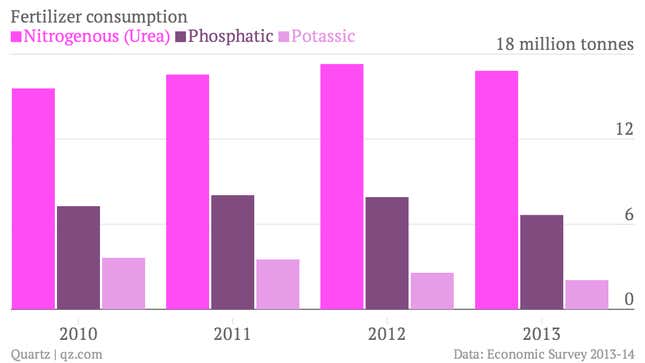 For every unit of potassium, according to the latest Economic Survey, farmers are putting 8.2 units of nitrogen into the soil, instead of the desired 4. The government, meanwhile, foots a subsidy bill of Rs11,760 per tonne on urea.
"The skewed subsidy scheme has given farmers a distorted notion that urea, the main provider of N, is cheap while the other two elements are expensive," the Economic Survey adds. For the government, this results in a total of Rs5860 crore annually on 50 lakh metric tonnes of urea that actually isn't needed, while farmers spend about Rs 2,680 crore on this.
"These costs are ultimately paid by the consumers as higher food prices and higher taxes, in return for a zero or negative impact upon agricultural output," the Economic Survey further suggests.
The distorted subsidy regime is also stymying private investment into domestic urea production, which is struggling to meet the growing domestic demand in the face of rising prices of raw material. These include imports like regasified liquefied natural gas and crude oil (pdf).
In the meantime, according to the Economic Survey, the current subsidy regime is hurting everyone—farmers, firms, taxpayers, and consumers.