Everyone has a story about a nurse from Kerala. Whether you live in India or abroad, whether you've checked into a hospital as a patient or dropped in as a visitor, chances are you or your loved one were probably attended to by a Malayali "sister."
I encountered my first when I was 12 and had my tonsils removed. Barely an hour after the anesthesia wore off, I woke up to find her hovering over my bed, a small bottle in her hand. "Something's missing?" she said in an accent that could never betray her origin, the last two high-pitched yet singsong syllables enunciating the rhetorical nature of her question. Woozy and thirsty, I looked up and found her dangling the bottle that contained my surgically removed tonsils. At the time I was convinced she was a sadist. In retrospect, however, I've come to understand that her remark was peculiar to her kind; it bore evidence to the existence of a sense of workplace humor and a capacity to care enough about the physical and mental well being of absolute strangers to make light of their diseased conditions, adding dignity to their plight through a human touch.
The Malayali nurse is a unique historical typology within the national public imagination, one that's rarely discussed and often relegated to the sterilized environment of hospital wards. But now it's finding new life in galleries and art fairs around the world. At least two Indian artists have dedicated an entire body of work to the nurses. Nilima Sheikh, known for her acclaimed multiple series on Kashmir, which has been her preoccupation for more than a decade, is one. Her ongoing series is titled Salam Chaichi, reflecting the Malayalam word for sister.
"My last several years have been spent with one or the other of my parents being ill and needing care and I've learnt to respect the Malayali nurse like I respect few other professions," she says.
Indeed, every year, thousands of Malayali girls take up the nursing profession in the hope of going abroad; in fact, 59% of working women among non-resident Keralites are nurses. Families take on loans to pay for their daughters' education. This means that after graduating from nursing school, most women are compelled to look for work abroad and even settle for employment in high-risk countries to earn a better livelihood.
That's the likely story behind the 46 Malayali nurses who were recently stranded in Iraq. Eventually let off thanks to a secret diplomatic mission by India, most of them have returned to their families in Kerala, though several reports suggest there are others who are still stuck in Iraq who are either struggling to find their passage back home or have opted to continue to work there because of competitive wages or because they have no choice given that their sponsors have refused to hand them back their passports.
For those who've returned, the biggest question is one of rehabilitation. Unpaid debts and the absence of comparatively well paying positions back home in Kerala make their situation an unenviable one. Ninety per cent of private hospitals in Kerala apparently pay an average of Rs6,000 (about $100) a month as salary, Rs4000 less than the stipulated minimum wage for nurses. An India Today report said that even as the government was busy trying to evacuate the nurses stuck in Tikrit, five nurses from Kerala went to Baghdad in the hope of better wages.
These silent ancillary heroes in the healthcare industry are rarely ever celebrated for their supportive roles. The art world is filling the void. While Sheikh's is a work in progress, Bengaluru-based artist Anup Mathew Thomas, among the six winners of the MENASA region-specific Abraaj Art Prize 2014, showcased his Nurses series at Art Dubai from March 19 to 22 curated by Nada Raza. Thomas' photographic practice has long focused on what he calls the "peculiar legacies" of Kerala. Nurses was the third in this series, the first two being Metropolitan and Cabinet (2007). "The work is an invitation to engage with the history of nurses from Kerala," says Thomas. "They are the largest group of professional female migrants from the state. It is a story of enterprise and empowerment that emerged due to specific socio-economic and political changes that existed within the state."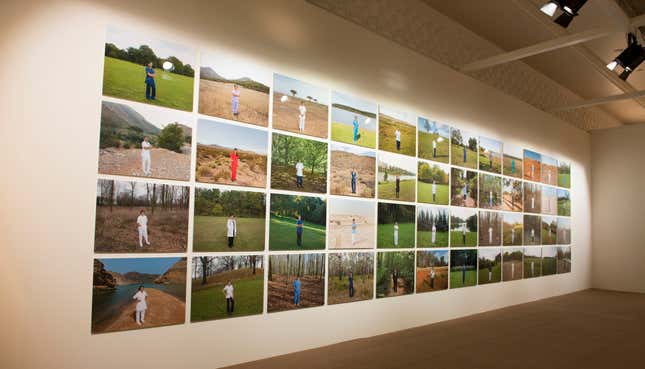 Thomas identified participants for this project from around the world by asking people he knew to introduce him to nurses they knew, eventually tapping into the sisterhood's network. Funded by the Abraaj Group, his project subverts the typological photography employed by the colonial camera and features portraits of Malayali nurses working abroad, from the Gulf to the United States, shot in natural landscapes close to their residences to highlight the dislocation inherent to their situation.
"The landscapes are employed to bring to the fore the absence of the Kerala landscape," says Thomas. "The choice of a natural location also heightens the dislocation of the nurses by situating them away from identifiable urban markers of the place they live and work in." Forty-eight such portraits were then hung to form a rectangular grid, which Thomas felt allowed for comparisons to be made between individual images, including varying landscapes and uniforms and poses. "It highlights the scale and phenomenon of their individual and collective enterprise," he said in an email to Quartz. "As the project involves many geographies, it also is a snapshot of what nursing healthcare looks like today across the world."
An index with biographical information about the 48 subjects is also included, reminding the viewer of the stories behind the faces whose primary occupation is to care.