The posters for Mary Kom are out. The biopic based on the life of one of the best female boxers in the world shows Bollywood actress Priyanka Chopra in intense action moments.
Heart. Blood. Sweat. Soul. I've given it my all. Over to you guys now! #MaryKomFirstLook #FightLikeAGirl ..here goes pic.twitter.com/GNAZsz7MWN
— PRIYANKA (@priyankachopra) July 14, 2014
They don't show you what she did to "look" the part: Prosthetic eyelids and Hollywood makeup artists. Chopra is a Punjabi North Indian actress—and looks it. Kom is from the northeast Indian state of Manipur—and looks it, too.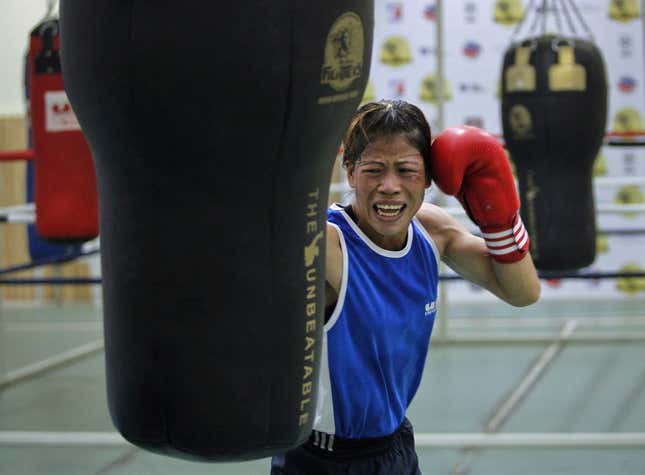 Mary Kom is scheduled to open Sept. 5.
Actors often transform themselves to appear like the characters they play on the screen. They gain or lose weight and grow facial hair. Farhan Akhtar grew a beard and perhaps even his hair to look like a Sikh in Bhaag Milkha Bhaag.
But giving an actress an Asian look, with heavier eyelids, smacks of racism, quite similar to how Hollywood would apply paint on the face of white actors going back to Al Jolson in The Jazz Singer (1927) and Peter Sellers in The Party (1968).
Chopra was cast to play Kom because she still is a bankable star. But many people have wondered why the story of Kom, a national hero in India, would not have worked at the box office with an Indian actress from country's Northeast states or the Himalayan region?
Someone should have tried harder. And so we present the potential actresses who the producers should not have passed over:
Geetanjali Thapa: The Sikkim-born actress and stunning beauty has won several awards for her recent film Liar's Dice, including a National Award, as well as best actress trophies at the Los Angeles and New York Indian Film Festival. Liar's Dice played in competition at this year's Sundance Film Festival. Last year, her film Monsoon Shootout was shown at the Cannes Film Festival. Next up she will be seen opposite Emraan Hashmi in Oscar-winning Bosnian filmmaker Danis Tanovic's film White Lies.

Bala Hijam: A Manipur-born actress who has performed in over 30 films, including in Malayalam and Hindi (Zindagi on the Rocks). In 2011 she won the Special Jury Award from the Film Academy Manipur. In an interview last year she compared Manipuri films to a cottage industry. "We don't have big banners or mega-budget projects, just a few privately owned film companies," she said.
Masochon V. Zimik (aka Chon Chon): A charming young actress from Manipur, who was selected to play the role of Molly–a field hockey player also from Manipur, in Shimit Amin's highly admired Chak De India! In 2007 she was quoted by Rediff.com as saying that she got the roll through her friends. "I heard they were looking for a girl with features like mine," she said. See, you put the call out and they will come. Here she is as the scene-stealer in the fight at McDonald's in Chak De:
Karen Shenaz David: A Shillong, Meghalaya-born and Canada-raised actress and singer who is of Chinese, Indian and part-Jewish heritage. She collaborated with A.R. Rahman on the Bollywood-based Broadway musical Bombay Dreams and also traveled with the show's American and Canadian tours. And she has acted in a number of Hollywood films, and British and American television shows.
Follow Aseem on Twitter @chhabs. We welcome your comments at ideas@qz.com.