IPOs in India have been a no show for the last three years. In fact, last year was the worst in 12 years as companies feared a slowing economy made raising money from stock markets difficult.
That, however, is beginning to change. The improving sentiment following Narendra Modi coming to power is beginning to give the IPO seeker the confidence to go public.
One of India's largest real estate companies, the Lodha Group, is reportedly planning for an IPO. And it is expected to be a real big one.
The value of the IPO is pegged at Rs6,000 crore ($1 billion) and if it goes through, Lodha's IPO will be the largest public offer India has seen since 2010. This would make Lodha only the second real-estate company to come out with an IPO of this size after DLF whose blockbuster IPO in 2007 was worth Rs9,187.50 crore ($1.63 billion).
Here is a look at some of the biggest IPOs India has seen over the last decade.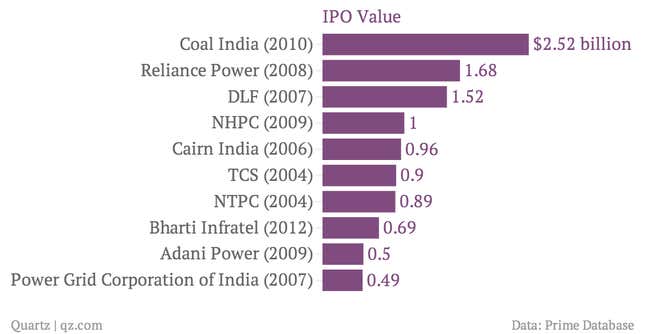 Lodha is one of the largest developers in Mumbai—India's financial capital—and holds vast swathes of land in the city and its suburb of Thane. It has also made some expensive purchases in London by buying the Canadian High Commission in Grosvenor Square for £306 million. The company plans to turn the property into luxury residences.
The IPO, however, doesn't guarantee a reversal of fortunes for India's real estate sector.
The market has been tepid for the last three years. Companies are suffering from a glut of unused spaces as customers are hard to come by because of a slowing economy and soaring prices. There are, however, some positive signs with demand for office spaces going up, according to CBRE, a real estate consultancy.