Shortly after celebrations broke out following Germany's World Cup victory in Rio de Janeiro, the extraordinary record of one member of the team dawned on people. Mike Horn had worked with the victorious German football team, he had been part of the Indian national side that won the cricket World Cup in 2011 and he was also a member of our Kolkata Knight Riders team that won the Indian Premier League cricket tournament this year.
Who is this guy, and what does he do with the players?
The first time I met Mike Horn was early in the morning at the breakfast area of the Ritz Carlton, Abu Dhabi. I had been worried about the flight timings and pick up at the airport as he was coming in from Kathmandu, but it all seemed to have gone off well, and he was happily chatting with our trainer in Afrikaans when I reached.
The thing you remember about your first meeting with Mike is the handshake, a bit like wrestling with an anaconda, an analogy that isn't too far off the mark when you get to know him better. Mike is clearly not designed for soft bodies. Or hands.
But the impact he has on teams is stunning. Mike Horn has climbed eight thousand meter plus peaks, swum the length of the Amazon, walked to the North Pole in winter in almost total darkness and circumnavigated the globe along the equator.
When he reached the Kolkata Knight Riders practice camp, we first wanted to introduce him and have him formally speak to the whole group. Instead, he spent hours with the support staff getting a sense of the players and the challenges they were dealing with, and then spent one whole day hanging around practice and chatting with the players. And while a few cricketers knew about his exploits, most regarded him as just another support staff member.
The next day when he started his session about his polar expedition, and how he walked in total darkness on shifting ice for almost two months and was stalked by a hungry polar bear, you could see their jaws slacken. And after that, attitudes changed.
It' s easy to complain that it's really hot, you are not appreciated enough in the team and the hotel room service is very slow. It's difficult to say it to a man who tells you about how he went blind for five days while swimming in the Amazon and still refused to press the emergency rescue beacon. Gradually, the whining reduced, a few players become complete converts and the rest tentatively asked if they could bring their spouses/girlfriends for a Mike Horn session.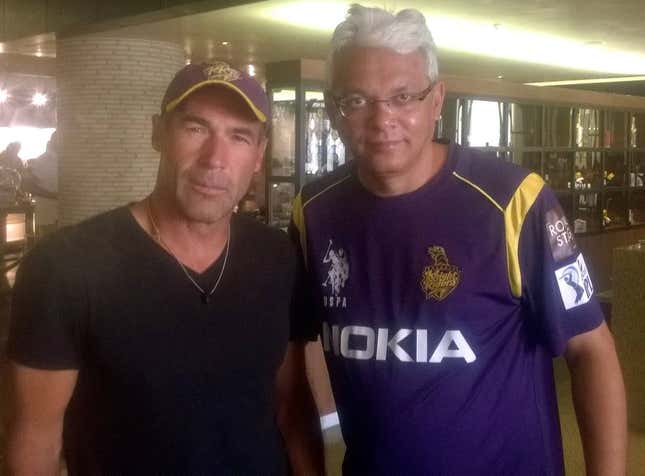 Robin Utthappa would unashamedly chase Mike asking for "just one more story" and Morne Morkel and Manish Pandey would contrive to make sure he was not left alone for a single waking hour. They were certainly not the only ones. The beauty of Mike's tales was that they transcended cultures and educational backgrounds. It's not difficult to understand how to escape a Caiman in the Amazon in any language.
Mike Horn is a forty seven year old South African who belongs to the Edmund Hillary school of exploration, where specialist skills are less important than amazing physical fitness, an indomitable will and a lust for adventure. Most adventure specialists stick to climbing or swimming or diving. Mike does them all. He has done three of the fourteen eight thousand metre peaks worldwide. And he climbs with crampons and picks, without porters, and without oxygen.
When we first spoke to him, he was a part of a three-man team that was attempting to ascend Mount Makalu, one of the most difficult climbs in the Himalayas. He worked with the KKR preparatory camp and then went back to Nepal to prepare and acclimatize and finally reached the summit of Makalu on May 17th. One of his co-climbers, Frenchman Yannick Gagneret, passed away at around six thousand metres and Mike had to bring his remains back to base camp during his descent. It was a bad week in the Himalayas. While Mike was still on his way down, news came in of Indian Chanda Gayen and two sherpas going missing after encountering an avalanche while attempting to climb Kanchenjunga.
Mike told us the details in a matter of fact tone when he came to Kolkata just before the final matches. And he spoke about what drove him to keep going to the summit, even after he lost his fellow climber. Once committed, you had to finish the job at any cost. That was your word, your commitment. It was a message that the players took to heart.
After a few sessions with Mike, German football captain Philipp Lahm remarked that it was "incredible what the human body can achieve".
Mike came to KKR with one backpack, just a couple of tshirts and change of underwear, and gave away everything he got, mostly to unglamorous back room staff who never got their due. Nobody ever came to Mike and went away empty handed.
When Mike came back to KKR in Kolkata, it was an early flight, just like the first camp in the UAE. Once again, I woke up wondering how he would find his driver and make it to the ITC Sonar. And then I thought, if he can climb Mount Matterhorn and Makalu, swim the Amazon and walk to the North Pole, surely he could find his car and get to the hotel. As it turned out, I was right!