In its first major reform decision since coming to power, the Narendra Modi government has decided to relax the foreign investment cap in India's insurance sector from 26% to 49%.
India's cabinet, the government's highest decision-making body, has approved the changes that are part of the Insurance Laws (Amendment) Bill, which will now be presented for the Parliament's approval. In the past, several parties, including the Bharatiya Janata Party, which is in power now, had opposed the new law.
The move is expected to bring in much-needed capital for India's insurance sector. "This single announcement has the potential to be a game changer as it can bring foreign exchange inflow of $10 –15 billion (Rs90,150 crore)  as per Life Council estimates," T.R Ramachandran, MD & CEO of Aviva Life Insurance, told Quartz.
In his budget speech, finance minister Arun Jaitley had said that the government intends to allow 49% FDI in insurance subject to ownership remaining with an Indian promoter. Individual proposals will also have to be cleared by the Foreign Investment Promotion Board, which vets such partnerships for compliance.
The markets cheered the decision as the Sensex and Nifty indices closed at new lifetime highs. Shares of companies with exposure to insurance, such as Reliance Capital and Max India, rose. Analysts saw the move as confirming the perception that the Modi government will usher in reforms.
Life insurance cover in India had in fact been shrinking since 2011 as the sector complained of insufficient access to capital.
"A lot of foreign companies never came into India because they knew that they can't own Indian companies more than 26%," Varun Goel, head of Portfolio Management Services at Karvy Capital, said.
Indian insurance companies are excited. The decision will help improve penetration of insurance services, they say. "This decision will help the insurance business grow in tier II & tier III cities, thereby increasing the insurance penetration," said V. Jagganathan, chairman and managing director, Star Health and Allied Insurance Company Ltd.
"Younger companies who are in growth phase generally see their premium income going up. Naturally to meet such a premium growth they need more funds to meet capital requirement as it is difficult to generate it internally. Raise in FDI cap from 26% to 49% will help us to meet this capital requirement," he added.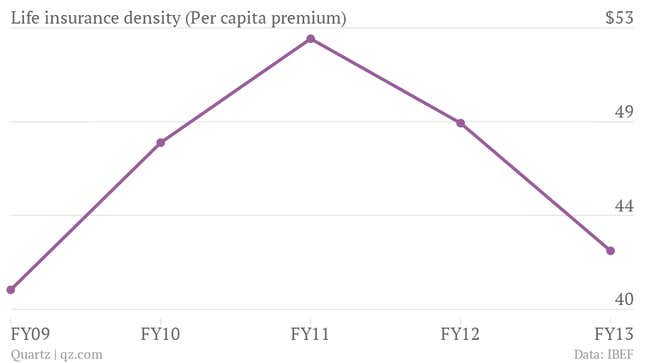 With 36 crore policies, India's life insurance sector is the world's largest, according to research by the Indian Brand Equity Foundation. The life insurance industry in the country is forecasted to increase at a compound annual growth rate of 12–15% in the next five years. The industry has the potential to touch $1 trillion over the next seven years, the research says.