Rural India, home to some 68% of the population, is creating jobs nearly as rapidly as urban India. And the participation of women in the workforce is going up in both urban and rural areas.
These are some of the findings of the latest Economic Census, a periodic exercise that takes stock of the country's economic activities. The data for the 2013 Economic Census was released on 30 June. These figures are provisional. The last such census took place in 2005.
A lot has improved over these eight years. But here is one key change that stands out from the data—more women are becoming a part of the Indian workforce.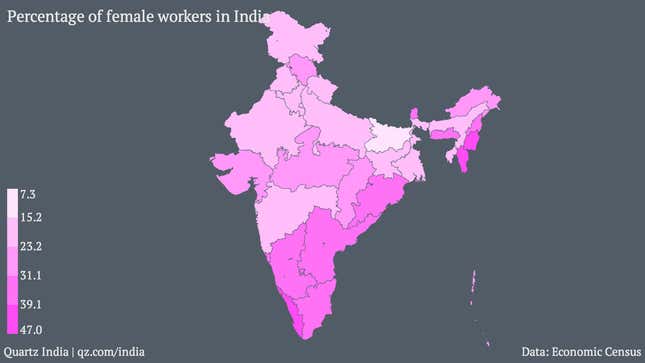 This is important because India has the lowest participation of women in the workforce among all the BRICS countries. As per the 2013 economic census, the percentage of female workers is around 26% or 32 million, up from 19% in 2005. In absolute terms, the number of women workers increased by 70% from 2005 and 122% from 1998—when the fourth Economic Census was done.
The map above shows that southern and northeastern India have a higher proportion of women workers.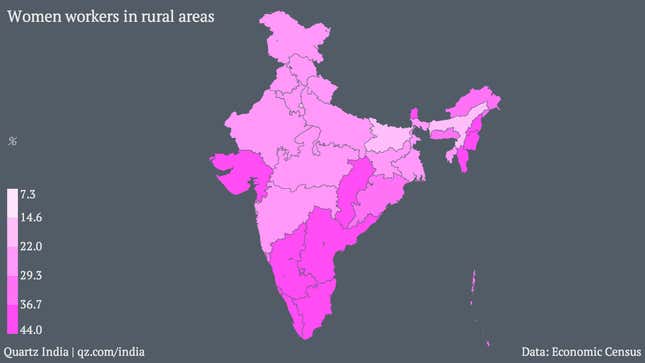 Even more surprising is the growth of women workers in rural areas. Women account for 31% of the total rural workforce, up from 24% in 2005.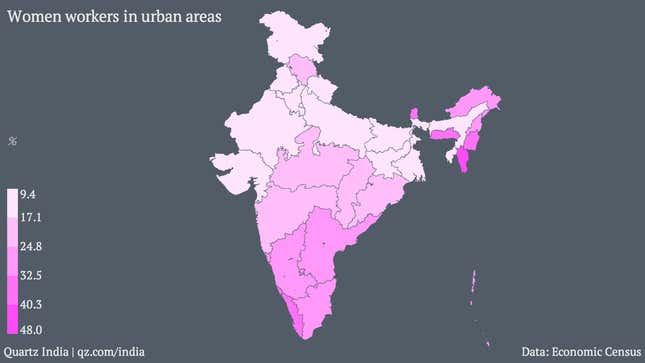 But their proportion in urban workforce still remains low, albeit rising. Their share is now 20%, up from 14% in 2005. Experts say women's participation in India's workforce will be a boost to the country's human resource pool and is important for its economic growth.
More women are able to work in rural areas because household chores can be split and they work in farms or establishments close to home, said a labour economist specializing in women in the labour force.
"In urban areas, there is household work which doesn't allow them [women] to take up jobs," said Preet Rustagi, an economist at the Institute of Human Development. "[In rural areas] many enterprises are near the house. So women can work as well as take care of the household."
India's centre of gravity in terms of number of establishments, which includes the smallest unit carrying out economic activity (even a one-person business), continues to be in rural India. Around 35 million of the total 58.47 million, or 60%, of the so-called establishments are in the country's rural parts. This has remained practically unchanged from 2005, when rural India accounted for 61% of the total establishments.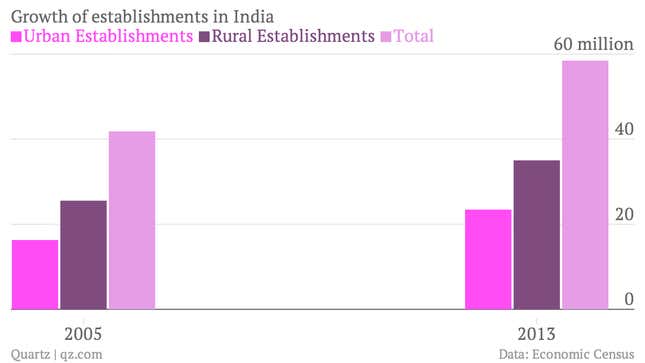 Employment in rural areas grew by 32% while it grew by 37% in urban India. Total employment in rural areas stood at 66.29 million, against 61.42 million in urban areas. The census is silent about the value generated by establishments as well as the wages received by labour.