Samsung is now where Micromax once used to be: the second largest mobile phone maker in India.
And six years after entering the business, Micromax—once seen as a homegrown upstart taking on global behemoths like Samsung and Nokia—is now the subcontinent's biggest phone maker.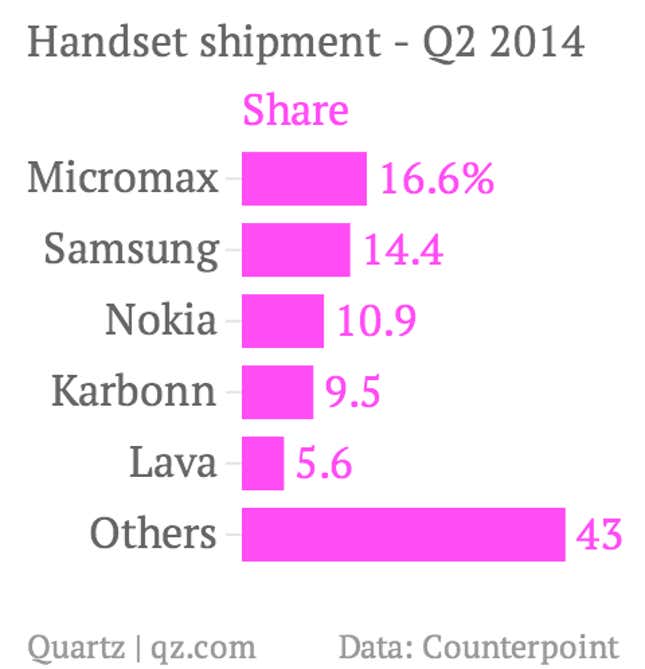 The Gurgaon-headquartered firm controlled over 16% of the Indian mobile phone market during the second quarter of 2014, according to report by Counterpoint Technology Market Research, with Samsung a close second at 14.4%.
It's been nothing less than a sharp slide for the Korean manufacturer in the last few months, and a significant gain for its main Indian competitor.
In the first quarter of the year, according to market research firm IDC, Samsung had a 20% share of the market, with Micromax at 12%.
But much has changed in that one quarter. First, Micromax has begun leveraging some important global partnerships. It launched two Windows phones with Microsoft, which owns Nokia, a major local competitor. And it's also partnering with Google on building a sub-$100 smartphone for emerging markets.
In addition, Micromax has worked on getting three key things right, according to Counterpoint research director Neil Shah: investing on building its brand, forming deeper distribution networks into both urban and rural markets, and offering a broad portfolio of handsets with localization (such as regional languages).
The result has been that Micromax's share of the market has steadily risen, even as the market itself has changed, with strong growth in smartphone sales.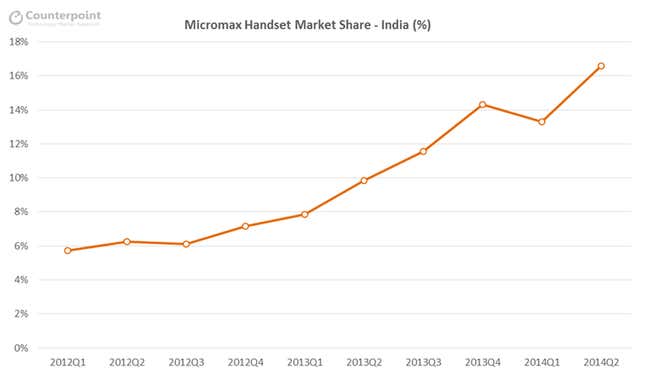 In the smartphone segment, Samsung still retains the lead, with a 25.3% marketshare, compared with Micromax, which is at second place with 19% marketshare.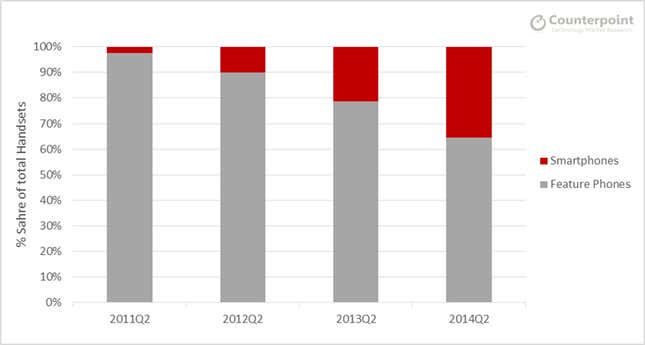 Samsung, meanwhile, is hurting even more as Motorola and a clutch of Chinese brands have begun cutting into the mid-tier (under $200) segment.
Motorola, for instance, has reportedly sold over one million handsets in India solely through e-commerce retailer Flipkart, while China's Xiaomi similarly sold out the first batch of its phone in India within 38 minutes and 50 seconds on the same platform. The second batch of Xiaomi's flash sale was sold out in five seconds on Flipkart.
Counterpoint's Shah told Quartz that it's going to be "a blood bath with the Indian and Chinese brands offering more value-for-the-money-type products undercutting Samsung".
Samsung India has disputed the figures. "This is not at all correct," a company spokesperson told the Economic Times.
Samsung recently posted its worst quarterly numbers in two years, as it struggles globally to fend off Chinese competition at the lower-end of the mobile phone market and Apple at the top.
"It's a precarious situation for the Korean vendor," Shah added. And not just in India. In China, too, the one-time market leader has just been toppled by Xiaomi, the one-time upstart.
The tables, it seems, are turning.