State-run banks in India list TV anchors, trustees of religious boards, small-time politicians and petrol pump owners as some of their board directors, the Times of India newspaper reported today. These details come on the heels of one of the most high-profile bribery cases to hit public sector banks in the country. The Central Bureau of Investigation (CBI) on Saturday arrested the chairman and managing director of Syndicate Bank Sudhir Kumar Jain and his close relatives on charges of taking a bribe of Rs50 lakh ($80,000) to enhance the credit limit of some companies.
On Tuesday, RBI Governor Raghuram Rajan said there is a need to look at the governance of several state-run banks.
Over the years, Indian banks have been crippled by bad loans and lack of talented professionals. Now, the quality of directors is under the spotlight. Indian law requires a third of a company's board members to be independent. But it is hard to say when a director has been nominated because of his proximity to politicians or bank officials.
"Diversity should be seen in the context of requirement," Shriram Subramanian, founder of InGovern, a corporate governance research firm told Quartz. Members should be hired on the basis of skills required in the sector, he adds.
But many public sector banks have Congress party nominees as directors. Allahabad Bank director Ajay Shukla comes from a "family of freedom fighters" and has experience in agriculture. He is a member of the UP Congress Committee. Anita Karnavar is a part-time independent director at Punjab & Sind Bank (pdf). She is a news reader for public broadcaster Doordarshan and also runs an NGO. Bhupinder Singh Suri, who runs a petrol pump near the Prime Minister's official residence and has little else by way of management or business experience, served on the board of Syndicate Bank for nine years.
"The quality of directors of PSU banks is a matter of concern. Many of them are largely inexperienced in banking sector as well as in other aspects of business," said Shriram Subramanian. "There is a lot of political interference in appointing."
This is bad news for India's banking sector, which is dominated by public sector banks. They have a 72% share of assets in India's banking system, compared with 20.2% by private banks.
The state-run banks are heaving with bad loans or non-performing assets (NPAs). It is partly because their volumes are higher. But it is not altogether unrelated to the quality of governance at many of these institutions. In the case of Syndicate Bank, the tenure of the disgraced chairman coincided with a sharp rise in bad loans.
And as the chart below shows, public-sector banks account for most of the NPAs bogging down India's banking system.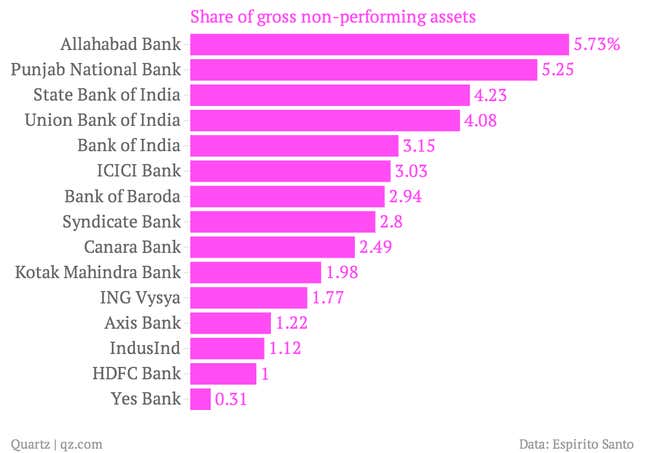 (Public sector banks: State Bank of India, Punjab National Bank, Union Bank of India, Bank of India, Bank of Baroda, Canara Bank, Syndicate Bank and Allahabad Bank)