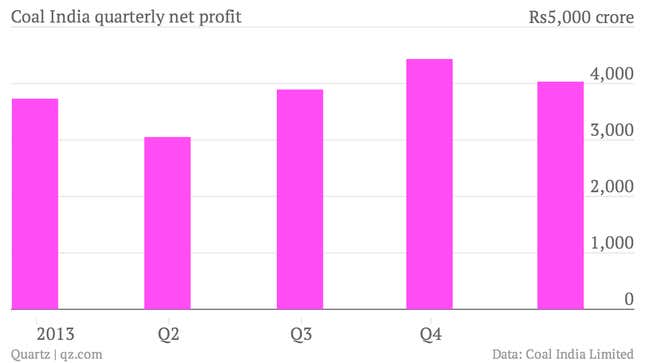 The numbers: Ordinary. First-quarter numbers showed an 8% rise in net profits, compared to last year. Net sales for the company, one of the world's largest coal miners, also increased by about that much.
The takeaway: The state-run miner's primary problem remains production. Coal output between April and June (pdf) stood at 108.33 million tonnes (119.41 million tons), below the company's target of 113.1 million tonnes. Coal offtake—the volume of coal dispatched—was even lower, with only 91% of the target achieved. Since Coal India produces about 80% of all the country's coal—with 82 supply agreements powering about 34,793 MW of production capacity—not meeting production and offtake targets is a concern. And, of course, it doesn't help the company's finances.
What's interesting: The shortfall in production will likely give the government further impetus to go ahead with its plans to restructure the company. Coal India, which has eight coal-producing subsidiaries, could be broken into smaller units, and its near-monopoly over the sector could also be challenged with an infusion of foreign investment into coal mining. Moreover, the government, which owns close to 90% of the Bombay Stock Exchange-listed firm, is also mulling selling 10% of its stake in the miner. Coal India's unionized workforce is against the move.