Ultimately, Robin Williams' success in India rests on that pillar of all jokes—timing.
Between the release of Dead Poets Society (1989) and Aladdin (1992), the country's economy liberalized.
Prior to that, the average Indian viewer had suffered through years of state-run Doordarshan television. New private stations and a push from Hollywood studios to enter the fledgling market opened up an entirely new world. This was a world where Williams, then in his acting prime, was one of its biggest stars.
Sure, there were others—Eddie Murphy, Bill Murray, Jim Carrey, among them—but few had the prowess and versatility of Williams, who dominated with Mrs Doubtfire, Jumanji, Flubber, Good Will Hunting, Hook and Patch Adams. His masterful performances gave succor to an Indian audience that lived through the horrid Bollywood of the 1980s, arguably the industry's worst decade. Cinema-goers embraced the western consumerism they had been cut off from for so long.
"Overall the '90s was a big step from the '80s. The US industry got a lot more international and India was definitely one of the markets," notes Gitesh Pandya, editor of BoxOfficeGuru.com. Williams, as the leading comedian of the decade, inadvertently spearheaded that expansion.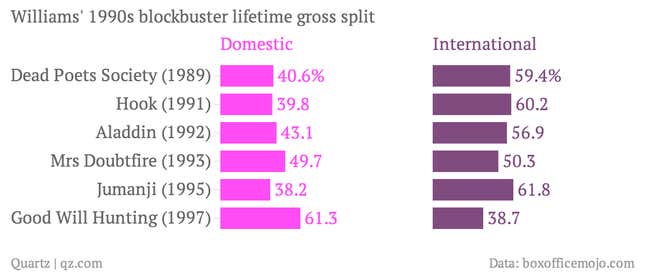 It helped that many of his films were family-oriented comedies, perfect material for countless Indian children with parents (and a government) skeptical of Hollywood's forward content. It wasn't always the slapstick, raucous variety of staple Bollywood comedies, which often dissuaded the more serious viewer. Even his more serious films were mostly shorn of anything to make the average Indian viewer queasy.
Thus clearing India's infamous Censor Board was presumably easier—and his films became nearly impossible to miss for any regular viewer of Star Movies, once the country's primary source for English films.
Even those who didn't watch Hollywood films couldn't entirely miss Williams. The 1993 blockbuster Mrs Doubtfire inspired not one, but two Indian remakes: Bollywood star Govinda's Aunty No. 1 and Avvai Shanmughi starring Kollywood (Tamil Nadu) stalwart Kamal Haasan. Haasan subsequently remade the latter in Hindi, as Chachi 420.
"Robin Williams brought dignity to male crying," Haasan reportedly said. Fittingly, the great and good of Bollywood mourned the star this week as #RIPRobinWilliams trended on Twitter in India.