Kishore Biyani, CEO of India's largest retailer Future Group, gave an unexpected answer about the future of innovation in the country.
"Women will lead innovation in India. Young boys are too conformist in nature," he said at the Quartz India summit earlier this month.
Biyani's prophecy is yet to bear out, however.
Nearly all of the technology startups that have risen to prominence in the last few years—Flipkart, Snapdeal, Red Bus—have male leaders. Even beyond the founding team, there are few women in decision-making positions at these companies.
Quartz asked four high-profile startups for the demographic makeup of their entire workforce. The poster boys of India's digital revolution are indeed boys. (Flipkart did not disclose the gender breakup.)
Overall, women make up between 20% and 50% of the workforce at the three companies that responded—Zomato, Snapdeal and Quikr. The majority of female workers toil in human resources or customer support. The core technology and engineering teams remain largely male bastions.
Almost all these businesses have been started by graduates of the Indian Institutes of Technology (IITs), where the ratio of male to female students is 10:1.
The situation in India seems to mirror what the world is learning as US tech giants such as Google, Yahoo and LinkedIn disclosed diversity figures. Here's a closer look:
Snapdeal
Kunal Bahl and Rohit Bansal founded the Delhi-based online marketplace in 2010. So far, the company has raised $340 million from several investors including eBay, PremjiInvest and Intel Capital.
According to Snapdeal's website, all the "brains behind the scene" are men. The online retailer has 1500 employees and its male-female ratio is 65:35. Most of the women workers at Snapdeal are in customer support or human resources.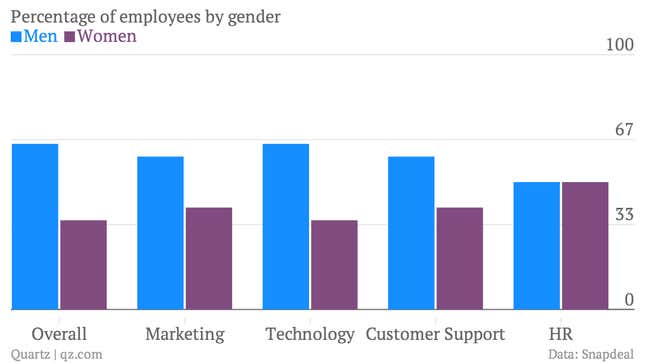 Zomato
Deepinder Goyal and Pankaj Chaddah, IIT Delhi graduates, founded the online restaurant discovery guide in 2008. It has raised $53 million from investors such as Sequoia Capital and Info Edge. Zomato currently operates in 13 countries.
The company has a fairly balanced gender ratio, as nearly half its 700 workers are women. Zomato says that women fill 50% of the senior management positions. But in technology, only 5% of the staff is female.
The company finds hiring competent women for technology and finance roles to be a challenge. Upasana Nath, head of recruitment, says that factors such as lack of role models, limited exposure to finance or technology and conventional gender biases may keep women out of top positions in such areas.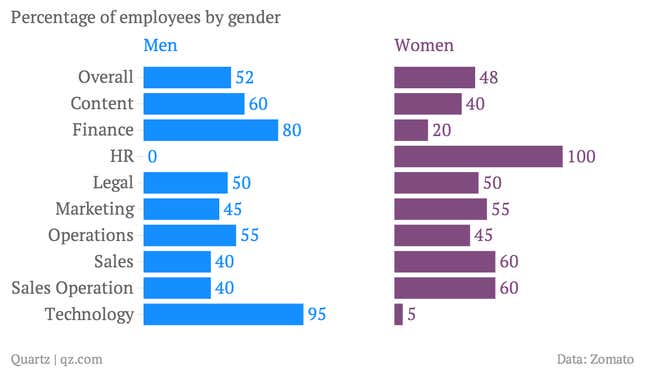 Quikr
The online classified website was started by Pranay Chulet, an IIT alum, in 2008. Investors such as eBay, Omidyar Network and Matriz Partners back Quikr. It is considered India's answer to Craigslist.
Based in Mumbai, the company has nearly 170 employees, of which 19% are women. But there is only one woman in top management. The company's HR head explained his take. "At leadership level the number of women deteriorates a lot. Workplaces become tougher for women employees," says Dhruv Dubey, vice president of human resources at Quikr. "They have different priorities and cannot cope."
According to a study conducted by research organisation Catalyst, Indian women and men in technology start out on an equal footing when it comes to job level and pay. However, almost a decade into their careers, women lag behind men by approximately Rs3.8 lakhs ($6,000) per year in terms of pay. They also receive fewer career-enhancing opportunities such as long-term foreign postings or mission-critical roles.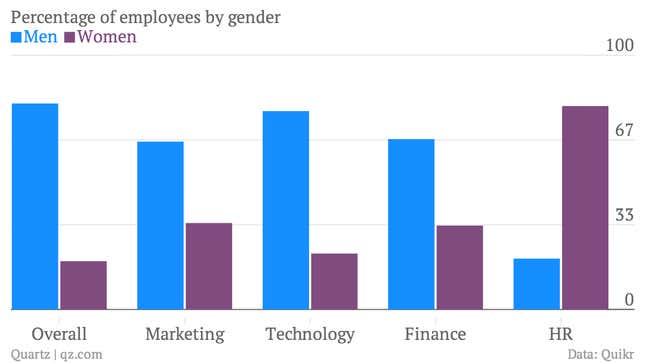 Flipkart
It is India's most talked about startup. Last month, the shopping website received $1 billion in funding—one of the largest investments raised in a single round globally. Sachin Bansal and Binny Bansal (not related) started Flipkart in 2007 and it is now the country's largest e-tailer.
The company refused to divulge gender breakdowns in its work force. It has not listed team leaders online—unlike rival Snapdeal.
However, here's one clue we found: A story published by Forbes magazine in 2012 said most of the people the Bansals hired and trusted for senior positions were from their hostel called Jwalamukhi at their alma mater IIT Delhi. The hostel is for boys.