Prime Minister Narendra Modi's Independence Day speech has come in for praise for its focus on issues facing ordinary people, especially women, such as unclean streets and lack of toilets for girls in schools.
"I want to make a beginning today itself and that is—all schools in the country should have toilets with separate toilets for girls… on the next 15th August, we should be in a firm position to announce that there is no school in India without separate toilets for boys and girls," Modi said.
Responding to Modi's call, companies such as Tata Consultancy Services and Bharti have already donated money to build toilets in schools.
India's ministry of human resource development has data on the number of schools in each of India's states with functioning toilets for girls. According to the data, 891,455 schools out of a total of 1,065,056, or 84%, have functional toilets for girls. The map below shows what percentage of schools in each states have functioning toilets for girls (The ministry separately reports schools without toilets for girls and schools with dysfunctional toilets for girls. For the purpose of this analysis, we have clubbed the two categories).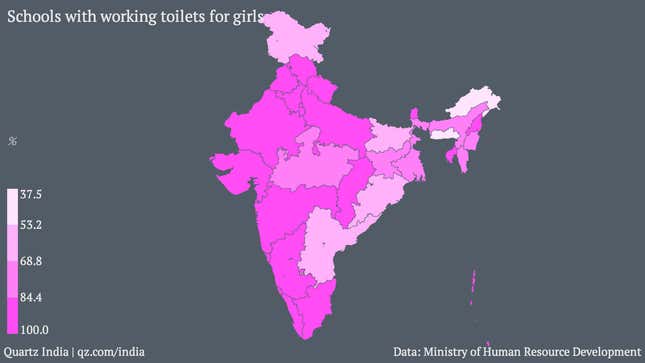 Uttar Pradesh, India's largest state plagued with a deficit of infrastructure and law and order, does well, with 95% of its schools reporting as having girl's toilets. Union territories such as Delhi, Puducherry, Chandigarh and Lakshadweep report that all of their schools have toilets for girls.
Access to toilets is tied to enrolment of girl students in schools.
Meghalaya tops the list of states with the lowest proportion of schools reporting working toilets for girls, at 37%.
Toilets or the lack of them formed the heart of the debate surrounding the recent gang rape and murder of two young girls in a village in Uttar Pradesh.
According to a Bloomberg report, only 45% of the 18.45 billion rupees set aside for toilets in the last 15 years have been utilized.