What if your tryout to work for a top financial firm was to trade stocks on a social network with no real money involved? This is exactly what Bobby Bhatia and his team are trying to do.
In 2013, Bhatia started TrakInvest, a portal where people can trade stocks and follow other participants to see their trading activity. The company is backed by investors comprising SparkLabs Korea, a Seoul-based accelerator, and individual investors from Asia and the Middle East.
To put it simply, TrakInvest is the marriage of capital markets and social networking that can also act as a job portal. This is how Bhatia differentiates TrakInvest from other virtual trading platforms. "I believe in the financial sector, there is a convergence of financial technology and social," says Bhatia, the 41-year-old CEO and co-founder of TrakInvest.
After spending 20 years working for O'Connor & Associates, a Chicago-based trading firm bought by UBS in 1996, JP Morgan and AIG, Bhatia saw a big opportunity in students wanting to enter the world of finance. With TrakInvest, he designed incentives to draw them towards to the platform.
The company organizes monthly contests for its users in which the best trader wins prizes such as cellphones and tablets. Some are luckier and land up with internship opportunities with companies such as Thomson Reuters. Six people have secured internships while one got a full-time job so far, said Bhatia.
Users have access to latest financial information of the companies they want to track (thanks to a Thomson Reuters partnership), research reports and financial news from around the globe. Currently, there are around 35,000 users, 60% of who are from India. They can choose to invest in the stocks of 12,000 companies across major stock exchanges of the world such as Nasdaq, Singapore Stock Exchange and Bombay Stock Exchange.
Points are awarded based on their trade. More points means a better trader and more people would like to follow you—much like Twitter.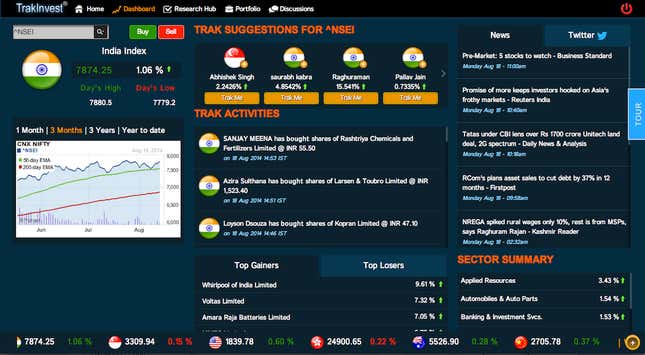 As of now, TrakInvest, which is headquartered in Singapore, has 15 employees that include data scientists, legal experts and coders. In future, it hopes to make money by selling detailed search reports and analytics to its users. All of its services are currently free.
Now, Bhatia is planning to expand his company's operations throughout Asia and he is closely looking at India. He plans to conduct marketing campaigns in India in September to get more people, including individual investors and brokers, to use the platform.
And his timing might just be right.
Stock markets' performance has improved and small investors or retail investors, as they are known in financial lingo, are thinking of starting to trade all over again. They have been largely absent from Indian stock markets ever since the global financial crisis in 2007. Most of them burnt themselves pretty badly as the stock markets crashed.
The 21,000 users of TrakInvest from India are perhaps an indication of the willingness of Indian small investors to start trading again. Still, most of them will be hesitant and TrakInvest might help them to test the waters before they finally take the plunge.
"In a non-stressful way, you are getting an opportunity to test out the market," says Bhatia.