Could the cost of a chicken, bacon, egg, lettuce and mayonnaise sandwich help you decide where you're headed on your next holiday?
That's what travel and hotel accommodation agency Hotels.com believes. Much like The Economist's Big Mac Index which gauges the price of a McDonald's hamburger around the world to estimate living costs,  Hotels.com has released a club sandwich index as a barometer of affordability for tourists.
"The Club Sandwich Index offers travellers a simple price comparison to show how far their money may stretch in each country, using the most common item on any hotel menu," said Hotels.com spokesperson Alison Couper. "The majority of countries continued to display a decline in the price of a club sandwich, which is great news for travellers who will get more for their money abroad."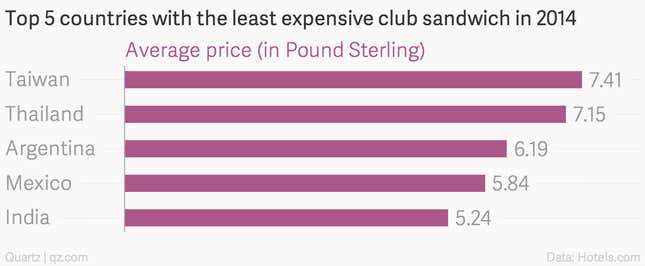 According to the index, New Delhi has the cheapest club sandwich at £5.24 (Rs 524). Geneva is the most expensive city in the world for the same snack.  Ordering one in this Swiss city would cost you £19.46 (Rs 1,946).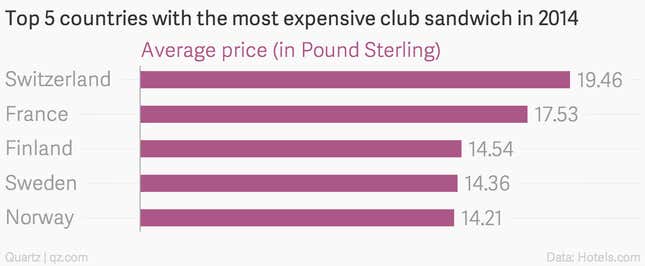 This is the second year in a row that Geneva has served up the most expensive club sandwiches. In the Swiss city, prices for the sandwich ranged between £9.17 (Rs 917) in one three-star establishment and £25.82 (Rs 2,582) in one five-star hotel . The second spot was held by Paris, with an average price of £17.53 (Rs 1,753) for a sandwich followed by Helsinki at £14.54 (Rs 1,454).
Though Spain, Brazil, Syndey and even the US aren't exactly cheap, they didn't make it to the top 10 most expensive club sandwich destinations. Meanwhile, Thailand, Argentina and Mexico were closer to New Delhi with their price range.
The index calculates an average price paid by guests for a club sandwich in 30 hotels in either the capital or an important tourist city in the 28 countries surveyed, across three-, four-and five-star categories.  In total, 840 hotels around the world were canvassed.
Hotel room tariff
Though Geneva has the most expensive club sandwiches, when it comes to luxury hotel rooms, New York leads the race. The average price in the US city is Rs 15,690 for a night. It is closely followed by London at Rs 15,510.
Venice (Rs 14,530), Zurich (Rs 13,254) and Paris (Rs 13,085) complete the list of the top five most expensive hotel rooms worldwide, according to Hotels.com data for 2013.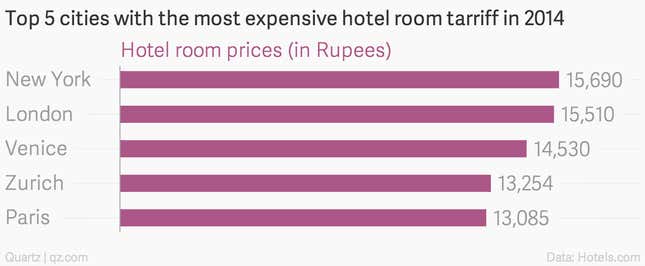 Closer home, the average tariff for a hotel room in Shanghai is Rs 6,461 lower than even Mumbai, which clocks in at Rs 6,580.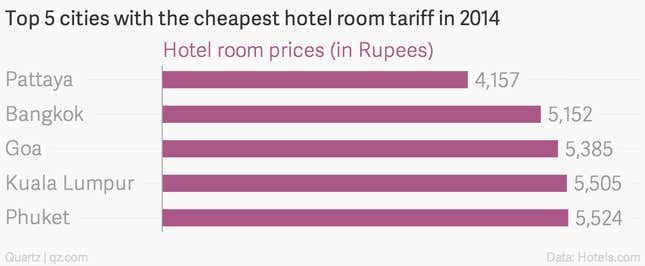 Confirming the view that Goa offers an economical holiday, luxury rooms in the state have an average tariff of Rs 5,385 a night, lower than Delhi and Kolkata. The only destinations cheaper than Goa, according to Hotels.com, are Bangkok at Rs 5,152 and Pattaya at Rs 4,157.
And for backpackers…
If luxury is not your style and you prefer a cost-efficient trip, the Backpacker Index 2014 by priceoftravel.com will help.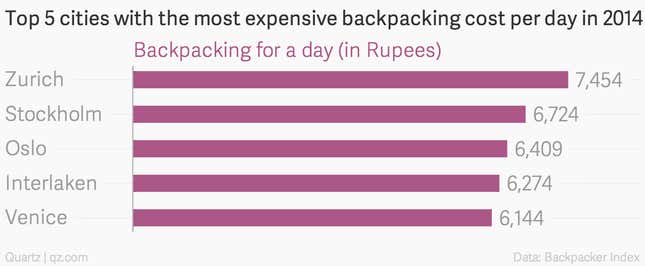 According to this index, Pokhara in Nepal is the cheapest destination. A backpacker could arrange board, lodging and travel for an average price of Rs 875 a day. It is closely followed by Hanoi in Vietnam (Rs 970). Chiang Mai in Thailand (Rs 1,079) and Goa (Rs 1,115).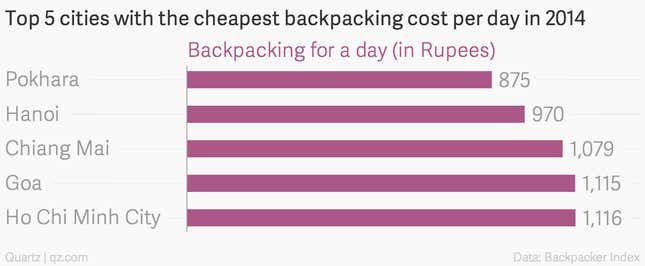 But even backpacking trips across Europe and North America aren't exactly cheap. Travellers have to spend Rs 7,454 a day on average in Zurich, Switzerland, making it the most expensive venue for backpacking trips. Stockholm in Sweden (Rs 6,724) and Oslo in Norway (Rs 6,409) are in second and third position.
This story was first published in Scroll.