Last year, only 20% of India's Rs 8,000 crore ($1.3 billion) toy market was served by Indian toy makers.
The rest came from China and Italy, two countries which have come to dominate India's toy marketplace. Imports from both expanded at a compound annual growth rate of over 30% between 2001-2012.
Such strong growth has been fueled by burgeoning demand in India, particularly from a rapidly expanding middle-class that could comprise over 200 million people by 2020.
But spiraling exports have also decimated India's domestic toy manufacturers. In the last five years, according to industry body Assocham, 40% of Indian toy companies have shutdown and another 20% are on the verge of closure.
Indian toymakers are now hoping to make a comeback—by going online.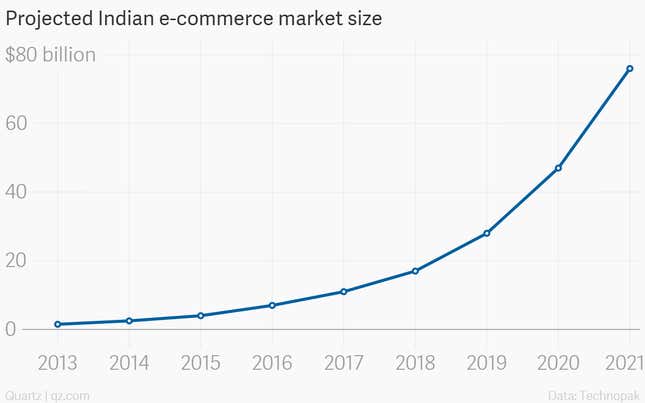 "The biggest toy retail chain in India must have a maximum of 150 stores in the country," Harsheel Jain of Karma Solutions, a Mumbai-based toy importer explained. "Just getting the toys to the customers is a big challenge here."
This is particularly true for areas outside tier one cities, which have shown strong growth in e-commerce.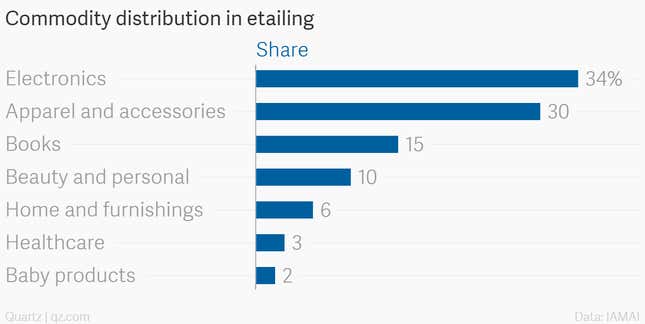 And "because of the low number of outlets, we are expecting to start selling more online. There is no other choice for many retailers. A lot of investment is required to reach more customers otherwise," Jain added.
India's e-commerce marketplace has exploded in recent years, growing from $3.8 billion to $12.6 billion between 2009 and 2013.
Domestic toy manufacturers could also tap into changing consumer pattern, as more affluent parents turn away from the unorganised toy market, which is estimated to be worth over Rs 1500 crore ($245 million) and dominated by Chinese imports.
"Customers buying online are more careful about brands and quality. They will not spend money if they don't know that it is reliable and safe to buy that toy," said Adnan Chara, vice president of the toys and gaming verticals at Mitashi. "This way the share of the unorganised market will come down as well."
While most of the bigger e-commerce companies like Flipkart and Snapdeal sell toys online, baby-products e-commerce portals such as Babyoye also offer a collection of toys. There are also specialized online toy retailers like Yellow Giraffe, which sell toys according to age and skill levels.
"Achieving scale is easier for Indian players," said Mike Fulkerson, Mattel's senior director for marketing in Asia-Pacific. That's because when international players look at India, it's often viewed as an important market for achieving scale because of the latent potential.
Simultaneously, the traditional global toy market has also been threatened by smartphones and tablets. In the United States, for instance, children under 12 years play with touchscreen devices more frequently (pdf) than board games, construction and blocks, or action dolls and figures.
In India, that might not be the case.
"We have noticed that even with more and more access to digital options, traditional toys are holding their own," said Vivek Jhangiani, president of the All India Toys Manufacturing Association.
"Children choose to play with traditional toys while playing with their family and with digital ones when it comes to their friends."