In the shadow of prime minister Narendra Modi and mostly away from the spotlight, an old political hand is quietly doing the difficult job of Indian diplomacy.
Since taking office as India's foreign minister in May, Sushma Swaraj has made nine foreign visits, including the ongoing trip to the United States, reworking critical relationships in the neighbourhood and building alliances with partners elsewhere.
Last month, as the Indian establishment and Modi prepared for Chinese president Xi Jinping's arrival, Swaraj flew into Kabul, looking to deepen New Delhi's involvement in Afghanistan as president Hamid Karzai prepared to leave office, with the US considering pulling out its troops.
"This is a critical decade of transformation for Afghanistan. India will always be Afghanistan's first strategic partner," the foreign minister said at the opening of India's new chancery in the Afghan capital, while also gifting a massive half-a-million dollar worth Afghan national flag to the country. Although heavy on symbolism, it underscores India's commitment to a key neighbour, where it has spent about $2 billion (pdf) in developmental assistance.
In India, however, all eyes were on the impending Chinese visit and the promise of $100 billion in investments.
As Modi focuses on the more public work of speeches, meetings and laying down the vision, Swaraj is ably doing the ground work in getting the best out of India's vast diplomatic enterprise.
Erstwhile firebrand
Now little of Swaraj is seen in the media, as most ministers in the Modi cabinet have sought to maintain a low profile. It wasn't always so. She was once vocal and feisty, unafraid to speak her mind or court controversy.
In 2004, as the Congress-led United Progressive Alliance came to power, she threatened to shave her head if Italian-born Congress president Sonia Gandhi became prime minister. It didn't come to that since Gandhi chose Manmohan Singh for the job.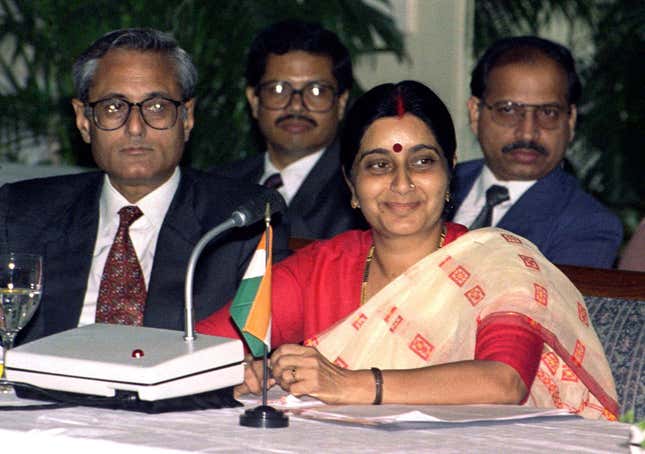 As information minister in the Atal Bihari Vajpayee government in 2001, Swaraj crusaded against other foreign entities, too, including banning France's Fashion TV because it wasn't in sync with Indian culture. Alcohol, sanitary napkins and even underwear were reportedly thought to be unfit for televised promotion. As health minister, she stalled the promotion of condoms, including on television, instead choosing to promote the virtues of abstinence and monogamy to combat AIDS.
Swaraj, among the old guard of the Bharatiya Janata Party (BJP), was seen among those who were opposed to Modi's rise to the top of the party—and consequently, his anointment as the BJP's prime ministerial candidate. Such was the resistance that Swaraj refrained from even mentioning Modi's name during her election campaign. After Modi's stupendous victory, as veteran BJP leaders like her mentor LK Advani and Murlimanohar Joshi found themselves sidelined, the experienced Swaraj was handed the external affairs portfolio.
Focussed work
In the months since, the 62-year-old lawyer from Haryana has seemingly set aside the acrimony, instead focusing on furthering Modi's foreign policy vision that places India's neighbouring countries at its core. Therefore, just days ahead of Modi's visit to Nepal in August—the first by an Indian prime minister in 17 years—Swaraj flew into Kathmandu to meet the country's political leadership.
Simultaneously, she also led a joint commission meeting—held after 23 years—with her counterpart in Nepal on matters including political, security and border issues, economic cooperation, trade, power and water resources and culture and media. India, after all, is the biggest foreign investor in Nepal, with $4.7 billion in bilateral trade.
Modi's visit to Nepal went off without a hitch.
A seven-time MP who first became a minister at 25, Swaraj has considerable experience to fall back upon. With stints as the minister for information and broadcasting, and minister of health and family welfare and parliamentary affairs, a chief minister of Delhi and as the Opposition's leader in Lok Sabha, she is among the BJP's most experienced leaders. All that is now coming in handy.
Swaraj represented India at the ASEAN-East Asia Summit in Myanmar in August and then at the Shanghai Cooperation Organization's heads of state summit in Tajikistan. Both regional blocs are vital to India. With the former, New Delhi hopes to engage more deeply as part of its 'Look East' policy. India has already applied for a full membership at the Shanghai Cooperation Organization (SCO), with an eye on increasing its influence in central Asia through the Beijing-led forum. These are both regions that have gained renewed emphasis under Modi.
"I have always maintained that the real foreign minister is the prime minister," former foreign secretary Lalit Mansingh told Quartz. "The job of the foreign minister is to support (and) implement foreign policy, and be an advisor to the prime minister." In that role, he said, Swaraj has "done a great job."
And now, as prime minister Modi and the Indian delegation moves to Washington after the spectacle at New York's Madison Square Garden, Swaraj, too, will head to the capital for summit meetings with Barack Obama.
Of course she's met the US president before. When she was the leader of Opposition in the Lok Sabha, and Modi was still chief minister of Gujarat.