The magnificent MC Mary Kom once again punched her way to a gold medal. Army marksman Jitu Rai shot his way to another gold. And after 16 years, India's hockey team was crowned Asian champions. But how exactly did India—with 516 of the country's finest athletes representing it—do at the Asian Games in Incheon, South Korea?
If the total number of medals won is a good measure of India's performance at the Asian Games, then the performance has dipped marginally compared with the previous game in 2010. But that is not a fair comparison, for reasons we shall discuss shortly.
But overall, when compared over the last two decades, the medals tally has increased by more than two-and-a-half times.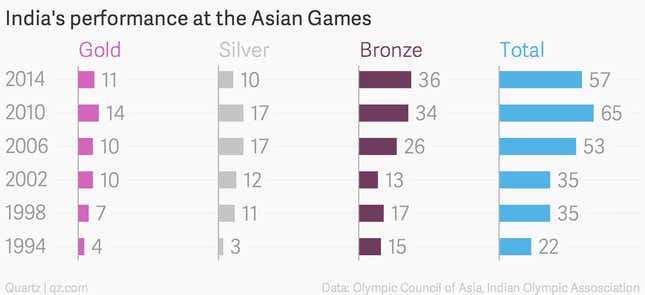 Yet, simply looking at the medal count isn't perhaps the best way to measure India's success, as the total number of sports and events are decided by host cities. This time, the Korean authorities reduced the number of sports to 36 as compared to 42 in Guangzhou, China—the previous host city, back in 2010.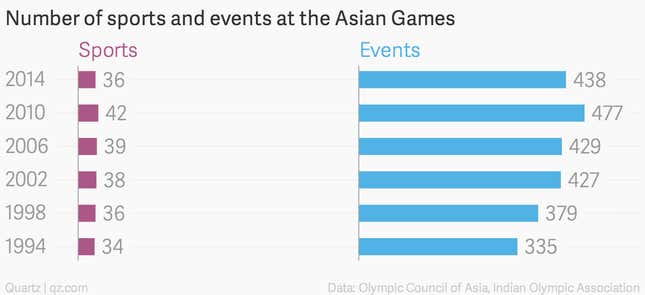 Another way to gauge success is to assess India's share of the total number of medals that have been won at Asian Games. Here too, over the last two decades, Indian athletes have nearly doubled their share of total medals, although compared with 2010 games, the number has come down.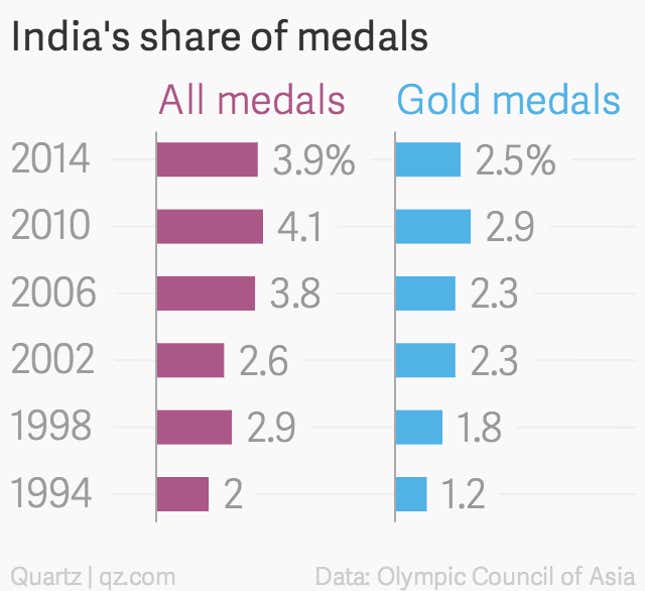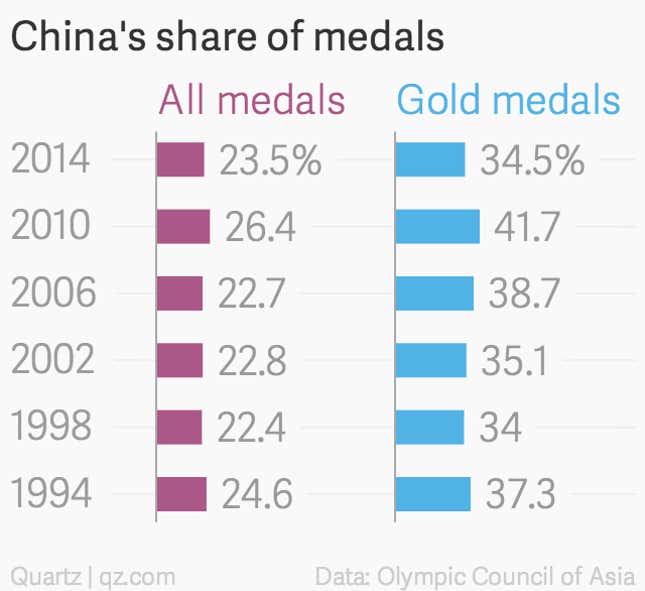 China, in comparison, is way ahead, picking up almost one in every four medals that are presented, including a much higher share of golds.
For India, though, there is some good news: its athletes are winning medals in more sports.
At the Incheon, India won in 21 team events, while another 35 individual Indian athletes won medals. Any event involving more than one athlete is considered a team event.
The last time an Asian Games featured 36 sports was the 1998 edition held in Bangkok. India won medals in 11 sports there—compared with 14 at Incheon.
And the victories in Bangkok included gold medals for the men's hockey and kabaddi teams, just like this time in South Korea.