In Indian cities, house numbers and street names are mostly unencumbered by logic. You might think house number 132 might be close to 130 or H block will be next to G block and you would be dead wrong.
With the face of cities changing rapidly with metro constructions and flyovers, the landmark you once used to explain your address can disappear or move overnight. Street names can change and anyone who has tried to explain a full address to a pizza delivery service knows the difficulty in accurately conveying location.
A Hyderabad-based startup has a solution for all of this. It is giving out codes to your GPS-based location, which works like a unique identity for your address, much like the biometric Aadhaar number is a unique identity for a person. Instead of giving your long address to a delivery boy trying to locate you, give the eight-digit alphanumeric code. He can then enter the code in a GPS-enabled smartphone or just Google the code to locate your address on Google Maps and access the full, conventional address. Because alphanumeric codes are unique, the link appears high up on Google search results.
The idea for Zippr came to Aditya Vuchi, a serial entrepreneur, in 2011. He then started working on developing a product in 2013. The problem he was trying to solve is one that most Indians will immediately identify with. "Depending on who is asking, you explain your address differently. You give landmarks and directions while telling a friend, a more formal one when telling the bank and a mix of the two while telling a delivery guy," he said.
The startup has developed a mobile and web platform that enables a user to locate their address on a map and generate a code. The code is made up of four alphabets and four numbers. The platform doesn't give details on who owns a Zippr code. The user needs to personally give their Zippr code to someone if they want their address to be known.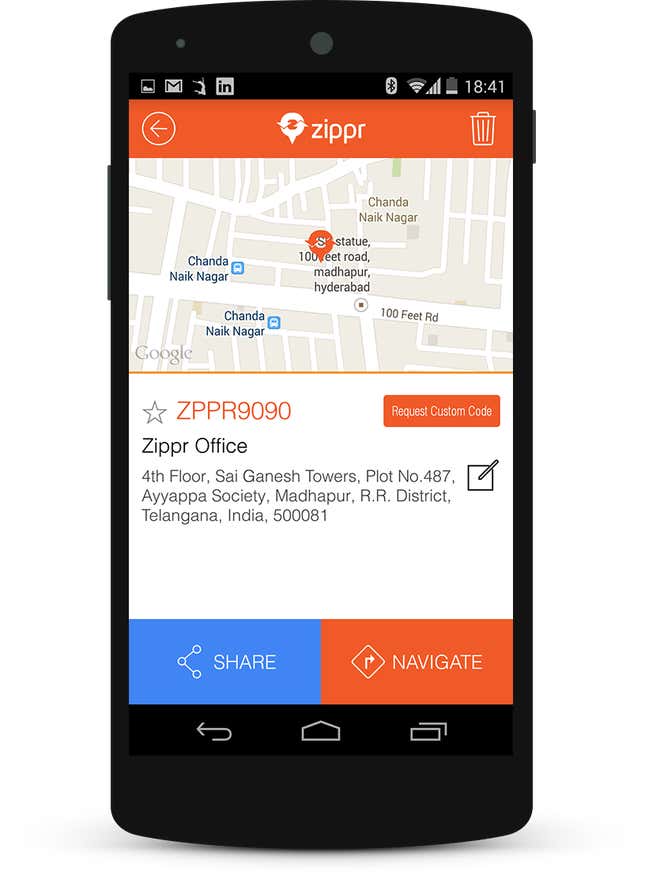 The platform currently uses Google Maps, but can work using OpenStreetMap as well. "We have built a layer on top of the existing maps. We use Google Maps now because other mapping systems are not as comprehensive yet when it comes to India," Vuchi said.
The Zippr code can be customized by the user as well. Vuchi's Zippr code, for example, has the first four letters of his name and the last four digits of his cell phone number.
The platform went live in December last year and had its first major update in July 2014. A user can keep the same address code even when their address changes. The user can also have three to four Zippr codes for office address, home address etc.
The system will simplify the process of finding addresses for e-commerce delivery and food delivery persons, Vuchi said. The company has helped two food delivery companies in Hyderabad to do this so far. "Food delivery companies will always tell you that they won't deliver outside a three kilometre radius or something similar. Using the Zippr code this whole process can be simplified. At night for example, the delivery guy can also comfortably cover four kilometres as easily as three in the day. So companies can make these decisions based on the Zippr code of the customer," Vuchi added.
The startup is also working with an ambulance service in Karnataka and Andhra Pradesh. "When you dial 108 to call for an ambulance, just giving your Zippr code will make things easier. The ambulance can reach quicker," he said.
The startup has now raised funds from the Indian Angel Network but was bootstrapping so far. Vuchi invested $100,000. The startup currently has 12 employees. "We have users in a number of countries who have generated Zippr codes. But we are building the ecosystem around the Zippr code by getting businesses to use this system," he said.