Almost five months after taking office, prime minister Narendra Modi has made two key appointments in his team at India's finance ministry.
Ending much speculation, Modi has appointed former International Monetary Fund (IMF) economist Arvind Subramanian as his chief economic advisor (CEA). The prime minister's cabinet also replaced Arvind Mayaram as the finance secretary, bringing in Rajasthan chief secretary Rajiv Mehrishi.
The two appointments come as the finance ministry gears up to begin the 6-month-long budget-making process. Finance minister Arun Jaitley presented this government's first budget in July, just weeks after it came into power—and it was seen as lacklustre by many, including the incoming chief economic advisor. So, bringing in fresh intellectual firepower at this point is critical for Modi government's first full-year budget.
The new appointments come at a time when things have started looking up somewhat for the economy. Forecasts for India's GDP growth in recent weeks have been positive. The IMF reckons the economy will grow by 5.6% in FY15, with Citigroup predicting that it could reach 7% by FY17. Simultaneously, inflation dropped to a three-year low in September as food and fuel prices fell.
Chief economic advisor
Educated in economics at Delhi's St. Stephen's College, IIM-Ahmedabad and Oxford University, Subramanian is the Dennis Weatherstone senior fellow at the Peterson Institute for International Economics and a senior fellow at the Center for Global Development.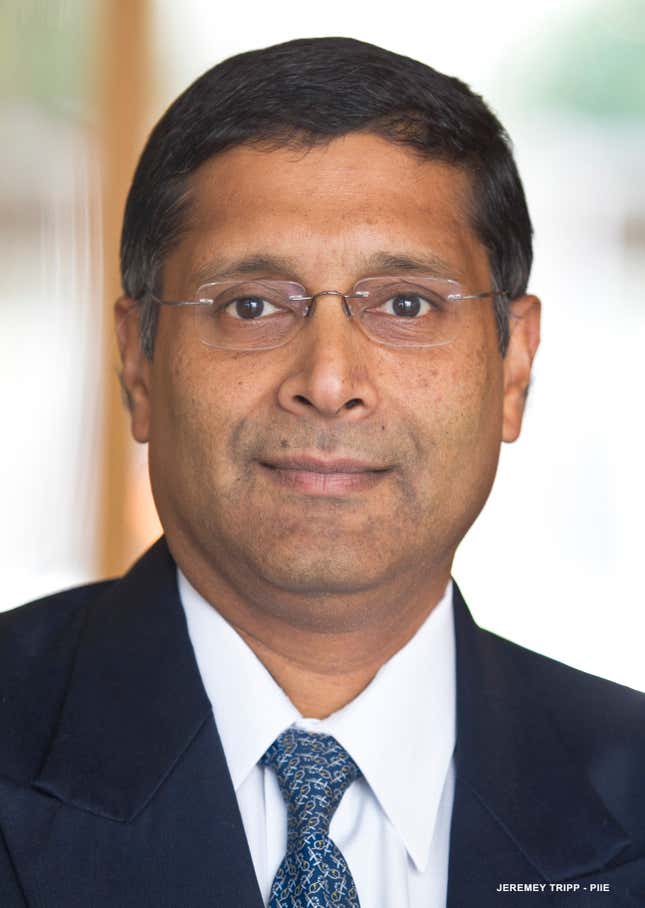 With stints at the IMF, Harvard University and Johns Hopkins University, he was named among the world's top 100 thinkers by Foreign Policy magazine in 2011 for "sounding the alarm of China's economic ascendency." Author of Eclipse: Living in the Shadow of China's Economic Dominance, Subramanian has watched China closely for sometime now, which will perhaps come in handy as Modi seeks more investments and closer economic ties with Beijing.
Subramanian's bio (pdf) at the Peterson Institute notes that he ranks "amongst the top 2 percent of the world's academic economists in terms of citation of research and publications," according to RePEc (Research Papers in Economics) rankings. His areas of work include growth, trade, development, institutions, aid, oil, India, Africa, the WTO and intellectual property. The 54-year-old economist is also inspired by Gandhi, he told Foreign Policy in 2011. That will be something he shares in common with the prime minister.
Within India's economics establishment, Subramanian shares ties with Raghuram Rajan, his predecessor as chief economic advisor who currently serves as India's central bank governor. The two have published at least five working papers together since 2005. These have examined the relations between aid, foreign capital and growth as well as India's patterns of development before and after economic reforms.
Finance secretary
Mehrishi, who will be joining Subramanian in the finance ministry, is also a St. Stephen's graduate, where he read history, geology and English for an undergraduate degree and then history for a master's degree. He also holds an MBA from the University of Stratchlyde in Scotland. A 1978-batch IAS officer from the Rajasthan cadre, Mehrishi has spent long stints in New Delhi. His most recent was between 2009 and 2013, where he successively served in the agriculture ministry, ministry of overseas Indian affairs and the chemicals and fertilizers ministry. He was appointed chief secretary of Rajasthan in December 2013.
Other appointments
After coming to power in May, Modi has made a few—but significant—high-profile appointments outside his set of ministers. In August, he named Bimal Jalan, a former governor of the Reserve Bank of India, as the chairman of the Expenditure Management Commission, a new group set up to help the government review its expenditure processes and reduce subsidies. About a month later, he roped in former McKinsey India chairman Adil Zainulbhai to head the Quality Council of India. Then, in late September, he appointed economist Bibek Debroy to restructure the Railway Board, which comprises the Indian Railway's top group of executives.