In January 2007, a hundred-odd personnel from India's Central Reserve Police Force (CRPF), wearing the distinct blue berrets of the United Nations Peacekeeping Force, landed in the Liberian capital of Monrovia. They were a special contingent—and their arrival was widely celebrated.
After all, this was the first-ever all-female United Nations peacekeeping team in the world, assigned to the United Nations Mission in Liberia (UNMIL).
Now, as Ebola ravages Liberia, 104 CRPF policewomen, alongside 147 other UN peacekeepers from India, continue to remain in the west African nation in the face of a deadly epidemic that is set to worsen.
Since March 2014, according to the Centers for Disease Control and Prevention, there have been 4,249 confirmed cases of Ebola and 2,484 confirmed deaths. The actual numbers could be significantly higher due to underreporting.
Yet, there seems to be no immediate plans to fly the Indian peacekeepers out of the country, or provide any special intervention.
"So far, no decision has been taken to bring the Indian peacekeepers back to India," Pankaj K. Singhal, an undersecretary at India's ministry of external affairs, told Quartz via email.
"No special medical unit has been sent to UNMIL. However, the Indian peacekeepers are having their authorized medical unit with them," he added.
In August, health minister Harsh Vardhan had informed Parliament that the Indian armed forces would "suitably advise" its troops in Liberia. "Further, their personnel returning to India on leave or otherwise coming back would be suitably tracked and monitored for symptoms by the Armed Forces," he added.
But the crisis has significantly worsened since.
India is the third largest contributor to the UN's peacekeeping efforts—topped by Bangladesh and Pakistan—with 8,108 military and police personnel (pdf) deployed in 12 of the 16 peacekeeping missions (pdf) around the world.
Meanwhile, the Philippines has already pulled out 110 of its peacekeepers deployed in Liberia but reportedly had trouble finding a suitable location to quarantine them. And Fiji has also said that it will stop sending peacekeepers to Liberia because of Ebola. The Chinese, though, have decided to stay.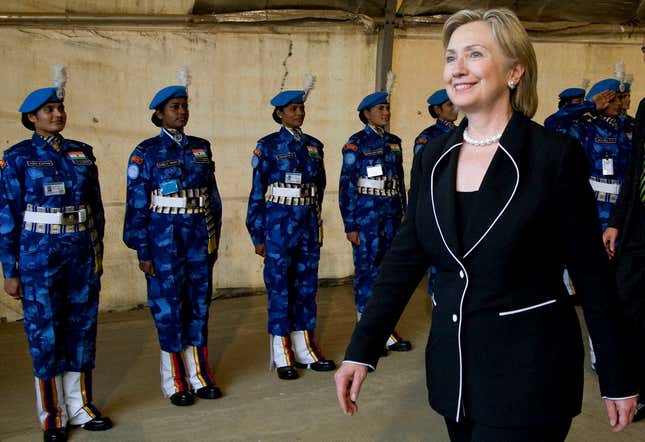 In 2007, the CRPF policewomen arrived in Liberia after the country had been decimated by two civil wars in 14 years—and in an environment where sexual violence was rampant. So their job was more than just to keep the peace. It was also to heal a country that had witnessed rape as a weapon of war, with three-fourth of Liberia's women having faced sexual violence between 1989 and 2003.
But the Indian peacekeepers were no pushovers either. Battle hardened in Jammu and Kashmir and India's northeast, the Formed Police Unit—units specialized in the public order management—was led by Seema Dhundiya, then a 40-year-old mother of two. Two-thirds of her unit were also mothers.
"We are caring, and we know how to behave. My girls are true soldiers," she said in an interview midway through her deployment.
They excelled.
"Your presence is an encouragement for Liberian women to come forward, and help rebuild their country by participating in the forces of law and order," a UN official told the first batch of these CRPF policewomen when they left Liberia in August 2007.
The tradition has continued, with the eight batch of 104 women peacekeepers flying out of India in February 2014.
But now they face a deadly new enemy.