It looks like prime minister Narendra Modi's social media team has slipped up—and a Boston-based photographer wants them to pay for their mistake.
On Oct. 21, a post appeared on Modi's Facebook page (below) wishing his 23 million followers a "Happy Dhanteras," marking the first day of the five-day-long Diwali festival.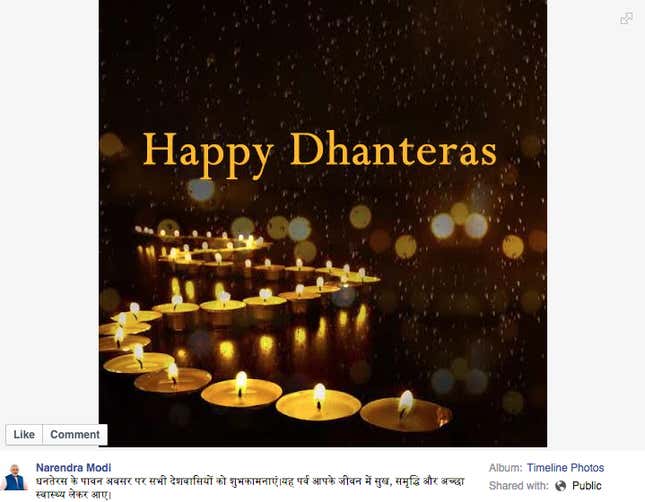 Within hours, Bimal Nepal, a Boston-based photographer of Nepali origin, contended that the photograph used in the post was his, and that Modi's social media team hadn't taken his permission or offered any compensation.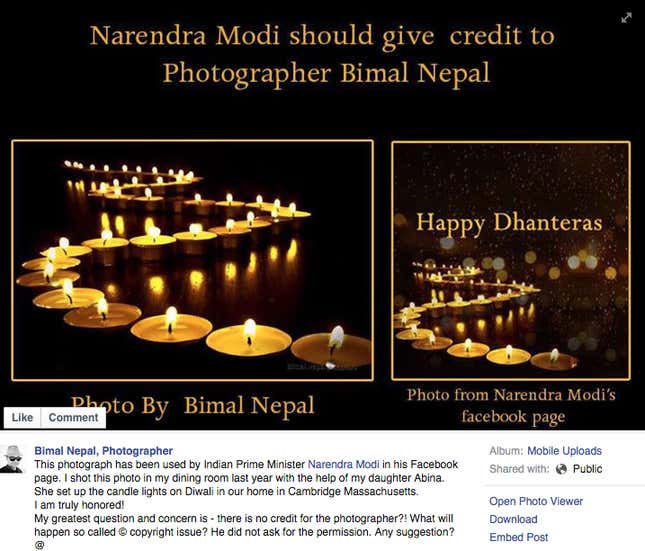 The date of publication of the photograph on Nepal's Flickr account was listed as Nov. 11, 2012 and it remains posted with "All rights reserved" clearly mentioned.
When the press reached out to Nepal, the photographer said that although he admired the Indian prime minister, credit and compensation were necessarily due.
"I am one of the greatest fans of Mr. Modi but how he uses this photo is totally unacceptable. I am looking for compensation and the appropriate credit," he told the Hindustan Times newspaper on Oct 22.
Seeking legal help
At some point over the next two days, the Prime minister's office (or his social media) apparently reached out to Nepal, who lists a Boston modeling agency and citizen journalist-led photo agency among his clients.
"Got response from PMO," Nepal told Quartz in a short email on Oct. 24, adding that the officials were "asking for the copyright voluntarily and free."
"I am seeking legal help. Not giving the copyright," he said. He declined a request for an interview.
While it remains to be seen if Nepal will actually initiate legal proceedings, the disagreement is unusual in that it involves a politician who takes his social media image very seriously.
Modi is the second most followed politician on both Facebook and Twitter (after US president Barack Obama), and used both platforms prolifically—and successfully—during the campaign for the 2014 general elections, which he won by a landslide.