Life as a woman in India, on some counts, is worse than almost every other country in the world, a new report has found.
When it comes to health and survival, Indian women are better off than only one country in the entire world—Armenia—according to a new report on gender by the World Economic Forum (WEF).
India ranks 141, above only Armenia, on the health index in WEF's The Global Gender Gap Report 2014, which benchmarks gender gaps in 142 countries on economic, political, education and health-based criteria.
India's overall ranking, based on all these criteria, is just as bad, as it ranks 114 out of 142 countries, below poorer neighbouring nations such as Bangladesh (68) or Sri Lanka (79).
Here are some of the key findings from the report.
Economic participation
When it comes to women's economic participation and activity, India's position is fixed near the bottom. In 2013, it ranked 124 out of 136 nations on the WEF report. This year it ranks 134. Quartz had written earlier about India's dismal record in women's participation in the workforce.
India's female to male ratio in labour force participation is 0.36. Less than 10% firms in India have female participation in ownership and the share of women on the boards of listed companies is a measly 7%.
On an average, Indian women spend 300 minutes more than men per day on unpaid work—the highest difference in the world.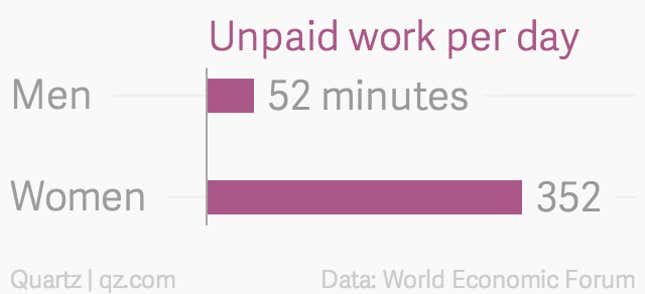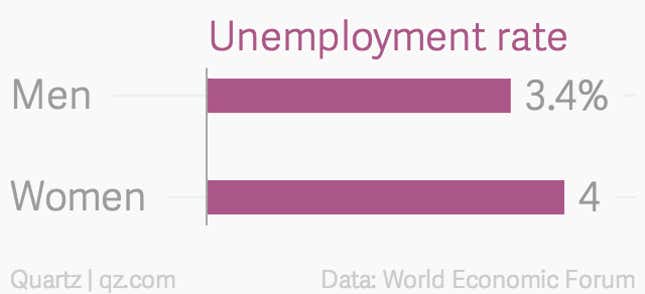 Marriage and childbearing
Almost 30% women in India get married between the age of 15 and 19, whereas in conservative Pakistan 16% women are married in their mid to late teens. Last month, United Nation said India has the second-highest number of child marriages in the world. The number one spot belonged to Bangladesh.
The adolescent fertility rate (birth per 1,000 girls aged 15-19) in India is 32.8. In China, it is 8.6.
Political empowerment
The good news is that India is among the top 20 countries on the political empowerment index. It is ranked at 15. India is the highest-ranked country on the number of years with female head of state (over the past 50 years) indicator, according to WEF. The country has had a female head for 21 years. (The abbreviation "female head of state" is used to describe an elected female head of state or head of government.)